Has this ever happened to you?
You launched out in obedience to God, gave the best of your gift, and poured out your heart. And then, someone criticized you. Or questioned your priorities.
There was no kindness in it—and you knew that comment was wrongly motivated.
But still, it hurt.
And it may even have caused you to step back, for a while.
But God who called you sees your heart—He celebrates your gift! And He is turning that criticism into an opportunity for His glory.
---
A Purely Motivated Gift
It is Mary's personal offering to Jesus—and the sacrificial gift she brings to the table.
John writes, "…Mary took a pound of very costly oil of spikenard, anointed the feet of Jesus, and wiped His feet with her hair. And the house was filled with the fragrance of the oil." (John 12:3, NKJV)
This gift means more than anyone in that room can imagine!
For it is prophetic in nature and timing.
And yet, right, smack in the middle of that wonder, Judas Iscariot throws in a negative remark.
He challenges Mary's offering, saying: "Why was this fragrant oil not sold for three hundred denarii and given to the poor?" (v5)
---
When You are Sensitive to the Atmosphere
It is a thinly veiled accusation and Judas' negative words cut across everything of beauty and glory taking place at that moment.
For those of you who are discerners, and are sensitive to atmospheres, moments like this can be doubly grieving.
In one moment, you are rejoicing in the wonder of what God is doing—and in the Holy Spirit's anointing
Then in the next, you realize the atmosphere has been defiled, as the accuser has made his presence known
And someone has released words—that may be demonic in origin—into the space you occupy.
---
4 Ways God is Moving to Turn Criticism Around
Yet this is the power of redemption! That God can take what has caused you pain and use it for gain—for the advancement of His Kingdom.
In Jesus' immediate response to Judas, he models Godly wisdom to His disciples, which speaks to us today. Here are four insights from this story, to aid when you (or someone you lead) has been unjustly criticized:
---
1. Look to Jesus First
Jesus immediately speaks on behalf of Mary. He defends her and praises her actions.
And it's a reminder, that when criticism comes against your anointed ministry, God's perspective is what matters!
Remember your Father is for you, and He's in control, even when a negative interruption has thrown you off guard.
And that Jesus Himself is your shield.
Sometimes, we need to hold our breath and wait to hear what He is saying.
And to know, there is power in a pause!
For it enables us to respond out of God's wisdom.
---
2. The Anointing Exposes What is Not of God
As John narrates, he explains that Judas' motive is based on greed, saying:
"This he [Judas] said, not that he cared for the poor, but because he was a thief, and had the money box; and he used to take what was put in it." (John 12:6, NKJV)
Now, we can lean in, to see an advantage—which is that light reveals what has been hidden in darkness!
And at this moment, Judas' true nature is made visible.
What's more, we can see this is a consequence of the Holy Spirit's anointing at work.
One person's intimacy with Jesus will expose another person's ungodly attitude
As Paul wrote,
"But all things that are exposed are made manifest by the light, for whatever makes manifest is light." (Eph 5:13, NKJV)
---
3. It Provides an Opportunity to Speak Truth
Thirdly, the open attack provides an opportunity for Jesus to directly address it.
Criticism is an expression of disapproval. And it usually comes with some "line of reasoning".
It may sound persuasive, but God has a higher viewpoint and it's time to declare it.
And Jesus says, "Let her alone; she has kept this for the day of My burial. For the poor you have with you always, but Me you do not have always." (John 12:7-8, NKJV)
The opposite of disapproval is favor and the acceptance of God!
And that is your true portion.
---
4. Criticism Allows for Refocus on God's Plans
Judas' comment invites debate. And it could easily distract people from what God is doing.
But Jesus doesn't allow this to happen. Instead, He takes the opportunity to refocus on what God is doing.
And in His reply to Judas, Jesus speaks once more about His purpose—and what is about to take place.
"Let her alone; she has kept this for the day of My burial"
---
Another Time, Another Criticism
It's interesting that this is not the first time Mary is criticized. Earlier, her sister Martha also questioned Mary's priorities (Luke 10:38-42).
And there are other parallels:
Both implied Mary should be doing some other form of service
Each time it took place in her own home (this also speaks of her identity coming under fire)
And Jesus Himself defended Mary in both instances
And I believe there are some "Marys" who are reading this right now.
You are the worshiper, the prayer warrior, devoted to Jesus—but sometimes, you feel misunderstood.
And others don't always value the offering that you bring.
---
A Purely Motivated Gift
Receive His touch today. And be assured—NO device of the enemy can interrupt the destiny of a worshiper!
For when God's favor has established you, no one's criticism can remove you.
This is a time for the anointing to pour forth—the ministry of the Holy Spirit—and He will pour out. For nothing can stop the work that humbly honors Jesus. And criticism cannot quench an anointed gift.
Instead, the full power is breaking loose out of this moment, and out of this time and season.
From earth to Heaven—the hearts of God's people in sacrificial worship. And from Heaven to earth—in the revelation of our Savior.
---
Finally, if you can relate to this today, let this word encourage you:
"No weapon formed against you shall prosper, and every tongue which rises against you in judgment you shall condemn. This is the heritage of the servants of the LORD, and their righteousness is from Me," says the LORD." (Is 54:17, NKJV)
---
Notes:
This example, and the theme of this post, is of accusation that is sourced in the kingdom of darkness, coming against a purely motivated, selfless, and anointed gift. This doesn't mean, of course, that there is never a place for constructive criticism (It's all about the source).
For today, I've kept the focus of this message on the simple framework provided by John 12 and the insight I received while studying it. Which was fresh to me—and I believe is a specific word for many.
---
Leave a Comment:
Has this post encouraged you in some way today? I'd love to hear from you, so leave your thoughts or prayer request in the comments box below.
---
Related Posts
4 Keys to Releasing the Holy Spirit's Anointing Through Your Ministry
How to Receive Your fresh Anointing
---
Study Online: Classes for Those Growing in Prophecy:
Would you like clear and easy-to-understand, Biblical teaching on the prophetic gift and ministry?
My own experience of struggling to find good mentoring in the early days is why I am extremely passionate about helping others learn how to hear God's voice, and grow in their gifts of prophecy and discernment.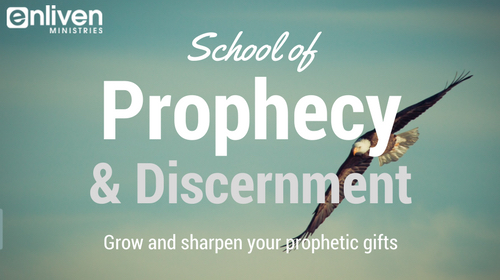 Now, the best mentoring and teaching I can give you is rolled into this one place, on the Enliven School of Prophecy and Discernment.
Classes include: How to hear God's voice, Begin and Grow in Prophecy, The Character of the Prophet, The Seer Gift: How to Grow in Pictures and Visions, Prophetic Discernment, Discernment and Prophetic Warnings, and the Prophetic Guidance Master Class.
You can view and sign up for my self-paced video lecture series in the Enliven Prophetic School here. Choose between a small monthly subscription or a one-off payment (discounted) with no expiry date.
---
"Redigging" and Healing of Wells: What is God Saying?
Has God been speaking to you through a promise or prophecy, using the symbolism of re-digging a well (or wells)? Or, re-digging the wells of revival?
Where God's provision or power once gushed you will see Him move again.
I've just uploaded a new 2-minute video, "Redigging and Healing of Wells: What is God Saying" on YouTube here, and I'd love you to join me by subscribing to my channel here
---
© 2022 Helen Calder, Enliven Blog
Enliven Ministries: Prophetic ministry for a revival generation