Today, I believe God is dealing with lingering questions—He is removing doubt and shame that has sought to hold on, from past events.
Recently as I was praying, I saw a huge warehouse, and a sign on it said, "Clearance!"
The sense I had was one of urgency, to surrender our lives to Jesus.
And that God has marked some items—that have occupied our lives like furniture—for removal.
These include priorities that were good once but are not His best for us right now.
And it is time to release these past treasures, in order to receive the new life He has for us.
---
"Let Me Take Care of This!"
I saw an angel with a giant broom—and I realized the vision spoke of God at work around us, sweeping out His house.
As I meditated on this, I heard the Lord say, "I am making room!" [1]
"Clearance" is joyful news! For clearing out the old, makes way for the new!
Yet at times, we wonder how to clean up the clutter that has built up around us.
Or, there may be parts of our lives that have been soiled by painful experiences.
And we simply don't know where to begin.
---
You are Defined by Love
But the Holy Spirit is moving in this space—"let Me take care of this!" says the Lord.
Today, the word "clearance" speaks of hope and a new beginning. The Lord wants you to know that you are a miracle—and this is how you are known in Heaven:
You are defined by the love of your Saviour
And by the power of God
---
A Living Testimony
Lazarus was the much-loved brother of Mary and Martha, who fell sick and died. [2]
But his destiny on earth was not over.
For four days, he lay in a tomb, but when Jesus called, "Lazarus come forth!" life entered his body.
And Lazarus walked out—a living testimony of Christ's resurrection power.
---
From a Tomb to a Table
In a short space of time, Lazarus goes from laying in a tomb to feasting at a table!
For in the final glimpse we have of Lazarus—in John chapter 12—he sits at a table, at a celebration held in Jesus' honor!
His sister Martha is hosting—and Mary is at Jesus' feet, pouring out fragrant oil from her alabaster box.
This party takes place during the events leading up to Jesus' crucifixion.
By now, Lazarus' story has been passed around. And many people have gathered to Jesus and believed in Him as a result.
But Lazarus is also in the eye of the storm—at the center of the controversy that will lead up to Jesus' crucifixion.
---
A Last Touch of the Portrait
And John tells us,
"When all the people heard of Jesus' arrival, they flocked to see him and also to see Lazarus, the man Jesus had raised from the dead.
Then the leading priests decided to kill Lazarus, too, for it was because of him that many of the people had deserted them and believed in Jesus." (John 12:9,11, NLT)
So much attention is swirling around Lazarus in this final window into his life.
And this is the last we see of him—a last touch of the portrait—Lazarus is at the house at Bethany, dining with Jesus.
Today, Lazarus steps out of the pages of Scripture and reminds us—that no matter how far we have fallen, we also have a place at the table.
We too have a Redeemer.
---
What Matters Most
Recently, it stood out to me that we never do learn the details of what Lazarus was sick with!
On the other side of Lazarus' resurrection, what mattered was not what had caused his death. But the One who had brought him to life.
And his purpose—which was to live for God's glory! As John writes, "It was because of him that many people…believed in Jesus."
Today, Jesus, the One who declared "I am the Resurrection and the Life", has new life and freedom for you.
You too can receive His grace to begin again.
---
A Part of God's Army
Resurrection was also the theme when the Holy Spirit took Ezekiel to a valley, where there were many dry bones (Ezekiel 37).
And perhaps—since they arise a mighty army and are located together in a valley—we can assume they died in battle.
Yet, like Lazarus, their cause of death doesn't even warrant a mention!
What matters, is how and who has brought them to life.
Along with their purpose, which was to be a part of God's army.
For the word of the Lord changes everything.
The word of the Lord—along with the breath of the Lord—has resurrection power.
---
Jesus has Done This
Today, by faith, see yourself in that place that Lazarus occupied, at the table with Jesus.
On the other side of a move of God, where all of the questions fall away.
Here, it's no longer what happened and why.
But only, "Who did this?"
And you realize, Jesus is here—Jesus has done this!
He has healed me and brought me back to life.
And just as Lazarus' name means, "Whom God helps", you are the one God helps! [3]
"Clearance": The old has gone and the new has come. Now, you live for His glory.
And this is your resurrection story.
---
Leave a Comment
How does this prophetic teaching about "Clearance" and Lazarus minister to you today? I can certainly identify with this in a recent journey I've had. I'd love to hear from you, so leave a comment below for your response, testimony, or prayer request.
---
Related Posts:
Lazarus: God's Power is Over You! (Prophetic Word)
---
Notes
[1] When I describe a vision I've seen, it's usually a vivid impression in my mind's eye (in this case also "hearing"), accompanied by a strong sense of God's Presence—I'm not speaking of an "open" (physical) vision. I believe all prophetic words, encounters, and visions should be compatible with Scripture and need to be weighed up—if you'd like to know more see 8 Ways to Grow In Prophetic Visions and Pictures
[2] Read the full story of Lazarus in John chapters 11 and 12
[3] Strong's G2976
---
Study Online: Classes for Those Growing in Prophecy:
Would you like clear and easy-to-understand, Biblical teaching on the prophetic gift and ministry? Would you benefit from some straightforward keys to get you on track as you learn and develop in prophecy?
My own experience of struggling to find good mentoring in the early days is why I am extremely passionate about helping others learn how to hear God's voice, and grow in their gifts of prophecy and discernment.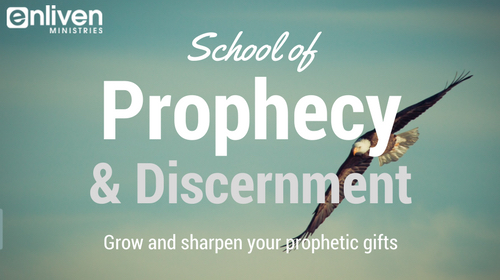 The best mentoring and teaching I can give you is now rolled into this one place, on the Enliven School of Prophecy and Discernment.
Classes include: How to hear God's voice, How to Begin and Grow in Prophecy, The Character of the Prophet, The Seer Gift: How to Grow in Pictures and Visions, Prophetic Discernment, Discernment and Prophetic Warnings, and the Prophetic Guidance Master Class.
You can view and sign up for my self-paced video lecture series in the Enliven Prophetic School here. Choose between a small monthly subscription or a one-off payment (discounted) with no expiry date.
I have activated a

20% discount

from $49.95 to $39.95 on the one-off payment until 29th April
---
4 Insights into the Prophetic Meaning of Wells
Has God been speaking to you through a promise or prophecy, using the symbolism of a well (or wells)?
It has Biblical significance, and is a great encouragement for those who need provision and are hungry for the move of God.
But there's also an unexpected side to this symbol!
I've just uploaded a new video, "4 Insights into the Prophetic Meaning of Wells" on YouTube here, and I'd love you to join me by subscribing to my channel here
---
© 2022 Helen Calder, Enliven Blog
Enliven Ministries: Prophetic ministry for a revival generation