When we talk about someone having favor, we mean that others approve, like, and think well of them. And favor positions them to receive preferential treatment and promotion.
Favor is a Biblical concept, and we learn that God created us for favor. And He imprinted the desire for favor upon our hearts—a part of our spiritual DNA.
---
3 Facets of God's Favor that will Transform Your Life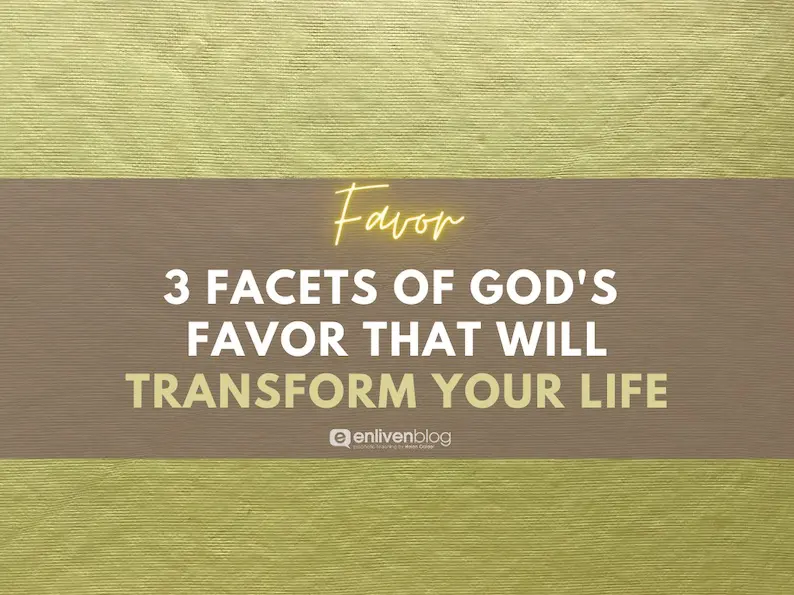 When we have the revelation of the favor of God, it heals our hearts and brings us into a place of rest from striving. It releases us from working for approval—because we know that we already have our Father's approval. It also releases us from fear—because we know that His intent toward us is good.
Here are three glimpses of favor in the Bible and lessons that we can learn from them:
---
1. Favor Brings Promotion
'But while Joseph was there in the prison, the Lord was with him; he showed him kindness and granted him favor in the eyes of the prison warden' (Gen 39:21)
This favor was linked to the presence of God in Joseph's life. As a result, Joseph received promotions and preferential treatment.
God's favor opened doors of promotion and opportunity.
The Hebrew word chen [2] means favor, grace and acceptance.
Joseph did not just take that favor for granted, however. He worked hard, was a good steward of the gifts and calling of God upon his life, and honored the leaders he served.
Joseph's story reminds us that whilst we do not labor to earn God's favor on our lives, we are still required to participate with it.
In the New Testament, we read of how Jesus grew in favor with God and people. (Luke 2:52) In Acts, the freshly anointed church was 'enjoying the favor of all the people.' (Acts 2:47)
Just as the Hebrew word for favor, chen, is used interchangeably for favor and grace, in the New Testament, the word translated 'favor' is charis [3] which is also means grace.
So, God's favor is a manifestation of His grace.
God's favor on your life will not always mean that people think well of you. Remember that the enemy hates the grace and favor of God on your life and it may at times result in persecution, such as Joseph first received from his brothers. However, as you participate in the favor of God in your life, nothing can stop His plans from coming to pass.
---
2. You Receive God's Protection
'Surely, Lord, you bless the righteous; you surround them with your favor as with a shield.' (Ps 5:12)
The Hebrew word for favor here is ratsown, [4] meaning goodwill, favor, acceptance and delight. The type of shield mentioned here is a large one that covered the whole soldier. [5]
In the Old Testament we read that as long as Israel and Judah stayed in God's favor, they were protected from their enemies. (Ps 30:7), As soon as they moved out from that umbrella of God's protection, they were vulnerable to being plundered.
Jesus has paid the full price for you to receive the favor of God, a favor that encompasses you, covers you, shields and protects you.
In Isaiah 61:1, the Year of Jubilee is referred to as the 'Year of the Lord's Favor', (NIV) or, 'The Acceptable Year of the Lord' (KJV). The word used here is again ratsown. (See also Luke 4:19, 2 Cor 6:2b)
Jubilee has to do with restoring inheritance and setting God's people free from bondage. Jesus fulfills the Year of Jubilee, and its benefits are available to you.
God's favor is not passive; it is always actively working on your behalf.
---
3. Favor is God's Pleasure in you
Throughout the Scriptures, we read of men, women, and children who found favor with God. Some examples are: Abel (Gen 4:4) Noah (Gen 6:8) Abraham (Gen 18:3) Moses (Ex 33:12) Samuel (1 Sam 2:26) and Mary (Luke 1:30).
We also read of those to whom God gave favor with people, opening doors of relationship, inheritance, and opportunity. Esther found favor with the king (Esth 2:9), as did Nehemiah (Neh 1:11) and Ezra (Ezra 7:28). Ruth found favor with Boaz (Ruth 2:10).
Now, God extends His favor not only to a few individuals but to all of those who receive His salvation—His sons and daughters.
"Glory to God in the highest heaven, and on earth peace to those on whom his favor rests." (Luke 2:14, NIV)
The Greek word translated favor here is eudokia, [6] is also translated 'good will.' It means good will, kindly intent, delight and pleasure.
Think about the favor that the waiting father showed to the returning prodigal in Jesus' parable. (Luke 19) He bestowed emblems of sonship and authority upon him, restoring his status, and threw a party for him. Favor is the embrace of God.
Today, know that God's favor rests upon you.
You have God's approval and complete acceptance. He loves you—He even likes you! He is constantly thinking about you, beaming goodwill towards you. His grace upon you is like an attractive light that shines, both towards you from God, and from your life to others.
---
Notes:
[2] Ref Strongs H2580, [3] Strongs G5485, [4] Strongs H7522, [5] Strongs H6793, [6] Strongs G2107
---
© 2014  Helen Calder Enliven Blog – Prophetic Teaching
Enliven Ministries: Prophetic Ministry for a Revival Generation