Have you ever noticed that when some people minister, the 'fragrance' of God's Presence is released? In church life, we often refer to this as the anointing.
'And the house was filled with the fragrance of the perfume.' (John 12:3b)
---
The Anointing of the Holy Spirit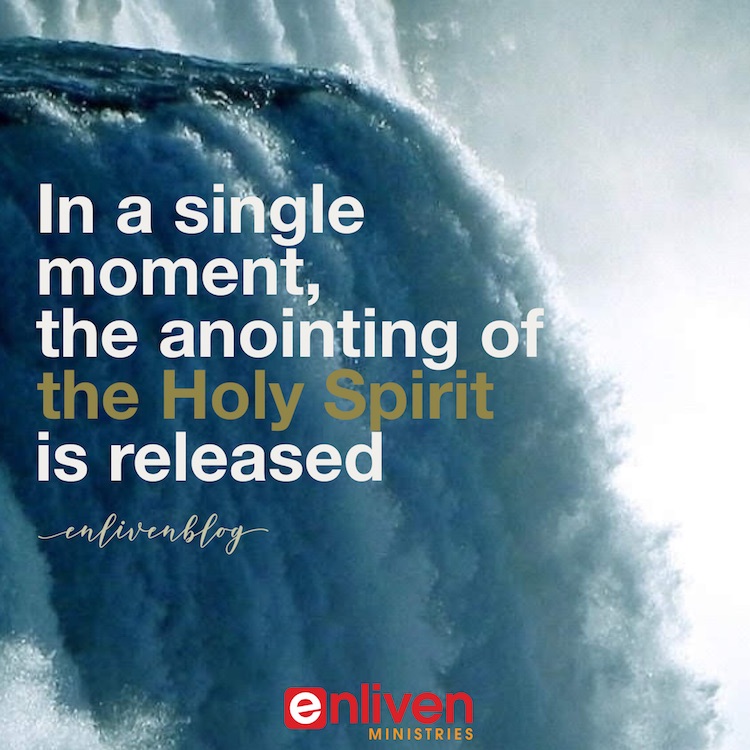 God's anointing is not a mysterious atmosphere or 'something'; it is the tangible, manifest Presence of the Holy Spirit.
I have a great desire for God's anointing to be released as I minister, and I pray that you do, too.
The anointing is both the Holy Spirit's Presence and His power:
The anointing is the Spirit's power to fulfil God's purpose for that moment. (Luke 4:18) This may include healing (Luke 5:17) or prophecy, or worship—or simply for people to encounter God.
In discussing ministry, I'm not just talking about leading worship, prophesying or preaching. I have come across ushers, people serving in hospitality or helping in practical ways, who are greatly anointed.
When I come into contact with them and receive from their ministry, I have encountered God—and something of the fragrance of His Presence lingers with me afterwards.
---
4 Keys to Releasing the Anointing of the Holy Spirit Through Your Ministry
'Then Mary took about a pint of pure nard, an expensive perfume; she poured it on Jesus' feet and wiped his feet with her hair. And the house was filled with the fragrance of the perfume.' (John 12:3)
The story of Mary breaking open the alabaster box of perfume upon Jesus just days before His crucifixion has some powerful imagery, and lessons for those of us who want to be releasers of God's anointing—in every context of life and ministry.
---
1. Give Your Best to Jesus
Mary lavished upon Jesus a very costly perfume. More than a year's wages in value was used up in a moment of extravagant giving.
King David once said, when a rich man offered him the means to bring a sacrifice to God as a gift, "No, I insist on paying you for it. I will not sacrifice to the Lord my God burnt offerings that cost me nothing." (2 Sam 24:24) This was personal to King David, and it should be personal to us.
What this means will be unique to every person and situation. It includes paying the price of time for intimacy with God, as well as expertise in your gifts and skills.
It comes by recognizing that the Spirit's anointing is an honor and privilege; a gift to prize and a Person to seek after, not something to take for granted.
How much do I value God's anointing?
Am I investing in my relationship with Him?
---
2. Be Genuine in your Worship and Ministry
Mary offered her gift genuinely from her heart. It was not an act or a show, or a performance designed to please or impress. It was not something expected from her. It was real and authentic.
Mary didn't do it because other people expected it from her. It was a personal gift from her heart to Jesus.
"Yet a time is coming and has now come when the true worshipers will worship the Father in the Spirit and in truth, for they are the kind of worshipers the Father seeks." (John 4:23, NIV)
When what we offer to God in front of others is from the heart, without pretence or pretext, like Mary we will bring an offering that is fragrant.
And the fragrance of God's Presence—His anointing—will fill the house.
Am I free of the need to impress other people?
Is what I offer to God in ministry genuine and from my heart?
---
3. Let Jesus be your 'Audience of One'
Mary wasn't following the crowd in bestowing her gift upon Jesus. And she certainly wasn't doing it for the crowd. In fact, she was harshly criticised for her act of devotion.
She was not put off, or intimidated by the presence of other people witnessing her ministry to Jesus. What Mary did was an act of love for Jesus alone, for an audience of One.
And He honored her for it.
'And the house was filled with the fragrance of the perfume.' (John 12:3)
The perfume was offered to Jesus alone, but every person present was aware of and impacted by Mary's gift.
That's how your life and ministry can be.
Is Jesus my 'why' of ministry?
Am I ministering for Him, and to please Him above everyone else?
---
4. Be Sensitive to God's Spirit and Timing
When Mary was criticized, Jesus replied, 'Leave her alone…it was intended that she should save this perfume for the day of my burial' (John 12:7, NIV)
Jesus' words, 'It was intended', tell us that Mary had something sitting amongst her most prized gifts and possessions that was reserved for this moment.
In the Gospels we read of several times that Jesus was anointed with perfume. Only Mary anointed Him for burial. The women who came to Jesus' tomb with burial spices were too late, for He had already risen.
Mary listened to Jesus talking about what would shortly take place—and unlike His disciples and others, she actually believed Him.
Mary also had a prophetic sense of God's timing.
Mary was moved by the Holy Spirit. This can be your desire —to be led by the Spirit in your ministry and to be constantly in tune with the Father's heart and His timing.
Then, through your obedience, in a single moment the anointing of the Holy Spirit is released.
Glory is brought to Jesus.
History is made.
And there are people around you whose lives are changed forever.
How sensitive am I to the Holy Spirit and His timing in my ministry?
Am I willing to release and adapt my agenda to His?
---
I started to cry when the Holy Spirit 'interrupted' my video recording
This week, I was in the middle of teaching about Mary having a prophetic sense of God's timing, when the Holy Spirit touched me.
I began to cry, and God's Presence filled the room.
Between the two online courses and my YouTube channel, I've recorded well over 100 mini-videos over the last couple of years, and although I'm used to experiencing a tangible sense of the Spirit's anointing, I've never encountered Him in quite this way.
Then, when I showed the video to my husband, he was touched by the Holy Spirit and started to cry, too!
The full, 4-point teaching video (tear-free and recorded on a different day) is above (or find it on my YouTube channel).
---
Enliven Prophetic School
Recently I've been focusing on the Holy Spirit in prophecy, and course content on the Enliven Prophetic School now includes:
Intimacy with the Holy Spirit: 10 ways to grow in sensitivity to the Spirit in prophecy
Being a Clean Vessel for the Holy Spirit to Minister Through
Developing a Lifestyle of Sensitivity to the Spirit
You can view and sign up to my self-paced video lecture series in the Enliven Prophetic School here. Choose between a small monthly subscription, or a one-off payment with no expiry date.
---
Related Posts:
---
Notes:
This article was written in 2013 and revised on 5th October 2018. Videos (YouTube and Facebook) recorded in October 2018.
---
© 2013-2018 Helen Calder
Enliven Ministries: in the David McCracken Ministries Family