A new season requires a fresh anointing.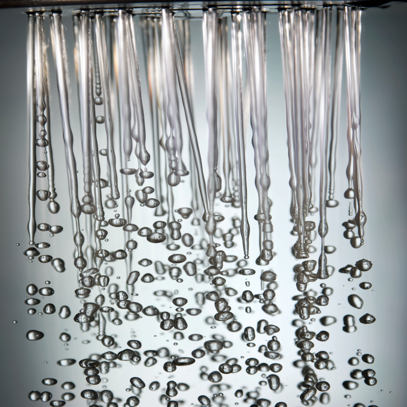 Even their greatest critics had to admit it.
Peter and John's behaviour, speech, boldness and power were tangible evidence of the time they had spent in close relationship with Jesus.
"When they saw the courage of Peter and John and realized that they were unschooled, ordinary men, they were astonished and they took note that these men had been with Jesus." (Acts 4:13)
---
The Spirit's Anointing "Rubs Off"
Our English expression, "to rub off", means "to have an effect through close association or contact…so as to make similar." [1] 
For example, if you brush up against a freshly painted door, wet paint will rub off on you.
Jesus' attributes and anointing rubbed off onto His disciples. Their close contact with Him changed them.
And this can be your experience.
Jesus said, "The Spirit of the Lord is on me, because he has anointed (chrio) me…" (Luke 4:18)
The Greek word translated anointed, "chrio", means 'to smear or rub with oil.'  The imagery speaks of the physical act of anointing, and is used metaphorically of being anointed with the Holy Spirit. [2] There is something in that picture that is prophetic—conveying the Father's heart and purpose for our lives.
"To smear or rub with oil."
This is His invitation to you!
Today, you can anticipate getting up close and personal with God. Right now, receive a touch from Him.
As you encounter Him, the Spirit's Presence and power rubs off onto your life in such a way that others witness it and hunger for a close relationship with God for themselves.
The anointing is not a commodity; it is not a "thing." It is the Person of the Holy Spirit. And that hunger that you have right now for the indefinable "more" of God, for His Presence and His anointing—that is a gift of the Spirit.
---
4 More Ways to Receive a Fresh Anointing
In addition to spending personal time with God, here are 4 more things to consider as you seek a fresh anointing from God for your life and ministry:
1. A Fresh Encounter with God Through His Word
'And we all, who with unveiled faces contemplate the Lord's glory, are being transformed into his image with ever-increasing glory, which comes from the Lord, who is the Spirit.' (2 Cor 3:18)
The Greek word translated "contemplate" in this verse, means to look into a mirror. [3] In context, Paul is saying that we don't have a blinded understanding—we have the fullness of the Gospel that reveals Jesus.
It is on God's heart that you encounter Him in the Bible, catching a fresh revelation of Who He is and see mirrored there who you are in the process of becoming. When you do, you experience transformation, you encounter God and you receive a fresh touch from Him.
---
2. Make Room for More
'In a large house there are articles not only of gold and silver, but also of wood and clay; some are for special purposes and some for common use. Those who cleanse themselves from the latter will be instruments for special purposes, made holy, useful to the Master and prepared to do any good work.' (2 Tim 2:20-21 NIV)
The 'latter' that Paul referred to was false teaching and ungodly talk. What is that thing that the Holy Spirit is putting His finger on in your life right now and He is saying, 'It's time for that to go'?
Maybe it is fear or intimidation, or lack of self worth. Perhaps you need to release bitterness and forgive someone. Maybe it is an area of struggle or temptation—and you need to bring it into the light and share with a leader what is going on. It could be distractions that are keeping you from focusing on God.
Sometimes in order to be filled and receive more, we need to make room and we need to be cleansed.
---
3. Close Association with Others who are Anointed
What is 'rubbing off' onto you from the people who are around your life? What is 'rubbing off' from you onto others?
If possible, get around people who have the Presence of God on their lives and who carry the integrity, attributes, gifts and spiritual DNA that God has called you to have on your own life.
Learn from them, receive from them, and study them and what they do.
You can do this even when there is a distance between you. My husband Malcolm and I are privileged to be in the David McCracken Ministries family. I regularly get to spend time with a group of people who are not only fun to be with, they are also passionately in love with God.
And even when we travel frequently, I can still listen to podcasts from our church, Planetshakers. These people and ministries are God's gift to us and help us stay fresh, continually leading us into God's Presence.
---
4. Receive a Fresh Anointing Through Prayer
Praying and receiving prayer are one way that you can receive a fresh impartation of the Holy Spirit's anointing.
Recently I received prayer with anointing by oil for healing. (James 5:14) The fragrance of the oil lasted all day—reminding me in every moment of the time we had spent in God's Presence.
Sometimes the very act of humbling yourself and confessing to God and others, 'I'm hungry for more of God and His anointing' is what it takes to receive a fresh touch of the Holy Spirit on your life.
---
Notes:
[1] Free dictionary, see http://www.thefreedictionary.com/rub+off
[2] Strongs G5548. See also the noun for anointing, which is 'chrisma', defined in Strongs (G5545) as 'an unguent or smearing, i.e. figuratively the endowment of the Holy Spirit;–anointing, unction.'
[3] Strongs G2734
---
Related Posts:
---
© 2015-2019 Helen Calder, Enliven Blog
 Enliven Ministries: In the David McCracken Ministries family