I believe the Lord is speaking comfort into disruptions, delays, and painful wait times.
He wants you to know that He is with you—in fact, right now, you are in a Divine appointment!
You may have experienced loss, but your God specializes in restoration. And He has a harvest for you.
---
The "Real Stuff"
Sometimes, we find ourselves stuck in what seems to be an inconvenient delay.
And we can't wait to get through it quickly—so we can get to the "real stuff" God wants us to do!
Yet all the while, our Father is saying,
"You are not only on the way to your destination. You are in My Divine appointment right now!
I am with you, and I am for you."
This is what happened to the Apostle Paul.
---
The Bright Spot on the Horizon
Just as the book of Acts is drawing to a close, Paul's situation seems to be going from bad to worse.
He is a prisoner of the Romans—and after a long delay, Paul is finally on the way to Rome for sentencing.
The bright spot on the horizon is that God has called Paul to Rome! And he is aware God is using this trial to get him there.
But then, violent winds blow up, and the boat becomes shipwrecked.
Now, the disaster has left them stranded on the island of Malta.
---
People are on God's Heart
There are people that you are only going to touch because you landed somewhere you didn't expect.
And in Acts 28:2, we read, "The islanders showed us unusual kindness."
Here, there are 276 people who are cast up onto the island—Paul and Luke included.
Some of these are travelers, others are Roman prisoners and guards. And there's a Centurion named Julius.
This is the love of our God—and this is the passion of our God. He loves the unlovely!
---
There's a Harvest in Your Delay
Now, God is giving this motley group of travelers an opportunity to see His power at work.
But not only that, here are the local people, the islanders of Malta:
A small people group who are unreached
They haven't heard the Gospel of Jesus
Who has God placed around you at this time?
Your Father has appointed a harvest, in the very place you have experienced a disruption!
---
A Breakout of Healing Power
There, in a dark place, Paul ministers healing.
For the first time, the islanders see the works of the Kingdom and learn about Jesus' love and power.
We read in verse 8:
"And it happened that the father of Publius lay sick of a fever and dysentery. Paul went in to him and prayed, and he laid his hands on him and healed him. So when this was done, the rest of those on the island who had diseases also came and were healed."
And so begins a breakout of the healing power of Jesus.
Right now, a healing awakening is on God's agenda for our own generation.
---
The Journey was Significant
One day, my husband Malcolm and I watched a documentary chronicling the life and journey of the Apostle Paul.
And it astonished me when the commentator only made a passing reference to Paul's stay in Malta.
Yet, this journey was of such significance that the Holy Spirit had Luke—who was the writer of Acts—dedicate two chapters to this event!
So, why did God allow the disaster and detour to Malta?
---
God Turns Your Pain Towards His Purpose
By this time, Paul has completed three major missionary journeys. He has strategically planted churches in significant hubs throughout the Roman Empire so that the Gospel can go out from there.
Some estimate, he's traveled over 10,000 miles! [2]
Now, the apostle has his sights set on Rome, God's ultimate calling for him
Paul has done all he has been called to do and the end goal—Rome—is in view.
But for the love of God, who allows an unexpected detour.
For Paul's missionary days are not over.
---
Favor in Unexpected Places
What an amazing God we serve, He loves people with magnificent passion.
No one is left out.
And because of this, God may interrupt your well-ordered schedule.
At times, He will even allow your discomfort to drop you into His purposes. But He will turn the bitter into sweet.
In the place of loss, you discover God has given you new friends.
And—you find favor in unexpected places.
---
God has Appointed a Harvest for You
Next, God uses the islanders to shower Paul and the group of survivors with kindness.
They give them the provisions they need for the next part of their journey.
And we read in Acts 28:10 "They honored us in many ways; and when we were ready to sail, they furnished us with the supplies we needed."
Perhaps, you have experienced a delay, or a disruption rocked your world.
But the favor of God is on your life and that makes all the difference.
For right here, right now—God has appointed a harvest for you.
---
Notes:
[1] The name Malta in Greek is "Melite", which means "honey" (see Strong's G3194)
[2] See here for example
---
Related Posts:
This is my fourth and final prophetic study on this story of Paul. The first three are here:
---
Leave a Comment:
Can you relate to this prophetic word about God turning disruption and delay into a harvest? I'd love to hear from you, so leave your message or prayer request in the comments below!
---
Study Online: Classes for Those Growing in Prophecy:
Would you like clear and easy to understand, Biblical teaching on the prophetic gift and ministry?
Do you need some straightforward keys to get you on track as you learn and develop in prophecy?
I've been privileged to receive extraordinary prophetic mentoring, as one of a ministry team of prophets and teachers with David McCracken Ministries.
But it hasn't always been that way. When it comes to spiritual gifts, I know what it is like to go on a long journey, and often a lonely one.
My own experience of struggling to find good mentoring is why I am extremely passionate about helping others learn how to hear God's voice, and grow in their gifts of prophecy and discernment.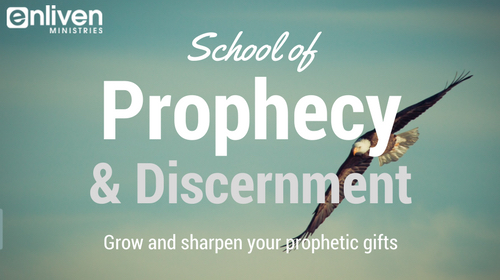 The best mentoring and teaching I can give you is now rolled into this one place, on the Enliven School of Prophecy and Discernment.
Classes include: How to hear God's voice, How to Begin and Grow in Prophecy, The Character of the Prophet, The Seer Gift: How to Grow in Pictures and Visions, Prophetic Discernment, Discernment, and Prophetic Warnings, and the Prophetic Guidance Master Class.
You can view and sign up for my self-paced video lecture series in the Enliven Prophetic School here. Choose between a small monthly subscription or a one-off payment with no expiry date.
---
© 2022 Helen Calder, Enliven Blog
Enliven Ministries: Prophetic ministry for a revival generation