Today, I believe the Lord is speaking comfort to those who have found themselves in a setback.
Or maybe you know someone who needs this encouragement right now.
I hear Him say, "Beloved, hand this situation over to Me. Give it over to Me completely, for I am the One who turns bitter into sweet!"
---
From a Victory to a Wall
Be assured that God is able to turn your disappointment into a Divine appointment!
In Exodus 15, the Israelites are fresh from a powerful victory, having escaped their enemies and crossed the Red Sea!
But then, they spend three days wandering in the Desert of Shur.
And that desert is dry and waterless.
Shur—the Hebrew name means "wall"—and it's a reminder of what can happen to us sometimes. [1]
We have had a powerful victory, we have a testimony, but then—it is like we've hit a wall.
---
It is the Same God
There have been times when I said, "I've not only hit the wall, but I've also slid down it!"
At that point, you don't know what to do—you've run out of strength.
But the God who rescued you from the war is the same God who is with you at the wall.
And He is always faithful!
---
Not What We Expected
After three days of travel, the Israelites finally arrive at a place where there is water. For a short time, their spirits lift, but—the water is bitter and undrinkable.
That place is called Marah—which is a Hebrew word meaning "bitter" [2]
And maybe this has happened to you at some time.
It may be a location, relationship, job, or ministry situation:
Sometimes, the reality of where we arrive is not what we anticipated.
At first, it looks like the answer to our prayers.
But then, we taste it—only to discover bitterness and disappointment.
---
God Showed Him a Tree
Now, the Israelites are not in a good mood! They are crying out, "What are we to drink?" and they are grumbling against Moses, their leader.
At Marah, the Israelites complain, but one person hears from God!
"So he [Moses] cried out to the Lord, and the Lord showed him a tree." (Ex 15:25a, NKJV)
Moses prays, and as he does, God shows him a tree.
And we know today, that tree is symbolic of the Cross of Christ!
Immediately, Moses throws that tree into the bitter waters at Marah—and the water becomes sweet and drinkable.
---
Ask the Right Question
Today, just like Moses, you are the one who can be a difference-maker, a game-changer.
So, no matter what people are saying around you, turn your heart towards God.
Now ask, "What does this circumstance look like, when I view it through the cross of Christ?"
While others are saying, "the waters are tainted! This place is bitter!" you will see a miracle.
And you will know that God has appointed you to lead the way.
For right here in this place, you will see the Holy Spirit heal the waters.
---
The Healing Covenant
At Marah, God reveals the power of the cross. And there, He declares His healing covenant.
It is there God declares, "I am the God who heals you. I am Jehovah Rapha". [3]
At the bitter place, we discover a Divine appointment.
Sometimes, as God did with the Israelites, He will challenge our mindset and we have our own "Marah" moments.
For Marah is a place of testing.
Here, God invites us to see who He really is—Almighty God—and who He can be to us.
---
The Paradox of the Sweet Spot
So, let's talk about a "sweet spot" for a moment.
Because today when we talk about finding our "sweet spot", we generally mean we have found a position that best suits us—in a career, ministry, relationship, and so on.
It's where we are at our best, our optimum.
The sweet spot could be seen as a situation you are aiming for—or you believe God has called you to.
Or, you may see it as your prophetic calling.
But there's a paradox that exists in the Kingdom—and at times, we need to grapple with it!
Because Biblically, there can be a difference between what we think of as a sweet spot and what God calls a sweet spot.
---
Paul has a Setback, but God has a Plan
At times, God may even declare that what we perceive as a "setback" is His sweet spot for us!
This brings me to Paul.
It's Acts 27, and we come to the end of Paul's story. He's a prisoner to the Romans, and is on his way to Rome via ship, to face trial before Caesar.
Rome is also the apostle's ultimate prophetic calling—his destiny.
Years earlier, Paul wrote to the Christians in Rome, saying he was longing to be there (Rom 1:11). We read that prior to his arrest, Paul determined that he was headed for Jerusalem and then Rome (Acts 19:21).
But now, what should have been a straightforward boat trip becomes a nightmare as the weather deteriorates.
And they find themselves in the "perfect storm".
---
God Can Even Use a Shipwreck
Days and nights pass by—until eventually, all aboard have lost hope.
And that's when Paul brings the word of the Lord—a prophecy delivered by an angel—to say the boat will be lost, but their lives will be saved.
This is exactly what happens, as the ship is wrecked off the coast of an island. And those who can swim, swim ashore—while those who can't swim, make it to the island clinging to the boat's debris.
And so, we get to the opening verse of Acts 28:
"Once safely on shore, we found out that the island was called Malta." (Acts 28:1)
---
God Turns the Bitter into Sweet
Malta.
In those days, it was called "Melite" in Greek, which meant, "honey" or "honey-sweet." [4]
The sweet spot.
Hold on a minute—Father, this is not my idea of a sweet spot! My idea of a sweet spot is this place of living at my fullest potential and you're drawing my attention to this?
This story is about being shipwrecked, delayed, and detoured.
It's a paradox!
And yet often, it's what the sweet spot looks like from Heaven's perspective.
For Paul, Malta will become a place of power
Here, the apostle will see a move of God, an unreached people will come to know Jesus
And at Malta, all who have journeyed with him will discover that God has already established their supply
---
Ask, "What is My Father Doing?
At the sweet spot, you find yourself in unexpected territory.
So today, if you have experienced delays or detours.
If you expected refreshing, but have come up dry.
Or, you have been disappointed—maybe you have had your own "Mara" or "Malta" moment.
Look up, for there is a "Tree"! It is the cross of Christ. See that right now, you have a Savior, a Healer, a Deliverer, who is working on your behalf.
And your setback is about to become a sweet spot.
---
Keep an eye out on the blog over the next few weeks, as I will be continuing with some more prophetic insights from Paul's journey to Malta
---
Notes:
[1] Shur, see Strong's H7793
[2] Marah, see Strong's H4785
[3] Jehovah Rapha, see Strong's H1961, H7495
[4] Melite, see Strong's G3194
---
Related Posts
Prophetic Word: Roar ~ It's Time for Esther's Decree
Divine Positioning: How to be in the Place God has for You
Go Again: He is God of the Second Time Around (Esther's Second Banquet)
---
Leave a Comment
Does this insight about setbacks becoming sweet spots speak to you today? I'd love to hear from you, so scroll down to share which point you relate to most in the comments box below.
---
The Enliven Prophetic School (Video e-Course)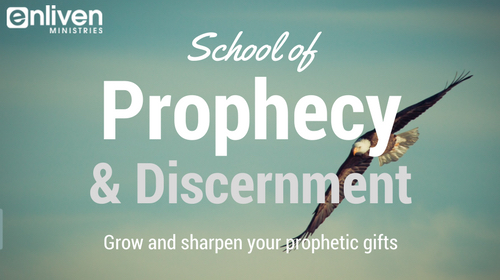 Could you benefit from clear and easy to understand, Biblical teaching on the prophetic gift and ministry?
If you would like to grow and sharpen in your prophetic gift, I warmly invite you to join me at the Enliven Prophetic School.
The Enliven Prophetic School includes the following classes:
How to get closer to God and hear His voice
The basics of the discernment gift
Keys to growth in the seer gift, prophetic pictures, and visions
Find out how to receive and process prophetic warnings from the Holy Spirit
Prophecy, foundations, prophetic guidance, and more
You can view and sign up for my self-paced video lecture series in the Enliven Prophetic School here. Choose between a small monthly subscription or a one-off payment with no expiry date.
---
© 2021 Helen Calder, Enliven Blog
Enliven Ministries: In the David McCracken Ministries family