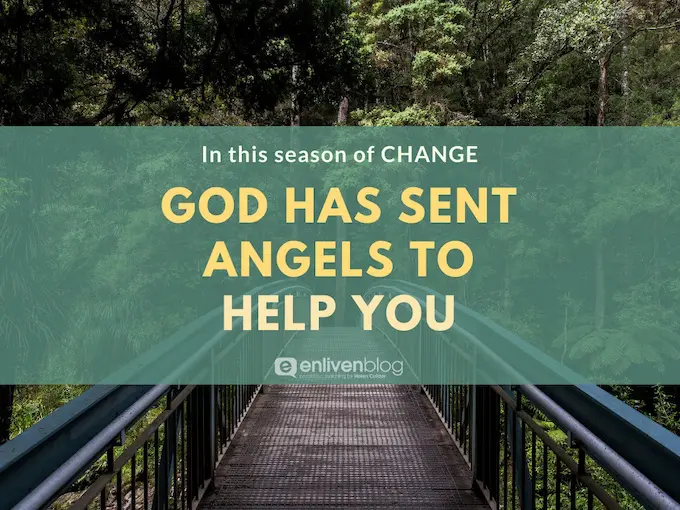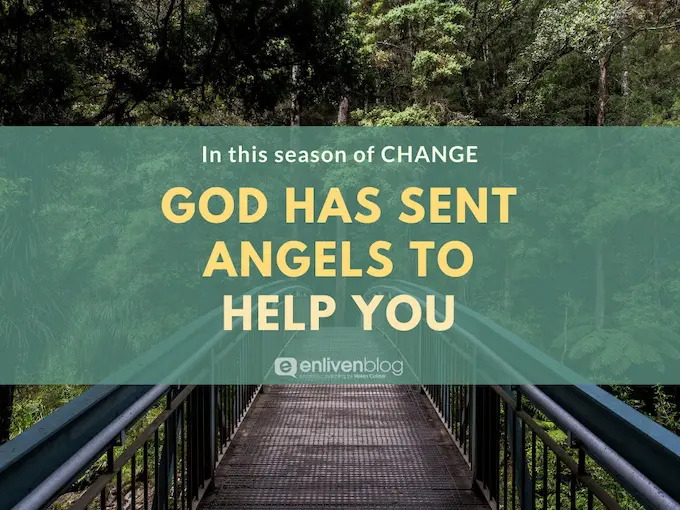 Has it felt like you are going through a season of transition or change? You can be assured that God has sent His angels to help you.
There is a place of hope and joy God has prepared for us, in the midst of change!
Angels in Every Direction
If you can relate to this, here is a promise from God's Word for you today:
"The angel of the Lord encamps all around those who fear Him and delivers them." (Psalm 34:7, NKJV)
"All around" means that no matter which direction you turn—whether to the north, south, east, or west—God has stationed His presence and angels around you.
---
The Spirit said, "Pay Attention"
On 26th December, I was watering some plants outside our house when I saw a small angel decoration lying on the ground.
But then I forgot about it, until the next day when I noticed it again.
I thought, "That's funny" because one of our boys had meticulously cleared the area after our Christmas lunch.
So, I picked it up—and as I did, the Holy Spirit said, "Pay attention!"
Angel on the Kitchen Counter
As I put the angel on our kitchen counter, I realized it was not an angel at all—only a piece of ribbon!
But still, a strong awareness that God was speaking stayed with me. [1]
Later I said to my husband Malcolm,
"I believe God is speaking about a 'changing of the guard'. We're going through change and there's is a corresponding shift happening in the atmosphere of the Kingdom around us—especially in the angelic realm."
---
3 Bible Examples of When Angels Are at Work
At the very moment I was speaking, I knew it was a significant word. Because "changing of the guard" speaks of workers (or warriors!) coming in to take over a new shift.
Right at a point of transition.
And it's a reminder from the heart of our Father, that He arranges resources to be available at the right time.
As we might say, "just like clockwork"—and this includes angels!
Here are three examples:
---
1. God Sends His Angels When You Are in Transition
Jacob and his whole family were on the move, headed towards Canaan.
He knew God had told him to take this journey. But still, he couldn't shake the feeling that danger was up ahead.
For the last time he saw Esau, his brother threatened to murder him.
Now, Jacob mused over the real possibility his whole family was in danger.
While they were on the way, they encountered angels of the Lord, camped in the same area.
Double Camp
The Hebrew word translated "encounter" in this passage, "paga" is a strong word. It can also mean "strike" (Strong's H6293). Amazed, Jacob said, "This is God's camp!" And he named that place Mahanaim, which means "double camp" (Gen 32:1-2).
"The angel of the Lord encamps all around those who fear Him and delivers them." (Psalm 34:7, NKJV)
Jacob was about to see fear turn into favor.
Like Jacob was, you may also be in a time of transition. Even though your future is unseen, you can be assured His angels not only surround you.
They also accompany you.
---
2. Angels are Working on Your New Assignment
Joshua stood in front of Jericho's walls. He was in a place he had never been before, with a greater responsibility than he had ever faced.
But he knew God was with him.
"And it came to pass, when Joshua was by Jericho, that he lifted his eyes and looked, and behold, a Man stood opposite him with His sword drawn in His hand. And Joshua went to Him and said to Him, "Are You for us or for our adversaries?"
So He said, "No, but as Commander of the army of the Lord I have now come." (Joshua 5:13-14, NKJV)
Not in Your Own Strength
Maybe, like Joshua, you have a weight of responsibility—and you do not know how you will bear the load. There is ground to cover and territory to take!
An assignment from God will always be something you cannot achieve in your own strength. You need the empowering of the Holy Spirit—His courage, wisdom, and discernment.
You also need God's physical intervention—because there is a gap in your capacity! And this is where angelic assistance comes in.
Even now, power is being released through your "yes" to God!
And just as Joshua did, you will see God moving into your gap.
---
3. Angels are Protecting You in a Time of Warfare
One morning, Elisha's servant came running in with some bad news. The Syrian army, together with their horses and chariots, surrounded the city where they were staying. He cried out, "Alas, my master, what shall we do?"
But Elisha knew that God's army was protecting him—regardless of what it looked like on the outside.
And he knew that "The angel of the Lord encamps all around those who fear Him and delivers them." (Ps 34:7)
So Elisha prayed,
"Lord, I pray, open his eyes that he may see." Then the Lord opened the eyes of the young man, and he saw. And behold, the mountain was full of horses and chariots of fire all around Elisha."
(2 Kings 6:17, NKJV)
Just as it was for Elisha's servant, it is for us today. Having a revelation that God is taking care of you—and He has encamped His angels around you—is a remedy for fear.
And the beginning of deliverance.
---
Angels are "on the Job"
In the Psalms, we learn that angels—who "excel in strength"—are responding to God's directives and carrying them out (Psalm 103:20)
So they are "on the job," directly employed in answer to prayer!
Today, rejoice in this reminder: God knows your location, and He has sent His angels to look after you.
You can rest assured that these Heavenly "change agents" are at work, in answer to your prayer.
But more than that—much more—God Himself is present with you.
"For I,' says the Lord, 'will be a wall of fire all around her, and I will be the glory in her midst.'" (Zech 2:5, NKJV)
---
Notes:
[1] On occasion, the Holy Spirit uses something I come across (or see) to speak to me. Those who can relate to having a "seer" gift may be able to relate to this. For insights about this, see "Is God Speaking to You Through the Environment?"
For insights about having a "Seer" gift, see: "Seer or Discerner: What's the Difference?"
---
Leave a Comment
Which of these three situations can you relate to at this time—transition, increasing responsibility, or spiritual warfare? I seem to be relating to all three in turn right now. I'd love to hear from you, so let me know your thoughts in the comments on the blog
---
Related Posts:
---
Help for Prayer Warriors: Overcome Spiritual Dryness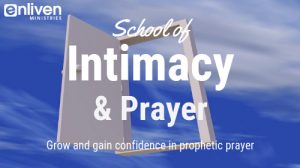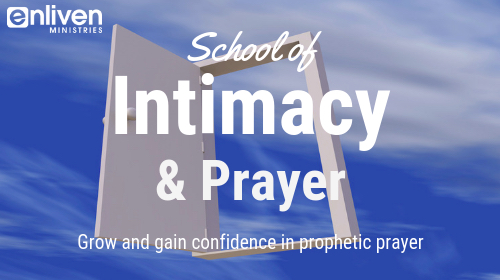 The study on "9 keys to help you replenish as an intercessor" is life-changing. I have recently created and uploaded a video on this topic.
Yes, Sabbath rest applies to intercessors also—even when you have an ongoing assignment.
And these keys will help with the faith and reassurance you need to stop and let God refresh you.
If you have felt dry or depleted in your prayer life lately, these lessons in my Prophetic Prayer School will benefit you.
You will find these in the class, "How to Prevent and Recover from Dryness in Prayer".
Causes of Dryness and Depletion in the Intercessor
Nine Keys to Being Replenished as an Intercessor
Receiving Prayer: How to Stay Filled with the Holy Spirit Through Soaking PrayeI warmly invite you to join me at the Enliven School of Prophetic Prayer
You can view all online courses, including the Prophetic School here.
---
© 2022 Helen Calder, Enliven Blog
Enliven Ministries: Prophetic Ministry for a Revival Generation