Have you ever been impacted by a choice someone else made—and it was a decision that you didn't agree with?
This is a situation many of us can relate to.
Perhaps, you didn't have a say and you felt disempowered or hurt by what happened.
Today, I believe God is saying, "Not only can I turn your mess into a message, but I can turn that mess someone else landed you in, into a life-giving message."
He wants you to know that He is sovereign and faithful!
And you will emerge triumphantly.
---
Someone Else's Unbelief Sent Her into Battle
This is what happened to Deborah, who was appointed by God to be both judge and prophet to Israel. [1]
One day, she delivered a message from God to Barak: "Gather an army and head into battle against Sisera and his army of chariots. I will deliver him into your hand."
He replied, "If you do not come with me, I will not go!"
God never said that Deborah should go with Barak into battle.
So, her presence in the conflict was only due to Barak's reluctance to trust God!
But just as God was with Deborah, God is with you! And we have the inspiring stories of how God used two women—Deborah and Jael—in the events that followed. Other people put them in a difficult position but they spearheaded a powerful victory.
Not only that but the Bible later records Barak as one of the "heroes of the faith"! (Heb 11:32)
What a powerful testimony of God's grace and delivering power.
---
You Spoke Up, But Your Insight was Ignored
In Paul's situation, someone else bungled it, and he had to live out the consequences. [2]
In Acts 27, we read that before their ship set out from port, Paul gave a strong warning to the decision-makers, including the Roman Centurion in charge of his group.
"Now when much time had been spent, and sailing was now dangerous because the Fast was already over, Paul advised them, saying, "Men, I perceive that this voyage will end with disaster and much loss, not only of the cargo and ship but also our lives."
Nevertheless, the centurion was more persuaded by the helmsman and the owner of the ship than by the things spoken by Paul." (Acts 27:9-11, NKJV)
So, Paul declared,
"If you set off now, there's going to be loss of the ship and cargo and the lives of people"
But sadly, the Centurion disregarded Paul's warning.
---
God is Working Out His Will
The Centurion only saw a prisoner of the Romans when he looked at Paul. But he would soon discover that Paul was an Apostle, mighty in the Kingdom of God!
And this sometimes happens to prophetic people and discerners:
You have a prophetic insight—you know there is a better way to go—but others disregard your wisdom.
Now, like Paul was, you are caught up in a difficult or even dangerous situation.
But in the midst of the problem, God is working out His will!
This is the redeeming nature of your Heavenly Father.
---
"God has Spared Your Life"
That other person is accountable to God and will bear their own consequences, but your forgiveness releases the favor of God on your life.
Remember, Paul knew that no matter what else happened, his life would be spared—he had a word from God that he was going to Rome.
And here is God's grace and the power of forgiveness. In the middle of the storm, Paul was able to say to that Centurion—who ignored his warnings and took them on a perilous journey—"God has spared your life."
That was after he couldn't resist saying, in effect, "I told you so!"
---
Your Response Will Bring Forth a Testimony
If you can relate to this word today, receive God's grace right now.
God is taking that mess—even that mess someone else landed you in—and He is turning it into a message that will glorify Him!
For God is a Redeemer and you belong to him.
And like Deborah and Paul, your response will bring forth a testimony that will impact generations to come.
---
Notes:
[1] See this full story in Judges chapters 4-5.
[2] This story is from Acts 27-28 (see related posts below)
---
Related Posts:
This is the third study on this series on the story of Paul. The first two are here:
Prophetic Word: The Setback Will Become Your Sweet Spot
I Heard God Say, "I Am Resurrecting Your Dream!"
---
Leave a Comment:
Can you relate to this prophetic word today? Which Bible story can you most relate to? The story of Paul and Malta and how God works out His plan, even when our first plans get smashed up, has personal significance when I look back at our journey. I'd love to hear from you, so leave your message or prayer request in the comments below!
---
Study Online: Classes for Those Growing in Prophecy:
Would you like clear and easy to understand, Biblical teaching on the prophetic gift and ministry?
Do you need some straightforward keys to get you on track as you learn and develop in prophecy?
I've been privileged to receive extraordinary prophetic mentoring, as one of a ministry team of prophets and teachers with David McCracken Ministries.
But it hasn't always been that way. When it comes to spiritual gifts, I know what it is like to go on a long journey, and often a lonely one.
My own experience of struggling to find good mentoring is why I am extremely passionate about helping others learn how to hear God's voice, and grow in their gifts of prophecy and discernment.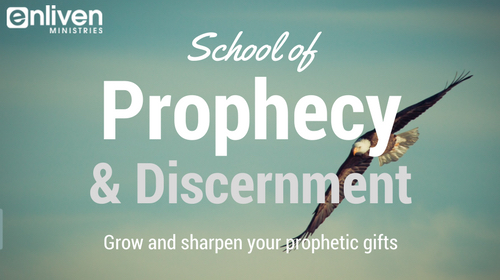 The best mentoring and teaching I can give you is now rolled into this one place, on the Enliven School of Prophecy and Discernment.
Classes include: How to hear God's voice, How to Begin and Grow in Prophecy, The Character of the Prophet, The Seer Gift: How to Grow in Pictures and Visions, Prophetic Discernment, Discernment, and Prophetic Warnings, and the Prophetic Guidance Master Class.
You can view and sign up for my self-paced video lecture series in the Enliven Prophetic School here. Choose between a small monthly subscription or a one-off payment with no expiry date.
---
© 2022 Helen Calder, Enliven Blog
Enliven Ministries: Prophetic ministry for a revival generation