A few days ago, my husband and I were walking around our neighborhood late in the evening. And as we passed by one street, I noticed something unusual.
The house on that corner had a bright, red-painted entranceway.
The sun was low in the sky and its rays caught the red door.
And as I walked past, a part of me wanted to stop and relish that moment.
But I rushed on ahead—and found, to my surprise, that the moment followed me home.
---
A Story They Never Expected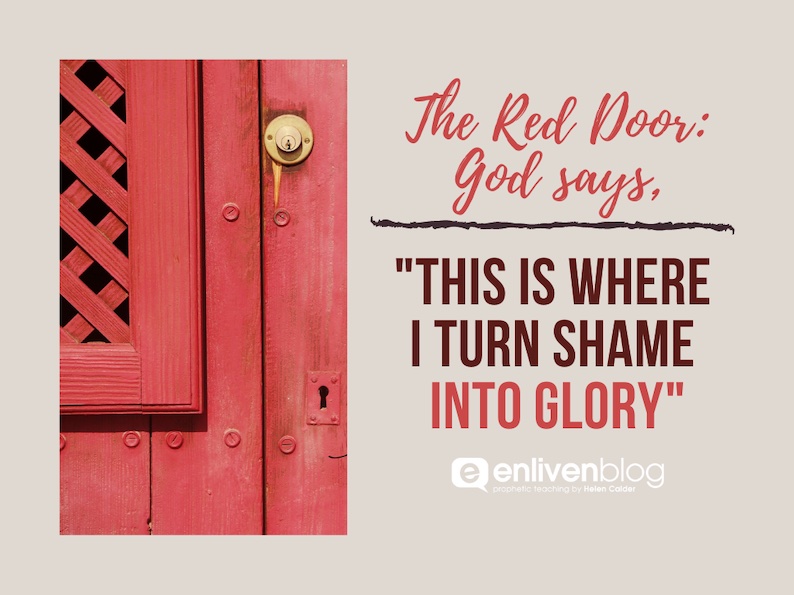 A red doorway.
Red—the color of blood, and symbolic of redemption.
The significance of a red doorway struck me because I had just been reading the first chapter of Matthew.
It stands at the entrance to the New Testament, proclaiming, "This is the lineage of Jesus Christ. This is the story surrounding his birth!"
As the Gospels open, many people are going about their ordinary lives. When suddenly, they find themselves pulled over a threshold—and through a doorway they never expected.
Mary, Joseph. Zechariah, Elizabeth. Shepherds and wise men
A busy innkeeper, who offers a stable to a young couple who have nowhere to stay
---
The Same Doorway is Open to You
As you review the Christmas story, you may find yourself identifying with one of these assorted people. Interestingly, each one of them has a challenge of some kind!
And it's a reminder that no matter what challenge you're facing right now, that same doorway is open to you.
For example, one of the people in the Christmas story is a woman named Elizabeth who is an older relative of Mary. And there is a question that has followed Elizabeth around for many years:
"What's wrong with you?"
We receive a clue about Elizabeth's pain as she declares, "…He looked on me, to take away my reproach among people." (Luke 1:25, NKJV)
The word "reproach" has also been translated as "disgrace" and speaks of "notoriety that is a taunt" (Strong's G3681) [1]
---
A Painful Question
It's a question that many of us have heard—perhaps, even from childhood. "What's wrong with you?"
It may mean, "Why aren't you like everybody else?"
"Why don't you behave, look, or sound like others?"
Maybe it's "why do bad things happen to you—or why are good things not happening to you?"
This question bruises the soul, with its shame and accusation.
It can strike at the very heart of our identity.
Yet right here, God says, "I am turning your shame into glory!"
---
You are not Broken!
Elizabeth was a godly woman, who had a unique timeline, ordained by God!
Yet, for much of her life, the question, "What's wrong with you?" loomed over her.
She endured a cultural stigma for many years because she didn't have a child. But then came the day God sent an angel to her husband Zechariah, while he was ministering in the temple.
So now, Elizabeth now discovers with wonder, that God has chosen her for an unexpected role—to birth a prophet.
Maybe you also need to hear this message today:
You are not broken; you are beloved!
---
Red Painted Doorways
"And when I see the blood, I will pass over you…" (Exodus 12:13)
Many generations earlier, when God was about to deliver Israel out of slavery in Egypt, He established the Passover.
On this day, the Israelites killed a lamb for each household.
Then, using branches of hyssop, they painted the doorways—the lintels and doorposts—with the blood of that lamb.
Within those blood-painted doorways, families were protected. Then, people sat down to feast together.
Meanwhile, God's plan to set His people free was being set in motion.
---
The "Door" is a Person!
In the New Testament, John the Baptist introduces Jesus saying,
"Behold! The Lamb of God who takes away the sin of the world!" (John 1:29b)
John is Elizabeth's son—a prophet—and he is introducing Jesus as the Saviour of the world.
It's a mystery that can only be comprehended by faith.
Jesus is both the lamb and the door.
For Jesus later declares, "I say unto you, I am the door of the sheep." (John 10:7,9 KJVS)
---
Bring That Challenge Through the "Red Door"
I believe there are many for whom this Christmas 2021 contains some challenges.
Maybe you've felt knocked around recently.
Perhaps, the dust of weariness has tried to cling to you.
Or, you may face an uncertain future.
Today, hear the Father say, "My child, welcome into your own place in the Christmas message. Behold your Saviour."
Bring that challenge, that crisis, that broken relationship through the "red door"; the doorway of redemption.
And come home to your Father's house.
Here, you can participate in this feast of favor.
And here, you will encounter once more, the joy of your salvation.
---
Discover the Ways
There may also be some reading this who have battled that question, "What's wrong with you?"
This Christmas, take some time to see yourself, by faith, entering through the "red door" of salvation in Christ.
As you pass through the doorway, that old label is falling off you!
Now inside God's house, you discover a sign with a new question.
It reads, "Beloved, what is glorious about you? 
Discover the ways." [2]
Imagine there is a mirror, just inside the doorway of the Father's house. [3]
And as you walk by it, you see something that takes your breath away.
It is you, shining and full of glory.
And you realize, you are created in God's image!
You are the Father's much-loved child.

---
Notes:
[1] See various translations of the verse here: https://biblehub.com/luke/1-25.htm
[2] I have enjoyed meditating on this thought via the song, "Everything Glorious" by David Crowder. I've temporarily added it to my prayer room playlist on Spotify which you can find here.
[3] I love the way that "mirror" can represent the Gospel, and the Scriptures, the word of God. See 2 Corinthians 3.
---
Related Posts:
Four Principles About the "Suddenlies" of God
This is How Your Prophetic Word is Fulfilled
---
Christmas greetings, and Thank You
Warm greetings from our home in Melbourne, Australia to yours! As the year 2021 draws to a close, I want to say thank you, to each reader and partner of Enliven Blog.
After 12 1/2 years of blogging here, I still love and feel called to it. There's always at least one "aha" moment that is priceless and I love hearing your feedback, as many of you have similar encounters with God and His Word.

How We are Funded
Enliven Ministries is uniquely set up, in that we are not a business, but a "not for profit" charity, registered in Australia.
Many of our free resources (such as the blog) cost a significant amount each month to maintain. And I have also sought to keep course prices low so that as many people as possible can access them.
Courses, resources, and honorariums do provide a portion of our income, but much of our support comes through partner donations
So if you have been touched by Enliven Blog and would love to donate to our ministry, please see our partner page here
My husband Malcolm and I pray that your Christmas is filled with hope and joy.
Helen Calder
---
© 2021 Helen Calder, Enliven Blog
Enliven Ministries: In the David McCracken Ministries family