Are you a leader who has been waiting in the wings? You may have been preparing for your destiny as a leader or influencer. Yet right now, you do not know how it will unfold.  I believe we are entering a time when unexpected leaders, like Judah, will suddenly emerge!
Some of these leaders have been through traumas, abuse, and even failures. But they have been marked by God ahead of time.
And while this may seem to be a sudden promotion, as we look back, we will realize the Holy Spirit has been working all along.
The prophetic signs are there, like markers on a trail. And God's leaders, who have been hidden in the shadows, will be seen by all.
---
Jacob and Judah: The Power of a Father's Blessing
Recently, I have been writing about Judah. [1]
And as the book of Genesis draws to a close, Jacob has called his twelve sons together, to bring his final, patriarchal blessing—it is a weighty, significant moment.
Jacob condemns his firstborn, Reuben, for instability. "You shall not excel" (Gen 49:4)
Next, Jacob passes over his second and third-born sons, Simeon and Levi. "Instruments of cruelty", he declares.
But then, Jacob's attention turns to Judah.
"Judah, you are he whom your brothers shall praise;
Your hand shall be on the neck of your enemies;
Your father's children shall bow down before you."
(Gen 49:8, NKJV)
---
Lessons from Judah's Unexpected Rise to Leadership
1. You Have Been Chosen by God Ahead of Time
"Judah…Your father's children shall bow down before you."
Jacob prophesies the firstborn blessing—passing on the baton of family leadership to Judah—who is not his eldest son.
He is not even second or third in line.
Judah is fourth-born.
And being a fourth-born son, Judah was never going to be the obvious choice for a first-born legacy! (Deut 21:17)
Yet now, through Jacob, God says to him, "My hand is on you now. It's a tipping point moment!"
Judah: "Now I will Praise the Lord!"
Looking back, we can see that Judah was God's sovereign choice, marked by the Holy Spirit from birth. His mother Leah named her fourth son Judah, meaning "praise", declaring, "Now I will praise the Lord" (Gen 29:35).
And just as God marked him for greatness, you also are chosen by God.
By grace, you have overcome great odds.
Today, you can hear the prophetic song the Father is singing over your life. He says, "I see you. I choose you!"
---
But wait—on a side note:
Why Judah—Why Doesn't Jacob Choose Joseph?
If Jacob is going to disqualify his natural firstborn and the two subsequent sons, why doesn't he choose Joseph?
After all, even though he is second to youngest, Joseph has been God's instrument to save Israel and the whole region from famine!
And Joseph is the one who dreamed of greatness from the beginning (Gen 37).
The sun, moon, and stars will bow down to you. Your family will be subject to you.
In Egypt, the brothers have already bowed before Joseph (Gen 43:26)
That prophetic dream has been fulfilled
Now, God is preparing the family to be led by Judah. And so, Judah becomes the holder of a spiritual legacy that ultimately brings forth the Messiah, Jesus Christ.
---
2. God's Grace Covers Your Past Mistakes
While Judah did have leadership ability, he also had a chequered past. His early choices seem to disqualify him from having a leading role in the family. [2]
He wasn't "worthy" to an observer. Not by our standards.
But he was chosen by God.
You know that it takes extra courage to be who you are created and called to be—especially when you've had a background that says, you are everything BUT! Yet this is what our God specializes in. This is what He does! He's got you covered!
Perhaps, like Judah, you had a rough start, but now, you are on track.
Now, you have a dawning revelation: for it's not about what you deserve.
You are God's sovereign choice.
---
3. As an Emerging Leader, You are a Work in Progress
Jacob continues his blessing over Judah:
"Judah is a lion's whelp;
From the prey, my son, you have gone up.
He bows down, he lies down as a lion;
And as a lion, who shall rouse him?" (Gen 49:9, NKJV)
As we read the story leading up to this moment, we can see a gradual shift.
Jacob is relying on Judah increasingly for the leadership of his tribe.
For example, Judah organized the provision of food during the famine. He was instrumental in his family's reconciliation with Joseph (Gen 43-44).
Then, when Jacob was moving the family to Egypt, he sent Judah ahead to prepare the way.
"As they neared their destination, Jacob sent Judah ahead to meet Joseph and get directions to the region of Goshen." (Gen 46:28, NLT)
Like Judah, Faithfully Serving
So, Judah has been an emerging leader; and his character has also been maturing.
Now, God is revealing the greatness within him all along.
Can you identify with being a leader-in-waiting, like Judah was? There are many whom God has chosen to be at the forefront—yet at this time, are faithfully serving in support roles.
Jacob called Judah "a lion's whelp." Be encouraged, for you are the offspring of the "Lion of Judah"—Jesus Christ (Rev 5:5)!
You too are growing and emerging into your royal identity. It may take time, but it is a process, and God says, "It is good!"
---
4. The Power of Your Leadership is in Obedience
Consistently after Jacob's prophetic blessing, Judah takes first place.
The tribe of Judah leads the way—and always in obedience to God.
This becomes true for generations to come and we learn, "the standard of the camp of the children of Judah set out first according to their armies…" (Num 10:12-14 NKJV)
In the book of Judges, the tribe of Judah leads in front during major battles (Judges 1:1-2, Judges 20:18).
And after Joshua's passing, the first significant spiritual leadership of Israel is based in Judah. Caleb's nephew Othniel, of the tribe of Judah, becomes Israel's first judge!
Of course, much later, King David emerges from Judah.
Ultimately, Jacob's prophecy over Judah points toward Christ!
---
As Judah Was, You are Marked by God
Judah—named for praise—and a story that brings forth wonder and praise.
Today, I pray it brings you awe, as it has done for me. May my brief sketch cause you to hunger for God's Word, to study it for yourself.
And may you know God has chosen you. You are anointed by the Holy Spirit.
Rejoice, for you, the unexpected one, are being revealed. You are the offspring of the Lion of Judah.
You are marked by God for greatness!
---
Notes:
[1] The Judah Series includes:
[2] Judah's journey reveals evident problems: for example, his role in Joseph's banishment to slavery in Egypt. (Gen 37:17-36) His dealings with his daughter-in-law Tamar (Gen 38)
---
Related Posts
Prophetic Perspective: God is Healing Your Viewpoint
Prophetic Parables and Stories: You are God's Arrow (God is calling His prophetic storytellers out of hiding)
---
Help for Prayer Warriors: Overcome Spiritual Dryness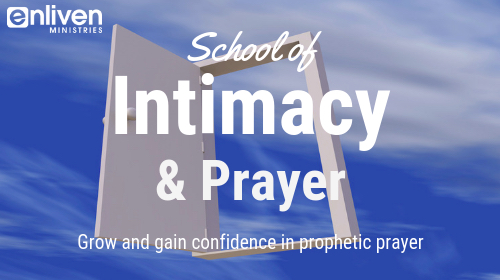 If you have felt dry or depleted in your prayer life lately, the lessons in my Prophetic Prayer School will benefit you.
You will find these in the class, "How to Prevent and Recover from Dryness in Prayer":
Causes of Dryness and Depletion in the Intercessor
Ten Keys to Being Replenished as an Intercessor
Receiving Prayer: How to Stay Filled with the Holy Spirit Through Soaking Prayer
This impacted me personally, and I'm sure it will benefit many of you! I warmly invite you to join me in the Enliven School of Prophetic Prayer
Alternatively, you can view all online courses, including the Prophetic School here.
---
© 2021 Helen Calder, Enliven Blog
Enliven Ministries: In the David McCracken Ministries family