Have you felt as though you have been set aside or hidden in some way?
Today I believe the Lord is calling forth many of His people, especially prophetic storytellers and story-makers, from out of hiding!
---
From Hidden to History Maker
Many of us can relate to Gideon right now:
He was trying to outwit the enemy, by threshing his family's wheat in a winepress (Judges 6).

But God knew where Gideon was, and his life was about to change—from being hidden, to being a history-maker.

In that generation, a new story would be told, because Gideon stepped out of and obeyed God in the face of intimidation.
Today, hear the sound of breaking of chains!
Fear and intimidation will not hold you back any longer—and you are God's arrow!
---
Your Gift is Not Inferior to Others' Gifts!
I often share about what I believe God is saying through a story from the Bible, or through describing a prophetic vision. [1].
But it wasn't too many years ago, when I was intimidated about these gifts.
For a time, I fell into comparing my ministry with those of others in our team of prophets and teachers.
I felt like I was on a ground floor level, and the others were higher up!
One day, I was flying home to Melbourne from a ministry trip. The enemy was pressing me with discouragement about my gift. I thought, "All I share are simple pictures and metaphors."
In that instant, the Holy Spirit directed straight back at me, "Jesus spoke in pictures and metaphors".
This woke me up.
Of course! Jesus often shared powerful Kingdom truths in the form of simple parables and stories.
Oh, how I repented of being negative about my gift!
Today, I believe the Holy Spirit is ministering to many others in this area.
Don't see your abilities and gifts as inferior to others
Instead, honor the One who has given you the gift—your Heavenly Father—and the Holy Spirit Who IS the Gift.
---
Prophetic Parables and Stories
The word is going out:
God is calling many storytellers from out of hiding!
These are the prophetic messengers, who will convey His message through parables, and stories. [2]
Perhaps the Holy Spirit is stirring you today, in this idea that God could use you to share His stories and parables.
Whatever your type of prophetic ministry—
You may be a seer who will share the story of what you have seen in a vision
You may be an exhorter, writer, speaker, or have other, creative gifts
You may be a dreamer, who receives a story through a dream in the night
A prophetic story can be brought through your gift.
Who you are, and the message you carry, is priceless and powerful!
---
Jesus Told a Radical Story
The distinction of a prophetic story or parable, is that it is God-breathed.
It is a "now" word from the Holy Spirit.
For example, one day Jesus shared a parable about a prodigal son—the lost son.
It was a message that confronted the beliefs and traditions of the Pharisees at that time
It confounded them.
It contradicted them.
It was a new sound—but it was the heart of the Father.
At times, a prophetic story will be radical, it will be unusual, it may even be confrontational.
But it will always be positioned from the Father's heart of love.
---
A New Sound for this Generation
At this time, the Lord is releasing stories, parables and messages that are prophetic in nature. And these are a new sound that hasn't been heard before.
There are stories that will be His means to reach a new generation.
They will touch people who have not been reached in conventional ways
Anointed parables and stories, inspired by the Holy Spirit, are going to completely disarm them.
These stories will bypass the listeners' history, their understanding, and will be aimed straight at their hearts.
---
The Prophetic Story that Smote a King's Heart
Prophetic stories are going to be released, that will speak God's word, and bring conviction and change.
We will see prophets who come forth with stories, like the prophet Nathan when he came before David in 2 Samuel 12.
The prophet told King David a story of a poor man, who had one little lamb, that was a priceless pet to his family.
The lamb was seized by a neighboring rich man, who had many flocks, to feed a visitor.
When David cried out against that rich man, to bring a judgment, the prophet said to him, "You are that man!"
And the Lord smote King David's heart, through a story.
---
The Creativity of Prophetic Stories
God uses the means of stories and parables throughout the books of the prophets.
Why? He is after the hearts of his people.
And some of these are the stories of the prophets themselves.
Your own prophetic story could be an anecdote, or analogy, or a story of something that has happened to you.
The Holy Spirit is endlessly creative.
A prophetic story can be conveyed through a song, a poem, or a painting
It may be conveyed through media, drama, video or writing
Your prophetic story may be symbolic, like Jesus' parables. Or it may be from a real-life event
Your prophetic story may be an insight from current or historical events
You may be inspired by Bible story, that will apply directly to a situation, or someone's life!
Stories will be released that are like a wakeup call and are going to be as a trumpet, calling for God's people to arise.
---
It's Time to Come Out of Hiding
Today, hear the Lord say,
"In the secret place, I have been shaping and fashioning you.
You have been kept in the shadow of my hand; a polished arrow, set apart for such a time as this. I am releasing your voice. I am displaying My splendor through you!" (See Isaiah 49:2-3)
So step out and share your unique gift and prophetic story, from the heart of the Father.
For it's time to come out of hiding and into your calling.
---
Notes:
[1] A recent example of this, is where I shared a vision about a letterbox and told the story of what happened to the letter (representing prayer): Heaven's Mailbox: Your Prayer Holds Great Power
[2] Note that the original source of the teaching content is the Enliven Prophetic School where it was first published on 11 March 2020.
---
More on this topic:
---
Leave a Comment
Are you inspired to grow in prophetic parables and stories?
Share with us in the comments box here on the blog, or on our Facebook page.
---
Study Online: Classes for Those Growing in Prophecy:
Would you like clear and easy to understand, Biblical teaching on the prophetic gift and ministry?
Do you need some straightforward keys to get you on track as you learn and develop in prophecy?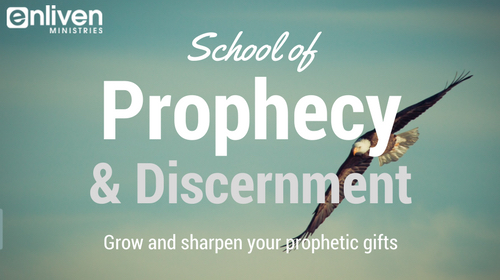 The best mentoring and teaching I can give you is now rolled into this one place, on the Enliven School of Prophecy and Discernment.
Classes include: How to hear God's voice, How to Begin and Grow in Prophecy, The Character of the Prophet, The Seer Gift: How to Grow in Pictures and Visions, Prophetic Discernment, Discernment and Prophetic Warnings and the Prophetic Guidance Master Class.
You can view and sign up to my self-paced video lecture series in the Enliven Prophetic School here.
---
© 2020 Helen Calder, Enliven Blog
Enliven Ministries: In the David McCracken Ministries family