This word about praise is not only true for God's people throughout the ages, it is a timely insight for right now!
And I believe this one speaks of a move of the Holy Spirit—of a "garment of praise" the Father has available for each of us at this time. (see Isaiah 61:3)
It will be a sign for many.
This move of God will be experienced personally, and it will be seen corporately.
God is turning weariness into praise. 
---
"Now I will praise the Lord"
I was doing a deep-dive study into the story of Judah recently when the Holy Spirit interrupted me with a prophetic word.
As 2022 draws near, the words of Leah will be your words:
"Now I will praise the LORD".
"And she[Leah] conceived again and bore a son, and said, "Now I will praise the LORD." Therefore she called his name Judah…" (Gen 29:35a NKJV)
The name "Judah" means praise. [1]
---
Your Praise Marks a Tipping Point
I first received this word for a group I was ministering to, but it has continued to grip me and won't let go!
"Now I will praise the LORD".
That Hebrew word, "NOW". It's like a stroke, a beat. [2] It's just like we would say—"at the stroke of midnight". And then it arrives.
Suddenly, it's NOW!
The Lord wants you to know that it is time—right now is the very moment—to praise Him
This praise does not come from your personal effort. It is being released as you simply let the Holy Spirit flow through you!
Regardless of what you're seeing or hearing, and in the face of all that is contrary, your praise marks a tipping point.
"… Therefore, she called his name Judah…"
---
Weariness will Give Birth to Praise
The name "Leah" means weary and originates from a Hebrew word that means to tire, to be impatient, to be grieved, or offended! (Strong's H3812)
It seems that Leah's name described her identity and the pervasive attitude around her life.
And I believe it is a word that could describe much of Christendom at this time
So, if you can relate to weariness—or if there has been grievance in the atmosphere around you—let the Spirit of God lift your heart in expectation.
For you will see weariness give birth to praise.
2022: "Now I will praise the LORD"
---
You are Favored by God
Perhaps the greatest miracle in this story—and the one we usually miss—is the transformation that takes place in Leah herself!
Up until now, Leah has experienced great pain and rejection, as an unloved wife.
She has always been treated as inferior—but now, Leah emerges in her own right. And she realizes with wonder, "I am favored by God!"
So, she declares her new sense of identity with the words:
"Now I will praise the LORD"
---
From "Not Yet" to "NOW"
Many of us can relate to this Scripture: "Why are you cast down, O my soul? And why are you disquieted within me? Hope in God; for I shall yet praise Him, the help of my countenance and my God." (Psalms 42:11 NKJV)
So often, we get stuck in this place. And it may especially be true of the pandemic season:
"For I shall yet praise Him".
We are dreaming of a day when there is momentum again, or change happens, or when we see a promise fulfilled.
But there comes a moment.
A tipping point.
"Now I will praise the LORD"
It's no longer about something you're waiting for, it's about something you're watching God do.
And you're participating with Him; you are cooperating with favor.
---
The Day has Come to Prioritize praise
Judah was the fourth-born son in the family—at that time, he was not expected to become the family leader.
And for some of us, praise has been like the "fourth born child" in this story.
We are looking in every other direction for a breakthrough, and God says, "The day has come to prioritize praise.
For praise will lead the way!"
---
A Declaration of Intention to Praise
Praise—it's what separates us from everybody else.
So, right here and now, let us decide, to be marked by one thing above all.
Praise is the one thing that the best and finest in the world's eyes could never understand.
It will cause us to be a sign and a wonder:
"No matter what happens, I will praise My God.
In the busy times, in the blessed times, or in the hard times, I will praise Him.
During building times, I praise Him. And in the waiting season, I praise Him.
In times of acceleration, I will praise Him.
And during the victory, I will praise Him.
If recognition or acclaim is coming my way, I will praise Him.
Or when the world is criticizing me, I will praise Him.
Even in the face of all that is contrary, in loss or in pain, I still praise Him.
This is my story, and this is my stand—that no matter what happens, I choose to praise Jesus.
"Now I will praise the LORD".
---
Related Posts:
Prophetic Praise: 10 Keys to Powerfully Release Your Praise (Part 1 of the Judah series)
It's Now O'Clock: Step into Heaven's Time Zone
Judah: God is Calling His Leaders Out of Hiding
---
Notes:
[1] Judah [H3063]—praise, or praised, celebrated. From H3034 literally to hold out the hand.
Especially to revere or worship with extended hands.
[2] Strong's H3812 H3811
---
Study Online: Classes for Those Growing in Prophecy:
Would you like clear and easy-to-understand, Biblical teaching on the prophetic gift and ministry?
Do you need some straightforward keys to get you on track as you learn and develop in prophecy?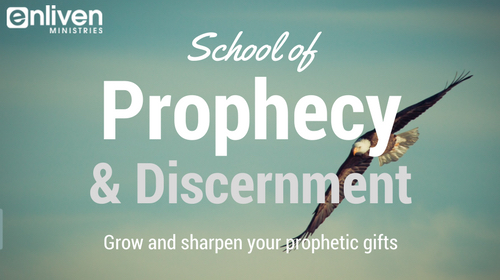 The best mentoring and teaching I can give you is now rolled into this one place, on the Enliven School of Prophecy and Discernment.
Classes include: How to hear God's voice, How to Begin and Grow in Prophecy, The Character of the Prophet, The Seer Gift: How to Grow in Pictures and Visions, Prophetic Discernment, Discernment, and Prophetic Warnings, and the Prophetic Guidance Master Class.
You can view and sign up for my self-paced video lecture series in the Enliven Prophetic School here. Choose between a small monthly subscription or a one-off payment with no expiry date.
---
© 2021 Helen Calder, Enliven Blog
Enliven Ministries: In the David McCracken Ministries family