Your tipping point is coming! Today I believe God wants to encourage you in relation to answers to prayer—especially in circumstances where you have prayed for a long time about a situation or person.
---
The Tipping Point of Prayer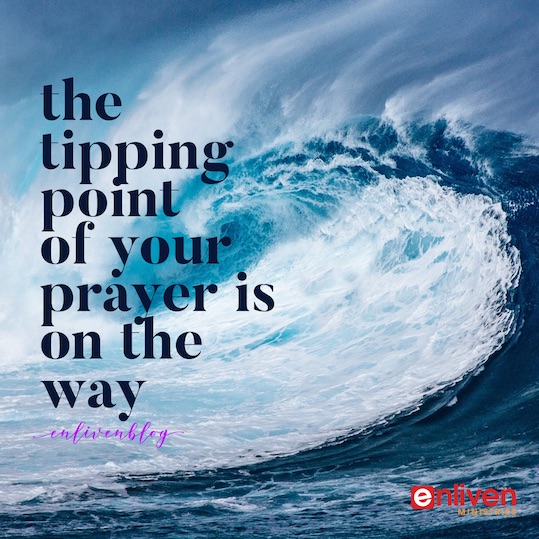 'Tipping Point' is a phrase that is commonly used today—and one that the Holy Spirit has recently been bringing to my attention. The term 'tipping point' originated in the science of physics:
Imagine an object that is balanced, but if you were to add a small amount of weight, you will cause it to topple—that is the tipping point.
'A tipping point may be an addition or increment that in itself might not seem extraordinary but that is unexpectedly, just the amount of additional change that will lead to a big effect.' [1, 2]
A tipping point is often considered to be a turning point—especially, the time at which a change or an effect cannot be stopped.
The tipping point of prayer is the moment at which God moves in response to persistent prayer, to bring about His answer.
---
The Tipping Point of Prayer
In Luke 18, Jesus taught a parable about a widow who was seeking justice from an ungodly judge, who couldn't have cared less about her.
However, because she persisted, and she kept returning to him again and again, there came a moment—a tipping point—when she pestered him for the last time. The unrighteous judge said, 'that's it! I've had enough! I will give her what she wants!'
And Jesus said how much more will our just God and Father answer the prayers of His people who keep crying out to Him.
---
Prayer like Incense
The Psalmist says, 'May my prayer before you be like incense…' (Psalm 141:2) We read in the book of Revelation of the golden bowls full of incense, being 'the prayers of the saints.' (Rev 5:8, 8:3)
This tells us, prayer is a spiritual substance!
That prayer you prayed in the past—the one you poured your passion into—your heart's cry to God.
It's not gone; it's not been ineffective.
Your prayer has not expired.
It's LIVE. It's powerful, and it is still in front of your Heavenly Father.
The enemy has been trying to dishearten you, in order to stop you from praying. But today, the power of that lie that has stood against you is broken, in Jesus' Name!
God collects your prayers! Your prayers accumulate before the throne! In fact, God not only collects your prayers, He collects your tears.
'You number my wanderings; put my tears into Your bottle; are they not in Your book?' (Psalm 56:8, NKJV)
---
The Tipping Point of Your Prayer is Coming
To those of you who have been praying for a long time—you may have been praying for family members to come to God, for a miracle, or for situations to shift:
Hear the Lord saying:
"Your prayers are fragrant to Me, they are an offering. Know that your prayers are not being wasted. I have savored and collected each one.
The tipping point is on its way when I pour out the accumulated power of those prayers into the answer and the breakthrough."
Don't stop short of the tipping point! This principle is why Jesus said of prayer:
"So I say to you: Ask and it will be given to you; seek and you will find; knock and the door will be opened to you. For everyone who asks receives; the one who seeks finds; and to the one who knocks, the door will be opened." (Luke 11:9-10)
The verb is in the present continuous tense in Greek:
'ask and keep on asking, seek and keep on seeking, knock and keep on knocking.'
As you continue to persevere in prayer, there is going to come a tipping point, when the answer to your prayers is going to break loose.
---
Our Father is not Reluctant to Answer Prayer!
Martin Luther said, "Prayer is not overcoming God's reluctance. It is laying hold of His willingness."
Sometimes, we pray as though God needs to be convinced—as though we must try to persuade Him out of a position of reluctance, when the opposite is the case.
The Holy Spirit is eager to move on our behalf. All of Heaven, including the angelic host, awaits the word of the Father, and our prayer of agreement, to perform God's will on earth.
Through continuous prayer, you get into alignment with the Father's desires and what is in His heart. And then, the moment, the tipping point comes. Heaven breaks loose the answer to your prayer.
The tipping point of prayer is the moment at which God moves in response to persistent prayer, to bring about His answer. And that answer is on its way.
---
Notes:
[1] See https://en.wikipedia.org/wiki/Tipping_point_(sociology)
[2] See http://whatis.techtarget.com/definition/tipping-point
The phrase, 'tipping point' is also used in business, to describe the point at which an idea, product, or issue crosses a certain threshold and gains significant momentum. See http://dictionary.reference.com/browse/tipping-point
---
Related Posts:
The (Number 1) Key to Praying With Faith
Magnetic Prayer: Prayer That Pulls on Heaven's Resources
8 Ways to Use Prophetic Prayer for Breakthrough
---
Training for Prayer Warriors and Prophetic Intercessors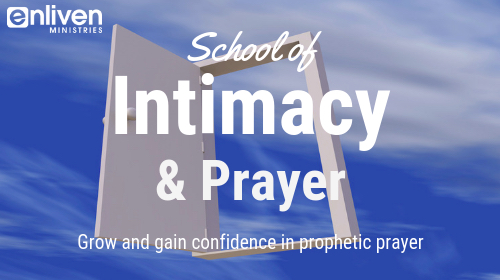 If you feel called to prophetic prayer and intercession, or want to learn more about an intimate relationship with the Holy Spirit, I invite you to join me on the Enliven School of Intimacy and Prayer.
The Prayer School contains more of my personal stories than other courses, and I am excited to share these with you.
Currently on the Enliven School of Intimacy and Prayer are self-paced video lessons, along with PDF's on:
Intimacy with the Holy Spirit
Introducing Prophetic Prayer
Praying the Mysteries of Heaven
The Travail of the Holy Spirit
The Gift and Ministry of Prophetic Intercession
Angels and Encounters…and more!
You can find out more or join the School of Intimacy and Prayer here. Alternatively, you can view all online courses, including the Prophetic School, here.
---
© 2015-2019 Helen Calder, Enliven Blog
 Enliven Ministries: In the David McCracken Ministries family