I hear the Father speaking value over those who are in an unexpected season of life.
You are gold in His Kingdom! He is still at work!
And your voice, along with the gifts you carry, is significant now and in the future.
---
"Lord, Why Am I Here?"
A theme in the Scripture is that God called his people out of Egypt (Hos 11:1).
And yet at the end of Jacob's life, God called him into Egypt!
Sometimes, like Jacob, we end up in a season we never expected.
We may say, "Lord, why am I here?"
But even when life takes an unexpected turn, God is with you.
Hear your Father say, "I am the God of your present, past, and future."
---
The Land of Prophetic Promise
Jacob worked for his uncle Laban in Haran for many years. But he was destined to return to Canaan, where he'd grown up. In fact, years earlier at Bethel, he made a promise to God about it (Gen 28:21).
The day eventually came when God spoke to him and said:
"I am the God of Bethel, where you anointed the pillar and where you made a vow to Me. Now arise, get out of this land, and return to the land of your family." (Gen 31:13, NKJV)
"It's time to go to Canaan!"
Now, Canaan was the land of prophetic promise, where Jacob's forefathers, Abraham and Isaac had lived.
So, Jacob obeyed God, took his family, and established his home in the land of Canaan.
---
The Inside of Your Story
Today, we have the benefit of seeing the whole story in Genesis. But Jacob had to live inside of that story.
And right now, you are living on the inside of your own story.
Aspects of it are in mystery—but that is where God dwells.
In times of uncertainty, we may say, "I feel unstable!"
Our Father replies, "My plans are unshakable.
Beloved, I hold you in the palm of My hand."
You can be assured that there is glory in the mystery, for God is with you!
---
4 Ways God is Still at Work in Your Calling
1. You Discover God has Already Provided for You
Jacob was still faithfully living in Canaan when a regional drought began.
And then, he was watching his family's grain supply dwindle.
He had no choice but to turn to Egypt to purchase grain.
Little did Jacob know that his son Joseph was alive, and had a position of rulership in Egypt. He did not realize that his future supply was already secured.
In fact, Jacob tried to pay for grain from Egypt, but that money was returned, along with the grain he ordered (Gen 42:35).
Jacob had a source of favor that he was unaware of!
What a wonderful thought: You have more favor than you are aware of.
Today, you may be concerned about a source of supply drying up, but God has gone ahead of you!
---
2. You Encounter God in Unexpected Ways
God called Jacob to Egypt through an invite from his son Joseph. It wasn't until he was en route, at Beersheba, that God spoke to him directly.
"I am God, the God of your father; do not fear to go down to Egypt, for I will make of you a great nation there." (Gen 46:3, NKJV)
We read in Genesis that Jacob encountered God at all the turning points of his life.
And in the same way, He wants to speak with you about your future.
Now, remember, Jacob wasn't always "in a good place with God" when the Lord spoke to him!
He first encountered God at Bethel, after having failed in his relationships and fled his home.
This amazing grace, including His life-changing adjustments, is available to you also.
And this is true even though you may have questions or feel regret right now.
---
3. You See God's Redemption in this Season
In every season there is redemption.
So, don't focus on what God is not doing. Instead, see what He is doing—there is something beautiful for you to see.
Jacob had something to look forward to in Egypt, for he had learned that his son Joseph was there.
His family would be together again; his tribe would be complete.
A reconciliation was about to take place, and there was more! In Egypt, there was an abundance of food, and room for the tribe of Israel to grow.
---
4. You Discover Your Voice to the Next Generation
Jacob gave his final prophetic words to his sons in Egypt! And these words are among Jacob's greatest contributions to Scripture (Gen 49). As an elderly man, he had an opportunity to speak with and bless Pharaoh! (Gen 47:7)
No matter where you are right now, you have gifts and a voice!
God has given unique insights to you, along with knowledge, stories, and prophetic messages
There are people around you, who need to hear your story.
Also, let's not forget that our Father is generational. He sees the bigger picture beyond our time on earth.
And just as He did with Jacob, God is using our lives to help set the stage for a future generation (see also Heb 11). [1]
---
God's Timeline is Unique for You
We often liken the prophetic calling to climbing a mountain.
There are twists and turns, and it seems to take forever to climb—years go by!
Think about Joseph, Esther, and David, who are typical of our prophetic "heroes of the faith":
After seasons of preparation, trials, and waiting, they ascend to rule
And from that pinnacle, they are positioned to fulfill God's destiny for their lives
So, we also dream of the day that finally, we will arrive at the summit—the high point of our calling.
And, we think, we will stay there and build for the rest of our lives.
Yet, not every prophetic calling in the Bible follows that pattern.
And your timeline is unique.
---
These are Your Best Days
So, today, no matter where you are right now, be encouraged by the journey of Jacob.
Honor your circumstances, choose to bless your surroundings, seek to help others—and hear your Father say:
"These ARE your best days, for I am here with you!"
---
Related Posts
How to Access Your Heavenly Supply Line
Is it Time to Let Go Of a Past Prophetic Word?
---
Leave a Comment
Do you relate to Jacob's story, and being in an unexpected place in your calling? Which of the 4 points speak most to you today? I'd love to hear from you, so leave a comment here on the blog!
---
Notes
[1] This bright spot heralded a dark period in Israel's history. Egypt would eventually become a place in which Israel was enslaved. This was foretold in a prophecy by God to Abraham (Gen 15:13). I encourage you to read the whole story in Genesis (and Exodus…)
---
The Enliven Prophetic School (Video e-Course)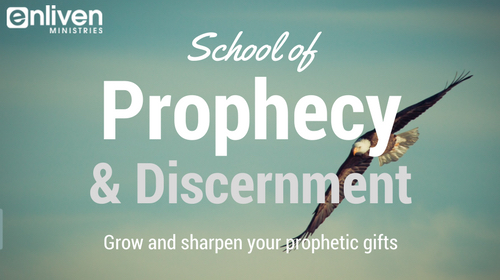 Could you benefit from clear and easy to understand, Biblical teaching on the prophetic gift and ministry?
If you would like to grow and sharpen in your prophetic gift, I warmly invite you to join me at the Enliven Prophetic School.
The Enliven Prophetic School includes the following classes:
How to get closer to God and hear His voice
The basics of the discernment gift
Keys to growth in the seer gift, prophetic pictures, and visions
Find out how to receive and process prophetic warnings from the Holy Spirit
Prophecy, foundations, prophetic guidance, and more
You can view and sign up for my self-paced video lecture series in the Enliven Prophetic School here. Choose between a small monthly subscription or a one-off payment with no expiry date.
---
© 2021 Helen Calder, Enliven Blog
Enliven Ministries: In the David McCracken Ministries family