You may be in the midst of challenges, but this is your time to hear God's voice, like never before.
He is speaking through His unfailing Word in the Scripture. And He is anointing your "ears to hear" His voice.
And I believe the Lord is saying to many right now, "At the crossroads, you will hear My voice and know My goodness".
---
5 Times You Can Expect to Hear God's Voice
For even in times of trial, God is speaking to us continually, in many different ways! Here are five situations I believe He is drawing to our attention right now:
1. When You are in a Time of Recovery
If you have felt depleted and spent, God's word is coming to you.
His voice may come quietly, like a whisper to the soul—but you will recognize Him when He speaks.
And His words will bring you newfound faith.
Elijah was exhausted after a great victory and ran from Jezebel and her threats. But the angel of the Lord brought replenishment to him.
Then, after Elijah rested, God drew him into an encounter at Mount Horeb.
As the Lord passed by, there was a great wind, an earthquake, and a fire. But God's voice was in none of these things—instead, He came afterward, in a still, small voice.
And so it was, Elijah received the new assignment from God.
And the first word he heard was "Go…." (see 1 Kings 19:1-18)
---
2. When You Have Experienced Loss
Have you experienced a significant life change or loss?
Right now, God is coming to you with a fresh word.
Mary Magdalene was grief-stricken when she went to the tomb that Sunday morning. And not even the sight of angels could comfort her.
Then, when she turned and saw Jesus, Mary thought He was the gardener!
And when Jesus asked, "Whom are you seeking?" Mary was too blinded by her pain, to see her Lord.
Until Jesus spoke her name: "Mary!"
One word from God's mouth—a single word is all it takes, for a miracle to take place.
And Mary was about to discover joy again. (see John 20:11-18)
Today, hear Jesus calling you by name.
You will see His face—and know that He is looking towards you with love.
---
3. When You are at a Crossroads
God's promise to you through the prophet Isaiah says this:
"Your ears shall hear a word behind you, saying,
'This is the way, walk in it,'
Whenever you turn to the right hand
Or whenever you turn to the left."
(Isaiah 30:21, NKJV)
So, if you are in an uncertain situation and seeking God for guidance, let this word reassure you.
For you do not need to fear that you might step out of line—simply keep your heart open to adjustment from God (and often this will be through others).
It is the enemy who seeks to bring fear, doubt, and hesitancy, but the Holy Spirit is ready to bring clarity to your journey.
Today, know that your Father is faithful—and that He has promised to speak words of guidance to you.
---
4. When You are in a Crisis
We are in a time when there is a great shaking in the nations—one crisis after another—and perhaps your own heart has been bruised.
When Moses asked God to reveal His glory, he was in the middle of a national crisis and had a leadership challenge.
Not only that, but God's people were also turning to idolatry.
In response to Moses' request, the Lord said, "I will cause all my goodness to pass in front of you, and I will proclaim my name…"
And he heard the voice of the Lord, declaring His compassion, love, and faithfulness. (see Exodus 33)
There may be a crisis, but you are about to receive a new revelation of who God is.
And you will learn of His goodness and His mercy to generations.
---
5. When You are in a Confined Place
If you have felt in a restricted place, God has not forgotten you. He sees you and is visiting you.
The Apostle John was imprisoned on the island of Patmos when he heard a voice from Heaven—and this was not a whisper. It was a voice as loud as a trumpet! (Rev 1:10)
John saw Jesus in His glory, and He heard the Lord speak.
And in that glorious encounter, John received messages for the churches.
John heard Jesus say, "Whoever has ears, let them hear what the Spirit says to the churches" (Rev 2:7a NIV)
---
There is Glory in What We Hear
Those of us who are seers, dreamers, and visionaries, naturally lean into the visual language of the Spirit.
And when we imagine encountering God in his glory, we tend to think about what we can see.
But there is also glory in what you hear
Remember, Paul spoke of being caught up into the Third Heaven, into Paradise. There he heard "inexpressible things, things that no one is permitted to tell" (2 Cor 12:4, NIV)
---
You are the One Jesus Speaks of!
Jesus said, "Whoever has ears to hear, let them hear." (Mark 4:9)
This word is for you today, for you are the "whoever" Jesus speaks of.
Today, you can be assured God is already fine-tuning your hearing—so that you can hear even the whispers of the Holy Spirit.
You are about to hear fragrant words, anointed with the life of the Spirit.
And you will be doubly strengthened, as you recognize that the Spirit and the Word agree.
And you'll discover it's glorious but not complicated.
For God seeks those who are ready to listen with the heart of a child—who will respond as the child Samuel did:
"Speak for your servant hears." (1 Sam 3:10b)
---
Related Posts
3 Simple Keys to Hearing God's Voice
The Emmaus Road: 5 Signs of a Visitation from God
---
Leave a Comment:
Can you relate to any of these five situations? I'm inspired by all of these, as the Lord has led me in a significant time of "reset" recently. I'd love to hear from you, so leave your message or prayer request in the comments below!
---
Prophetic Word: God Is Turning Your Delay into a Harvest ~ Now on YouTube
I believe the Lord is speaking comfort into disruptions, delays, and painful wait times. Hear Him say,
"You are not only on the way to your destination. You are in My Divine appointment right now!
I am with you, and I am for you."
Watch the video of this recent post on YouTube here. While you're there, I'd love you to subscribe to my YouTube channel!
---
Study Online: Classes for Those Growing in Prophecy:
Would you like clear and easy to understand, Biblical teaching on hearing God's voice, and the prophetic gift and ministry?
Do you need some straightforward keys to get you on track as you learn and develop in prophecy?
When it comes to spiritual gifts, I know what it is like to go on a long journey, and often a lonely one.
My own experience of struggling to find good mentoring is why I am extremely passionate about helping others learn how to hear God's voice, and grow in their gifts of prophecy and discernment.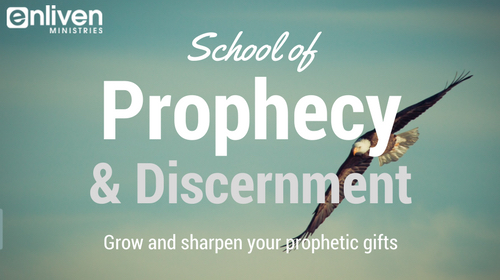 The best mentoring and teaching I can give you is now rolled into this one place, on the Enliven School of Prophecy and Discernment.
Classes include: How to hear God's voice, How to Begin and Grow in Prophecy, The Character of the Prophet, The Seer Gift: How to Grow in Pictures and Visions, Prophetic Discernment, Discernment, and Prophetic Warnings, and the Prophetic Guidance Master Class.
You can view and sign up for my self-paced video lecture series in the Enliven Prophetic School here. Choose between a small monthly subscription or a one-off payment with no expiry date.
---
© 2022 Helen Calder, Enliven Blog
Enliven Ministries: Prophetic ministry for a revival generation