I believe that spiritual renewal is on God's agenda right now.
And the Holy Spirit is at work, breathing on a "Samuel generation" of prophets and prophetic leaders.
This is not about physical age—rather, it is a company of people who are known for hearing God's voice, along with their intimacy with Him.
---
God has Heard You
Samuel means "heard of God" or "name of God'.
And God wants you to know He has heard the cry of your heart.
He has heard your prayer for revival—for your family, region, and nation.
Your Father has heard the sighs and the longings of your heart.
You may have felt battle weary. Perhaps, the failure or inconsistency of others has worn you down.
But still, He says, "Beloved, will you join the dance?"
---
6 Keys to Spiritual Renewal
Samuel was a boy when he first heard God's voice (1 Sam 3).
It is a story the Lord has drawn me back to, again and again, in recent years.
And it holds significance right now.
Here are 6 keys to spiritual renewal, along with inspiration from Samuel:
---
1. Be Open to Hearing God Speak in New Ways
"Now Samuel did not yet know the Lord, nor was the word of the Lord yet revealed to him." (1 Sam 3:7, NKJV)
Samuel was young when he first heard God's voice.
Whereas the Apostle John was in his later years when he wrote the book of Revelation.
And both were taken by surprise by their encounters with God.
As God did with them, He wants to gatecrash your ordinary with His glory!
Novices in the New
I had been journeying in the prophetic for over 40 years when God spoke to me through this word:
"I want you to be novices in the new, not experts in the old" (I tell this story here).
Perhaps this resonates with you today, and the Holy Spirit is tugging on your heart.
He is restoring wonder to you through a fresh encounter with His voice!
---
2. Seek Maturity, but Hold Onto Childlike Faith
God wants to reinvigorate His prophets, and fivefold ministry leaders:
That means, "to give new strength or energy to." [1]
As A.W. Tozer said, "Truth has two wings"— or, as I'm currently seeing it, truth has two windows.
And in order to receive this refreshing, we need to throw open both! [2] These are:
That we are called to rise up as mature sons and daughters, through whom God's glory is being revealed! (Rom 8:19)
That the Father is drawing us to return to childlike faith.
In maturity are power, authority, and our mission.
Yet, it is as children we receive and enjoy the Kingdom.
And in childlikeness is humility, learning, wonder, simplicity, and delight.
---
3. Be a Learner in Leadership
Jesus set a child before His disciples to teach them a lesson.
This is what leadership in My Kingdom looks like.
This—is greatness!
Behold, a child.
But here, we hesitate. For the Bible warns us against keeping childish ways, especially in our understanding [3]
Yet still, there is a humility that honors God, along with a desire to learn.
This is a trait that was never meant to be cast aside—not even in our pursuit of God's service.
---
4. Discover Where God is Working Now
"Now the Lord came and stood and called as at other times, "Samuel! Samuel!" And Samuel answered, "Speak, for Your servant hears." (1 Sam 3:10, NKJV)
Samuel discovered, to his amazement, that God was present with him at that moment!
In that room.
And there is an encounter with God that is available for you in the immediate—in the present tense.
As prophetic people, we are gifted to seek out what God wants to do in the future and lead others towards it.
Naturally, our eyes search the horizon for what lies ahead.
But sometimes, waiting can start to characterize us. And the joy of what our Father is doing "now" begins to dim.
"Where is the Dance?"
Earlier this year, I began to ask in my decision-making, "Where is the dance?"
It's that shimmer of joy that comes with obeying God, and it is not tied to circumstances.
I've learned that obedience is not duty or drudgery! It is simply saying "yes" to the Father's invitation.
It is to join Him in what He is doing now.
And He is always doing something "now"!
"But Jesus answered them, "My Father has been working until now [He has never ceased working], and I too am working." (John 5:17 AMP)
---
5. Set Your Security in the Father
"You have turned for me my mourning into dancing;
You have put off my sackcloth and clothed me with gladness…" (Psalm 30:11, NKJV)
God is at work in the present—in "now" time!  But sometimes, we cannot perceive the dance.
We look, and all we can see is the storm. So, we hold back, peering into the darkness.
But still, our Father says, "Come be with Me, for I am your security".
And so—enabled by His grace—we can step into that space we know our Father occupies.
Like Samuel, who heard God's voice, but did not see His form, though He stood nearby.
The dance may be in mystery, but it is there, just out of sight.
---
6. Join the Dance
"Now his older son was in the field. And as he came and drew near to the house, he heard music and dancing." (Luke 15:25, NKJV)
Have you become work-worn, or lost your sense of passion? Hear the Father's invitation to return to the childlike simplicity of your relationship to God.
Today, hear the sound—it is coming from the Father's house.
"Come dance with Me", the Father says.
And you discover, the Father is not only celebrating the prodigals' return.
He is singing over you.
---
Notes:
[1] See Merriam Webster definition of "reinvigorate" here
[2] One of my favorite quotes is by A.W. Tozer: "Truth has two wings"
Two truths presented in Scripture seem to contradict each other—and yet, when held together, they bring the balance.
[3] see Eph 4:13-16, 1 Cor 14:20
---
Related Posts:
---
Comments
Which of the above points speaks to you the most? For me, number 2 has been the one that has really stood out in recent times. I'd love to hear from you, so share with me in the comments section on the blog!
---
Study Online: Classes for Those Growing in Prophecy: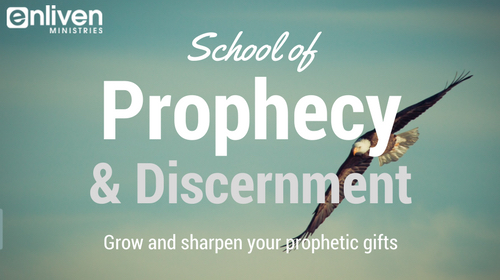 I've been privileged to receive extraordinary prophetic mentoring, as one of a ministry team of prophets and teachers with David McCracken Ministries.
But it hasn't always been that way. When it comes to spiritual gifts, I know what it is like to go on a long journey, and often a lonely one.
My own experience of struggling to find good mentoring is why I am extremely passionate about helping others learn how to hear God's voice, and grow in their gifts of prophecy and discernment.
The best mentoring and teaching I can give you is now rolled into this one place, on the Enliven School of Prophecy and Discernment.
You can view and sign up for my self-paced video lecture series in the Enliven Prophetic School here. Choose between a small monthly subscription or a one-off payment with no expiry date.
---
© 2021 Helen Calder, Enliven Blog
Enliven Ministries: In the David McCracken Ministries family