I believe there is someone reading this, who needs to know that God's mercy is abundant towards you.
And that right here, in the midst of your weakness, and in the face of contradictions—targeted right to the very point of your need.
You can be assured that God's mercy is active and working on your behalf.
---
Heaven's Bakery
Early Wednesday morning, I dreamed of a bakery, where fresh bread was being baked.
And mysterious people were bustling around, carrying bread.
The scene felt like a bakery in the early hours of the morning, as it prepares to open—there was so much activity going on!
Meanwhile, in my dream, I knew this location was the "mercy seat" in heavenly places.
It reminded me of this verse:
"Through the Lord's mercies we are not consumed, because His compassions fail not. They are new every morning…" (Lam 3:22-23a, NKJV)
---
Bustling with Activity
New every morning!

The Hebrew word translated new also means renewed and the root word speaks of repairing and rebuilding (Strong's H2319).
Your Father wants you to know, that His mercy is great towards you. You have prayed, God has spoken, and angels are delivering!
And now—right at this moment—He is sending angels to minister help on your behalf.
Oh, His mercy is so active and abundant. The "bakery" of heaven is bustling with activity and your order is on the way.
"Bless the LORD, you His angels, Who excel in strength, who do His word, Heeding the voice of His word." (Psalm 103:20, NKJV)
---
Our House Began to Shake
I love the reminders God sends—like the timely dream of a bakery in Heavenly places.
Just hours after that dream, the walls and floor of our house began to shake.
It was the strongest earthquake recorded in our State's history—and came at a time in which the city of Melbourne is experiencing a lot of pain. Thankfully, there was no injury and only minor damage occurred.
The shaking you are experiencing is different from ours.
Your challenges are unique, but our Father is the same!
And there is help at the "mercy seat"—the throne of grace—because Jesus has gone before us. [1]
"Let us therefore come boldly to the throne of grace, that we may obtain mercy and find grace to help in time of need." (Hebrews 4:16, NKJV)
---
God has a Second Touch for You
God sent an angel to provide refreshment for Elijah one day, at a time the prophet was exhausted. [2]
We read that "…as he lay and slept under a broom tree, suddenly an angel touched him, and said to him, "Arise and eat."
Then he looked, and there by his head was a cake baked on coals, and a jar of water. So he ate and drank, and lay down again." (1 Kings 19:5-6, NKJV)
It was bread from Heaven! And it arrived at a time Elijah had fled from Jezebel's threats. His self-esteem was at an all-time low—and he even said, "Now Lord, take my life, for I am no better than my fathers!" (1 Kings 19:4b, NKJV)
But instead of taking his life, God gave him food and offered him a fresh start.
It was a mercy gift from Heaven.
---
No Special Type of Prayer
There is something God has for you, that is not the result of any method, steps, or a special type of prayer.
You can't replicate it, and—just like Elijah in his lowest place—you can't explain it.
Because it's all about His grace.
"His compassions fail not. They are new every morning…" (Lam 3:22-23a, NKJV)
This is the kind of compassion that moved Jesus to resurrect the son of a widow; (Luke 7:12-15) to heal, to teach, to set people free.  It's a compassion that is so compelling, and so gut-wrenching, it can only result in action! [3]
And this is the compassion that moved Jesus to supply bread and fish to a hungry crowd.
Out of Heaven's pantry.
---
"I am Coming to You a Second Time"
So, Elijah received physical touch, food, and supernatural strength.
But it was what happened next that really stood out to me.
"And the angel of the Lord came back the second time, and touched him, and said, "Arise and eat, because the journey is too great for you."(1 Kings 19:7, NKJV)
The words "second time" leaped off the page!
And this may also be a word from the Lord to you today! "My child, I am coming to you a second time.
Receive a fresh touch!
As you have encountered Me in the past—I have more for you.
And this low place will become the launching pad into the new era I have for you."
---
Fresh Bread
Perhaps you have others who are waiting for you to supply them with what they need.
And yet, you feel as though your own provisions are running low.
Today, your Father wants you to know, He is Lord of your supply. There is no shortage in the heavenly places!
For in the Kingdom of God, there is order, supply, and flow.
Be assured that Jesus can take the little you have and multiply it to feed a multitude! (Matt 15:32-37)
And that by faith, you can receive a fresh delivery of Heaven's bread today.
---
The Bakery of Heaven
"Are they not all ministering spirits sent forth to minister for those who will inherit salvation?" (Heb 1:14, NKJV)
So right now, receive both replenishment for what has taken place—and also new strength for the journey ahead!
For God's mercies are new every morning:
It's the bakery of Heaven
And angels are being sent from the very throne of God, to distribute the help, food, and strength you need.
Right on time.
---
Leave a Comment
Is today's word about "Heaven's bakery" meaningful to you? I'd love to hear from you, so share your thoughts or your prayer request in the comments box on the blog.
---
Notes:
[1] The "mercy seat" was a name for the cover of the Ark of the Covenant. (Exodus 25:16-18) This was the place where God's manifest presence dwelt in the Old Testament. The blood of the sin offering was sprinkled on and in front of the mercy seat (Lev 16:14) and speaks of Christ's blood atoning for us! (See Heb 9)
[2] When I wrote on manna recently, this verse came to my attention: "They ate the food of angels! God gave them all they could hold." (Psalm 78:25, NLT) That's when the story of Elijah's supernatural food stood out to me.
[3] Compassion here (H7356) means mercy, compassion, bowels, womb—it is a feeling that is deep-seated. And it leads to action.
The Greek word used of Jesus' compassion is splagchnizomai (Strong's G4697) to be moved as to one's bowels, hence to be moved with compassion, have compassion (for the bowels were thought to be the seat of love and pity)
---
Bread
"Fresh bread" is a recurring theme that I receive from the Lord. Bread is symbolic in the Bible for many things, including God's Word, His presence, provision, salvation, healing, and deliverance, doing God's will, and Jesus the Bread of Life. My references to these can be found here:
Related Posts:
Prophetic Word: God is Anointing Your Capacity
Fresh Bread: It's a Tipping Point Moment
---
Help for Prayer Warriors: Overcome Spiritual Dryness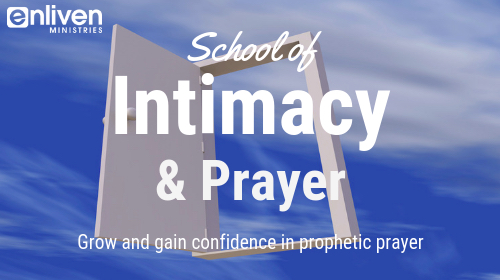 If you have felt dry or depleted in your prayer life lately, the lessons in my Prophetic Prayer School will be of benefit to you.
You will find these in the class, "How to Prevent and Recover from Dryness in Prayer":
Causes of Dryness and Depletion in the Intercessor
Ten Keys to Being Replenished as an Intercessor
Receiving Prayer: How to Stay Filled with the Holy Spirit Through Soaking Prayer
This impacted me personally, and I'm sure it will benefit many of you! I warmly invite you to join me in the Enliven School of Prophetic Prayer
For a short period of time, while the Prayer School is under construction, I'm bringing the full price down to $19.95 USD.
Currently on the Enliven School of Prophetic Prayer are 41 video lessons (complete in your own time), along with PDF transcripts, exercises, and bonus eBooks.
Alternatively, you can view all online courses, including the Prophetic School here.
---
© 2021 Helen Calder, Enliven Blog
Enliven Ministries: In the David McCracken Ministries family