"Lean into Me, for I am your sufficiency. You have the ability to do all I require of you."
I believe the Lord is speaking into the capacity of His people. Capacity has to do with what you can contain, hold or produce.
Perhaps, a difficult situation has stretched you and you wonder how much more you can take.
Receive the Holy Spirit's assurance today—that His anointing is upon you, to help you stay on track.
---
"This is the Breadbasket"
"and when He had given thanks, He broke it and said, "Take, eat; this is My body which is broken for you; do this in remembrance of Me." ( 1 Cor 1:24)
Recently, we joined our church family for our communion service. And as I returned to worship after praying and taking the emblems, I found myself in a vision.
It seemed that I tumbled into a great container, filled with loaves of bread. There was bread above me, and surrounding me.
I saw myself reaching out and taking a loaf of bread to eat.
Now, I was in the bread and the bread was in me!
It reminded me of Jesus' words, "At that day you will know that I am in My Father, and you in Me, and I in you." (John 14:20, NKJV)
Surprised, I said to the Lord, "What is this place?" And the Holy Spirit said straight back, "This is the Breadbasket!"
---
The Bread of Life
I had just partaken of a small wafer—a tiny emblem—when the Holy Spirit gave me an encounter to remind me of Jesus' fullness! [1]
"This is the Breadbasket!"
Immediately, the vision changed. I was still worshipping, but in the Spirit, I saw and heard myself preaching from the book of Ruth!
I was declaring, "Bethlehem means house of bread, and its original name Ephrathah means fruitful, or fertile. So we know from the scripture that this was a fertile region." (Micah 5:2)
And I knew what I was about to say next:
"Bethlehem was also a place of divine destiny, a place that was to be the birthplace of Jesus Christ, Savior and 'The Bread of Life'." [2]
---
Full and Yet Hungry
But before I could get to that next sentence, I had the impression that Jesus Himself was standing in front of me.
And at that moment, I felt such a hunger—a deep longing—to know Him as "the Bread of Life".
To receive from Him.
That hunger touched me and I left that time of worship with it still vivid in my heart and mind.
It's a mystery, a spiritual paradox:
That you can be full, and yet hungry.
And if you are hungry for God, that hunger is the invitation of the Lord.
---
The Prophetic Meaning of Bread
Hear Him say, "Come, partake and eat; enjoy an abundance. Rejoice in My fullness and let this life pour over to others."
Some of the things bread represents in the Bible include:
The bread of His Presence (translated lit. "Bread of the Face", Exodus 25:30)
Provision (daily needs, Manna and miraculous feeding Matt 6:11, Ex 16:15)
The bread of His Word (Matt 4:4 we don't live by bread alone but by every Word that comes from His mouth)
Doing God's will and serving Him (John 4:34)
Salvation by grace (Isaiah 55:2)
The "bread of the children"— healing and deliverance (Matt 15:26)
And of course, Jesus is the Bread of Life (John 6:35) who gives eternal life (John 6:50)
And there is more!
Each of these is available in our life in Christ. Yet in our weakness, there are times when it seems, "There's not enough bread to go around!"
---
I Have Bread for You
Sometimes, we are like the person in Jesus' parable who had a visitor arrive at night.
He said to himself, "I cannot feed one more mouth. I have barely enough for my own family!"
So, he knocked on his neighbor's door. He was bold and desperate. (See Luke 11:5-8)
And the Lord is speaking to those who feel they lack "bread"—whatever that symbolizes for you today.
The Father says, "I have an abundance available to you. I have bread for you, bread for your family, and bread for the hungry. All you need to do is ask."
---
Not a "Wafer" Sized Portion
"So I say to you, ask, and it will be given to you; seek, and you will find; knock, and it will be opened to you."(Luke 11:9, NKJV)
Jesus followed that story with a reminder that it's our privilege to ask for what we need in prayer. And that we can do so, using the familiar approach of children to their father!
In times of weakness, we have a mistaken tendency to see our capacity like that small wafer. 
If you can relate to this, hear your Father say:
"You have sufficient capacity for every assignment and relationship I have called you to.
You do not need to fear that your capacity will prove too small. For you stand in My abundance!"
Your breadbasket is overflowing.
---
Notes:
[1] When I describe a vision I've seen, it's usually a vivid impression in my mind's eye (in this case also "hearing"), accompanied by a strong sense of God's Presence. I'm not speaking of an "open" (physical) vision. I believe all prophetic words, encounters, and visions should be compatible with Scripture and need to be weighed up.
[2] You can see sermon notes where I've used this quote here: Take that Label off and Agree with What God Says and Fresh Bread: It's a Tipping Point Moment
---
Leave a Comment
Do you have a Scripture or promise that God has used to encourage you in your capacity, and to keep going?
I'd love to hear from you, so leave a note in the comments box to share it with us!
---
Related Posts:
---
Help for Prayer Warriors: Overcome Spiritual Dryness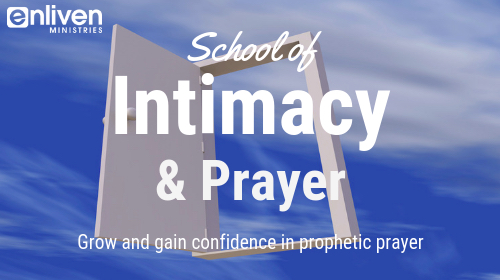 If you have felt dry or depleted in your prayer life lately, the lessons in my Prophetic Prayer School will be of benefit to you.
You will find these in the class, "How to Prevent and Recover from Dryness in Prayer":
Causes of Dryness and Depletion in the Intercessor
Ten Keys to Being Replenished as an Intercessor
Receiving Prayer: How to Stay Filled with the Holy Spirit Through Soaking Prayer
This impacted me personally, and I'm sure it will benefit many of you! I warmly invite you to join me in the Enliven School of Prophetic Prayer
For a short period of time, while the Prayer School is under construction, I'm bringing the full price down to $19.95 USD.
Currently on the Enliven School of Prophetic Prayer are 41 video lessons (complete in your own time), along with PDF transcripts, exercises, and bonus eBooks.
Alternatively, you can view all online courses, including the Prophetic School here.
---
© 2021 Helen Calder, Enliven Blog
Enliven Ministries: In the David McCracken Ministries family