The Battle for Your Breath
I believe the Lord is saying to many, "I am restoring your breath. And I am breathing new life into you!"
That assignment of the enemy—that python spirit—that has tried to shut you down, cannot hold you back any longer!
Breath is life.
When God brought Adam to life, He breathed into him.
'Then the Lord God formed a man from the dust of the ground and breathed into his nostrils the breath of life, and the man became a living being.' (Gen 2:7, NIV)
It's a picture of your relationship with God. Intimacy. Face-to-face.
The breath of God is also associated with your new life in Christ. At the close of the Gospels, Jesus breathed on His disciples, saying 'Receive the Holy Spirit'. (John 20:22)
God has created us to be alive with his breath—in body, soul and spirit.
So, it's not surprising that there are certain types of spiritual attack aimed at stealing our breath, taking our life-flow and depleting us spiritually.
---
Some signs you may be battling this include:
An overall sense of weariness for which there seems to be no natural cause
Losing your desire or hunger for God
You are breathing out – giving a lot to others – but feel as though the flow to you personally has been stifled
You are experiencing pressure, or oppression
You identify with feeling limited, or held back, whether personally or in relationships, work, ministry and so on
You are being tempted to give up because you have lost energy, physically, emotionally, spiritually
You are being assailed with thoughts that you must pull back because you cannot sustain the course you are meant to be on
---
Stealing the Breath—the Python
Recently, my husband and I were at wildlife park here in Australia and we had the opportunity to be photographed with a python. Having a photo with a snake draped around me is something I have always said I would never do!
But in the moment, I felt, 'do it!'
It was a great opportunity to overcome fear and also enjoy what is a beautiful and fascinating animal.
In the Bible, snakes and serpents are symbolically associated with the devil. Satan appears in the form of a snake in the temptation of Adam and Eve. In the Gospels, Jesus likened victory over the demonic realm to trampling upon snakes and scorpions without harm. (Luke 10:19, Ps 91:13)
When it comes to spiritual warfare, it can be a helpful metaphor to see that there are two main types of attacks you can see from snakes.
The first one is a venom attack
And the second is an asphyxiation attack
Some snakes, such as pythons, kill their prey by constricting them. As their prey breathes out, the coils of the snake grow tighter, until it cannot breathe in any more.
It literally kills through starving the breath!
And that is a picture of this type of spiritual warfare—but don't be alarmed by this; instead, be filled with anticipation and faith.
Even the slightest pressure from this kind of demonic attack must give way in Jesus' Name!
Your Father has a plan to release your breath and bring enlargement to you!
You shall overcome every way the enemy has tried to rob you of God's best.[2]
---
Life Overcomes the Spirit of Death
If you can identify with the signs I mentioned at the outset, be assured that you have the ability to overcome this.
Today, be encouraged by these words of Jesus: 'The thief comes only to steal and kill and destroy; I have come that they may have life, and have it to the full.' (John 10:10, NIV)
Hear Him say,
'Do not be dismayed! This assignment that has tried to come heavily against you will fail.
Life is within you. Your breath is being released!
---
8 Keys to Break Free of a Python-Type Spiritual Attack
Do you recognize that you are battling a python-like spirit?
As you pray through these, the Holy Spirit may highlight one or more specific areas needed for your breakthrough.
1. Simply, Call on the Lord
The Psalmist writes:
'The cords of death entangled me, the anguish of the grave came over me; I was overcome by distress and sorrow. Then I called on the name of the Lord: "Lord, save me!" (Psalm 116:3-4 NIV)
Don't underestimate the power of simply crying out to Jesus! Meditate on Psalm 18. This is the power of grace—that when we don't have the strength to act or speak, we can cry to Him in Jesus' Name and He hears us.
God acts mightily on our behalf!
2. Apply Forgiveness
'Again Jesus said, "Peace be with you! As the Father has sent me, I am sending you." And with that he breathed on them and said, "Receive the Holy Spirit. If you forgive anyone's sins, their sins are forgiven; if you do not forgive them, they are not forgiven." (John 20:21-23, NIV)
Receiving the breath of the Spirit and forgiveness go hand in hand! So, a good place to start is to release forgiveness to any person or group who has been used of the enemy to injure you. [1]
3. Make Any Needed Confession
Confess any way you have personally contributed, sinned or missed the mark, that has opened the door to that spirit operating.
Repent of any way in which you have (actively or passively) allowed it to operate and to steal God's breath and His best from your life, relationships, ministry, work and so on.
4. Declare the Power of Christ's Blood
The enemy's lies cannot hold power against your declaration of what the blood of Jesus has accomplished for you.
Neither can they stand against the truth of what God's Word says, about who you are in Christ.
5. 'Cut off the coils' of the Python spirit
'But the Lord is righteous; he has cut me free from the cords of the wicked.' (Psalm 129:4 NIV)
That word translated 'cut me free' here means to chop off! To cut off! What great imagery!
It is the Lord Who is cutting us free—we are participating with Him, using declaration and command. [3]
6. Breathe!
'I shall not die, but live, and declare the works of the Lord.' (Psalm 118:17, NKJV)
Breathe in! Receive by faith a fresh infilling of the Holy Spirit!
In Isaiah 10:27, we often use the phrase from the KJV 'the yoke shall be destroyed because of the anointing'. And it is a powerful truth—truly the Presence of God does break bondages!
The imagery in the Scripture is of a neck that has grown so strong and 'fat' that the yoke has broken off it.
Know that bondage of the enemy cannot stay, it cannot contain you, because what God is doing in your life is GREATER.
That constriction that has been around you, in your circumstances, body or atmosphere, cannot remain. You are breaking out, in Jesus' Name!
7. Receive Help
Receive help and prayer from others as needed.
'And he who had died came out bound hand and foot with graveclothes, and his face was wrapped with a cloth. Jesus said to them, "Loose him, and let him go." (John 11:44, NKJV)
When Lazarus came forth from the tomb at Jesus' word, he was resurrected, he was healed. But he was still bound in grave-clothes; he still needed the assistance of others to have the bindings removed.
There are times when we also need the help, prayer and ministry of others to break completely free. This love and caring is what the church body is all about.
8. Be Kind to Yourself
Finally, realize that sometimes there are natural causes for depletion, such as going through crises, or extended transition and so on. We are spirit, soul and body, so depletion needs to be addressed on every level.
This takes wisdom and self-care.
---
Your Hedge of Protection
Confess that the breath of God, the Holy Spirit is filling you, your family, workplace, ministry, NOW! Make a declaration about every arena you recognize has been under attack.
Say, 'Lord, I receive Your resurrection power!'
Know that where that enemy once contended for your breath, you are loosed!
Those python coils of limitation have no power over you. Instead, see yourself surrounded by God's Presence and glory. 'For I,' says the Lord, 'will be a wall of fire all around her, and I will be the glory in her midst.' (Zech 2:5, NKJV)
See it. Know it. Rejoice in it. Your Father says,
'I am the only protection you need. I am faithful, I am trustworthy. I am yours, and you belong to Me.'
---
Notes:
[1] If someone has broken trust, forgiveness does not mean you have to put your confidence in them again. Forgiveness and wisdom must go together.
[2] A python spirit appears as a 'counterfeit prophetic' demonic spirit, in Acts 16:16. More info in course, per below.
[3] The course contains more information on 'how to cut off the coils' and has a session on binding and loosing. See below for details.
---
Spiritual Warfare Online Course:
'Because of early traumas I had with the demonic realm, there was once a distortion in my thinking. 
Now, I am grateful for those who have instilled the truth of God's Word into my life; a truth that has set me free, and given me a different perspective. 
And whether or not you can relate to my experiences, I can tell you that you do not have to put up with demonic pressure, however it comes. You are not helpless, you are not a victim, but you are more than a Conqueror in Christ.'
The article, '8 Keys to Breaking Free from a Python Spirit' is an excerpt from my online course, 'Spiritual Warfare: How to Identify and Overcome Spiritual Attack'.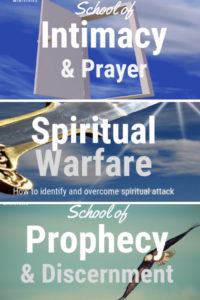 This course includes around 30 mini-lectures on video, and is full of Biblical wisdom and faith-filled strategies to help you overcome in time of oppression or spiritual battle.
If you prefer a faith-based approach to spiritual warfare that is focused more on God's supremacy than on the demonic realm, this course is for you.
I give you clear guidelines and step by step points on how to recognize and combat spiritual attack. There is also a downloadable full transcript in PDF version.
Find out more about the course, 'Spiritual Warfare: How to Identify and Overcome Spiritual Attack' here.
Alternatively, you can view all online courses here.
---
Related Posts:
How to Overcome the Battle in Your Mind
5 Signs You Are In A Spiritual Battle (And How To Overcome)
---
© 2019 Helen Calder Enliven Blog – Prophetic Teaching
Enliven Ministries
In the David McCracken Ministries family