"Let God's Presence and His anointing upon you be the mark of your life."
I often hear from people who believe God has called them to a fivefold ministry office—and they are wondering how to best prepare for that calling.
If you can relate to this or are in a position to help guide others who have this calling, the following study will be particularly helpful. However, the points are relevant for all of us who are called to lead and influence others.
What is a Fivefold Ministry Calling?
The fivefold ministry is from Paul's list in Ephesians chapter 4, referring to gifts of people given by Jesus to lead the Church:
'So Christ himself gave the apostles, the prophets, the evangelists, the pastors and teachers, to equip his people for works of service, so that the body of Christ may be built up…' (Eph 4:11-12)
The five 'offices' mentioned are those of the apostle, prophet, evangelist, pastor and teacher. Their primary purpose, as mentioned here, is to empower and equip God's people so that they can serve, as well as grow in maturity and Christ-likeness.
We learn more about these different roles and how God uses the fivefold ministry both in and outside of the church (evangelism and mission), from observing them at work throughout the New Testament.
---
5 Ways to Prepare for a Fivefold Ministry Calling
The second generation of leaders in the New Testament [1] teach us by their example how to steward the calling of God and prepare for a fivefold ministry office. Here are 5 ways to prepare for a fivefold ministry calling as seen in the lives of Phillip (Evangelist – Acts 21:8), Paul (Teacher Apostle -2 Tim 1:11) and Timothy (Evangelist – 2 Tim 4:5 [2]):
1. Prepare for Your Fivefold Calling by Staying Filled with the Spirit
'Brothers and sisters, choose seven men from among you who are known to be full of the Spirit and wisdom. We will turn this responsibility over to them.' (Acts 6:3)
Philip and the others were known to be full of the Holy Spirit. The anointing on their lives was evident—it caused them to stand out.
"But those who know their God will be strong and do great exploits." (Daniel 11:32)
Don't wait until you are in a fivefold ministry office to be full of the Holy Spirit. Let God's Presence and His anointing upon you be the mark of your life. Stay filled through your intimate relationship with God. Place the highest value upon your relationship with Him, as well as knowing Him through His Word (2 Cor 3:18). Be known for the Spirit's empowerment in your life.

---
2. Prepare for Your Fivefold Calling by Allowing Godly Character to be Developed in Your Life
When we are introduced to Timothy, the Bible notes, 'The believers at Lystra and Iconium spoke well of him.' (Acts 16:2) He had a good reputation among those who knew him and his family locally.
The seven chosen in Acts 6 were not only full of the Spirit; they were also known for their wisdom. (Acts 6:3)
The difference between those who do not finish well and those who last the distance and honour God in their ministry, is in character and values. These are revealed and shaped through trials.
The trial of persecution propelled Philip into his ministry as an evangelist. He could have given way to the pressure to be silenced; instead, he took the Gospel to Samaria, where signs and miracles broke out. (Acts 8)
Prize and protect your reputation. When trials and pressures come, allow them to test and develop character in your life. Respond well and those trials will become the very thing God uses, to further equip you and propel you into your calling.
---
3. Prepare for Your Fivefold Calling by Studying the Bible
'…from infancy you have known the Holy Scriptures, which are able to make you wise for salvation through faith in Christ Jesus. All Scripture is God-breathed and is useful for teaching, rebuking, correcting and training in righteousness, so that the servant of God may be thoroughly equipped for every good work.' (2 Tim 3:15-17)
When Paul wrote to Timothy, he referred to his life-long study of Scripture and reminded him of the importance of, not only knowing God's Word but also being able to apply it in his leadership role.
Philip's knowledge of the Scriptures was evident as he communicated the Gospel with the Ethiopian Eunuch. 'Then Philip began with that very passage of Scripture and told him the good news about Jesus.' (Acts 8:35)
If you believe God has called you into fivefold ministry leadership, build a strong foundation of Scriptural knowledge. Learn how to apply God's Word to life and leadership. Be a student of the Bible and study diligently, so that you are 'thoroughly equipped' for God's work.
---
4. Prepare for Your Fivefold Calling by Finding Somewhere (and Someone) to Serve Faithfully
The second generation of fivefold ministry leaders was raised up and commissioned by the twelve apostles and others in fivefold ministry leadership.
Philip, along with Stephen and others of 'the seven' were appointed by the twelve Apostles in an administrative role (Acts 6).
Paul served on the leadership team as a teacher in Antioch until he was commissioned (Acts 13:1).
Timothy served the Apostle Paul as a missionary helper (Acts 16:1-3), emerging into his leadership calling through his unswerving service to Paul, who was also his spiritual father (1 Tim 1:2).
They were also faithful members of their local churches. Philip served in the church in Jerusalem and Paul (Saul) in Antioch. Timothy was a highly-valued member of the church at Lystra.
Love and serve your local church. Be aware that the first part of your calling is to provide faithful service to others who are in fivefold ministry—so when God gives you the opportunity, serve another's vision with all your heart.
---
5. Prepare for Your Fivefold Calling by Awaiting Your Commissioning
'They presented these men to the apostles, who prayed and laid their hands on them.' (Acts 6:6)
Paul was commissioned directly by God, but he waited for the leadership team at Antioch to hear from God and to lay hands on and release him into his apostolic ministry (Acts 13:1-3). In the meantime, he ministered faithfully as a leader and teacher in the local church.
Philip and Timothy could also point to a time where they were commissioned with the laying on of hands. (Acts 6, 1 Tim 4:14)
Having a sense that you are called to fivefold ministry is ultimately a journey of faith. Fivefold ministry is not something you can put yourself forward for—it is not self-appointed, but confirmed and commissioned by other fivefold ministry leaders.
---
Notes:
[1] The 'first generation' being the 12 Apostles commissioned by Jesus.
[2] It is likely that Timothy later emerged as a Pastor or Apostolic leader himself. Eusebius, writing about A.D. 325, reported that Timothy was the first bishop of Ephesus. (Nelson's Illustrated Bible Dictionary, Copyright (c) 1986, Thomas Nelson Publishers.)
---
Related Posts:
Why Timothy is One of my Leadership Role Models
7 Ways to Prepare for Your Prophetic Calling
---
Discover More in the Prophetic Guidance Master Class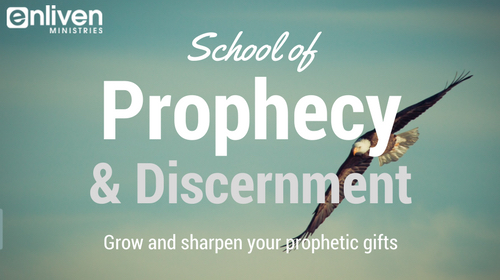 Is the above article timely?
In my Prophetic Guidance Master Class, I tackle some tough questions such as:
How do faith and wisdom work together when following prophetic guidance?
What extra care can I take when my prophetic insights are about relationships or emotional issues?
When I'm faced with a closed door, what can I do?
If my prophetic guidance is unclear, what actions should I take?
What is God doing when there are delays and disappointments?
You can find the Prophetic Guidance Master Class in the Enliven Prophetic School here.
Modules on the School currently include: "How to hear God's voice"; "How to Begin and Grow in Prophecy"; "The Seer Gift: How to Grow in Pictures and Visions"; "Discernment and Prophetic Warnings" and the "Prophetic Guidance Master Class".
---
© 2016 Helen Calder, Enliven Blog – Prophetic Teaching
Enliven Ministries: in the David McCracken Ministries family