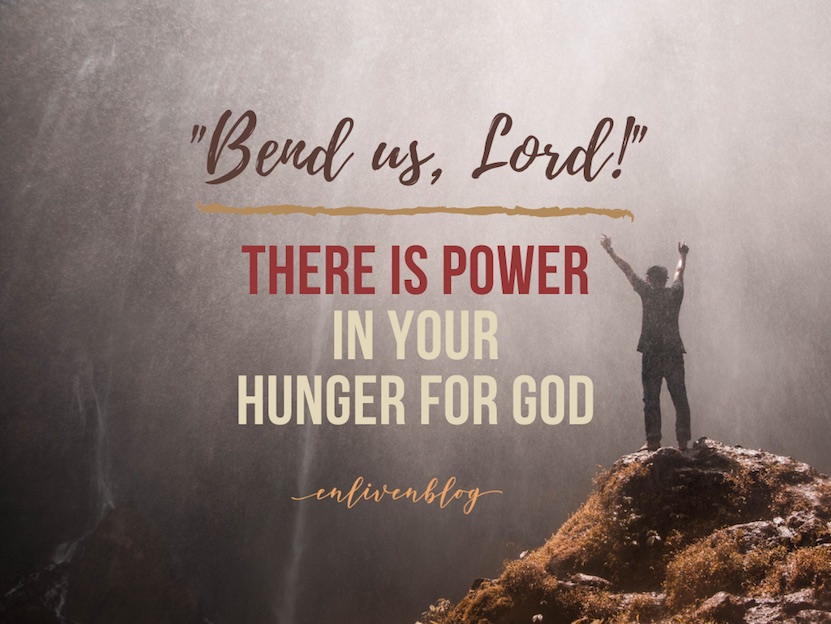 Have you been feeling hungry for God recently?
Or it may be—on the contrary—that you have lost your spiritual appetite!
Be encouraged, for even the awareness of your loss of hunger is a pull from the Spirit.
An invitation.
For the table is being set!
And a move of God is on the way—one that has never been tasted before.
Today, receive your invitation to the table of the Lord.
---
"Lord, Bend Me!"
"Lord, bend us" was one of the great themes of the Welsh revival.
The young Evan Roberts went to a mission meeting led by an evangelist named Seth Joshua—and the Rev Joshua finished his prayer requests with the words, "and bend us".
And as Evan Roberts went away, the Holy Spirit rang these words in his heart. So, he began to cry out, "Lord, bend me!" [1]
"Lord, bend us."
"Bend us, Lord!"  It's our cry today. "Jesus, we need Your help to get low."
---
It Covered the Ground
Recently, I was reading about the first time God gave manna to the Israelites, and one small detail caught my attention:
"And when the layer of dew lifted, there, on the surface of the wilderness, was a small round substance, as fine as frost on the ground." (Exodus 16:14, NKJV)
Suddenly, in my mind's eye, I saw it: The manna covered the ground.
And everyone who gathered it—without exception—had to stoop to pick up the bread.
---
The Bread of Angels
I believe these words are a flag of the Holy Spirit—calling for us to take notice.
There are some treasures that we will access as we bend
Spiritual food will be made available to us, as we get low
As the Psalmist later wrote:
"Human beings ate the bread of angels; he sent them all the food they could eat." (Psalm 78:25 NIV)
---
"Bend us!" 3 Powerful Gifts as We Bend Before God
There are some gifts and encounters that we will only receive, as we bend in His Presence:
1. Seeing Jesus is With You
Mary Magdalene lingered at the empty tomb—for it was the last place she knew her Lord to be. (John 20)
And Mary stooped and wept. Then as she looked inside, she saw two angels in white. One was at the head, and the other at the foot of where Jesus had lain.
Afterward, when she turned around, she became the first one to see Jesus after the resurrection.
I believe there are some reading this—and you can relate to Mary. It feels as though you've stooped and wept. You've wondered at times where God is—and especially, where God is for you.
Today, Jesus says, "Beloved, turn around, see that I am here! I am with you!"
As Mary did, you are about to receive your commissioning.
---
2. The Anointing and Power of the Holy Spirit
Are we willing to bend, in order to receive the "mantle" God has for us?
Elisha knew it was the Lord's time to take Elijah—his mentor and leader—to Heaven. So, he pursued Elijah and would not turn back, even the prophet urged him to leave!
He even followed Elijah across the river—so that it seemed, to those watching, that Elisha had pursued Elijah to the point of no return!
"And so it was, when they had crossed over, that Elijah said to Elisha, "Ask! What may I do for you, before I am taken away from you?" Elisha said, "Please let a double portion of your spirit be upon me." (2 Kings 2:9 NKJV) [1]
---
The One Single Thing I Ask for
It was as though Elisha said,
"That breath of God, that anointing of the Holy Spirit on your life.
It is the one single thing I ask for. [2]
And, as your spiritual heir, I ask for the double portion."
Then, as Elijah was suddenly taken up to Heaven with an angelic contingent, one item of clothing dropped from him.
So, Elisha bent down.
He stooped to pick up Elijah's mantle.
Today, let us cry, "Bend us, Lord!"
For God is clothing us with His power, as we worship Him.
---
What if the Best God Has for You is "Beneath You?"
What is God is saying, "I have more for you. I have 'the bread of angels' to sustain you".
But then, we discover it is beneath us?
When we say something is beneath us, we declare we are beyond that. We have matured and moved on.
It may be foundational, or be an act of service others could do.
Or we might believe we have advanced beyond a simple devotional act—it would never occur to us that God might take us back to basics
It's a reminder that in the Kingdom of God, leaders demonstrate greatness when they stoop to serve.
Today, see Jesus, washing His disciples' feet!
See also, your influence breaking out in the most unlikely ways.
And through humble means.
---
3. A Miracle Provision
In an act reminiscent of the manna provision, Jesus multiplied loaves and fish, to feed hungry crowds.
Then afterward, Jesus told His disciples to gather the leftovers. (John 6:12,13)
I wonder if it crossed the disciples' minds: "Leftovers? Really Lord? On the ground? Isn't that like…rubbish?"
Yet, the disciples bent to gather the discarded pieces of loaf that were on the ground. And gathered 12 basketfuls of bread.
Today, I hear Him say,
"There's another miracle I have for you, that you will only receive as you bend—as you stoop. As you get low to serve and receive."
"It's a sign and an overflow provision".
---
There is Power in the Bending
When we bend, we adjust our posture. This speaks of a change of attitude—as well as a willingness to receive and to serve.
But there is power in the bending.
We discover there is a table set before us. One we never anticipated.
Today, may our cry together be, "Bend us, Lord! And open our eyes to see You."
---
Notes
[1] See reference to this Welsh Revival story in a Christianity Today article here
[2] That Hebrew word translated "spirit" is ruach—(Strong's H7307) meaning breath. It is the same word used when referring to the Spirit of God.
---
Related Posts
Mowed Down: A Season of Unusual Encounters with God
4 Surprising Keys to Kingdom Authority
---
Help for Prayer Warriors: Overcome Spiritual Dryness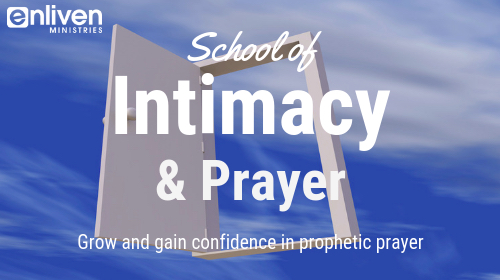 If you have felt dry or depleted in your prayer life lately, the lessons in my Prophetic Prayer School will be of benefit to you.
You will find these in the class, "How to Prevent and Recover from Dryness in Prayer":
Causes of Dryness and Depletion in the Intercessor
Ten Keys to Being Replenished as an Intercessor
Receiving Prayer: How to Stay Filled with the Holy Spirit Through Soaking Prayer
This impacted me personally, and I'm sure it will benefit many of you! I warmly invite you to join me in the Enliven School of Prophetic Prayer
For a short period of time, while the Prayer School is under construction, I'm bringing the full price down to $19.95 USD.
Currently on the Enliven School of Prophetic Prayer are 41 video lessons (complete in your own time), along with PDF transcripts, exercises, and bonus eBooks.
Alternatively, you can view all online courses, including the Prophetic School here.
---
© 2021 Helen Calder, Enliven Blog
Enliven Ministries: In the David McCracken Ministries family