To wonder is to marvel; to be amazed and astounded.
To wonder, is to pause as you contemplate something (or someone) that is unlike anything you've seen before.
Wonder is more than a "wow"—wonder is awe.
And right now, we have moved into an interlude of wonder.

---
An Interlude of Wonder
An interlude is "a short period when a situation or activity is different from what comes before and after it". [1]
We are entering a season of wonder, in which the Holy Spirit is moving in ways that are new to our generation.
There is an increase in prophetic signs
Angelic activity is becoming more noticeable
The Kingdom of God is breaking out
And while in recent decades, we have had encouragement in prophetic ministry, and at times, excitement—we are entering an interlude characterized by wonder.
Awe.
And this season of wonder will lead to the "fear of the Lord". [2]
For a time is coming when hearts will fall at His feet.
---
Eli Settled in his "Usual Place"
In the story of when young Samuel first heard God's voice, we read,
"And it came to pass at that time, while Eli was lying down in his place, and when his eyes had begun to grow so dim that he could not see."
(I Samuel 3:2 NKJV)
The NIV reads that the priest Eli "was lying down in his usual place".
And as I wrote last year, this note in the story struck me. I felt the Holy Spirit provoking me with an alert—a warning—
that many of us who have been around for a long time in the prophetic, are in danger of becoming like Eli. [2]
The ageing priest was losing his eyesight; he was lying down, being at rest in his usual place.
He was stuck in his familiar way of doing things.
Asleep in his comfort zone.
If it feels as though a "sameness" has crept into your journey with God lately, He has a fresh encounter for you.
Today, I believe God is saying, "Pay attention! My favor is towards you.
I have more for you, than you are aware of or expect."
You are free to emerge; to get out of the mold and into the more of what God has for you.
---
From Weariness to Wonder
The boy Samuel, in the meantime, lay down to sleep, but was surprised instead, by an encounter with God.
You may have felt weary, or even worn out. But God is turning your weariness into wonder.
A Samuel anointing is here. There is a fresh encounter with the voice of God, and it's available for all of us, young and old.
It's time for us to get out of our "usual place" and seek the intimate Presence of our Lord.
---
Spiritual Relocation
A word of spiritual relocation has been sent from Heaven!
Those of us who are prophetic seers, are about to be awakened and refreshed.
Remember, the name "Samuel'" means "heard of God", So, be hungry; ask for a fresh encounter with Him.
Be open to discover new ways of hearing God's voice and responding to the Holy Spirit.
For the Samuel era is here.
And your Father, Who loves you, has a fresh encounter for you to walk in.
---
Notes:
[1] See_https://dictionary.cambridge.org/dictionary/english/interlude
Whilst this is an interlude, and different to what has been before, it is also a prelude.
A prelude is "something that comes before a more important event or action that introduces or prepares for it", see_https://dictionary.cambridge.org/dictionary/english/prelude
[2] I shared this word and Scripture in May 2019: Prophetic Insight: It's Time to Enter the Miracle Zone
Recommended Post: Master Key to Growing in Prophecy: The Prophetic is a Person.
---
Leave a Comment
Has God been speaking to you recently about being refreshed in your journey with Him?
I'd love to hear from you! Share with us in the comments box on the blog.
---
Signs, Stories and the Prophetic Environment: New Series in the Prophetic School:
In this new series, I'll be sharing what I've learned through the recent encounters my husband Malcolm and I have had, in our prophetic journey with the Holy Spirit.
The topic will on signs, stories and the prophetic environment.
I pray that it encourages you also, to discover and enter the "new normal" God has for you.
The first video in this series is now up! You can see it taking shape directly after the chapter "Master Class: the Seer gift, Grow in visions and Pictures".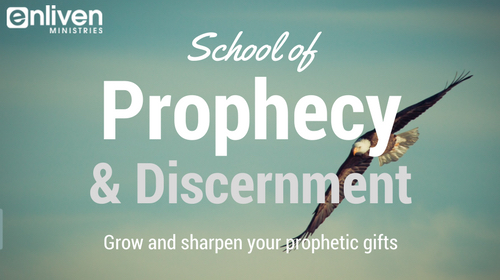 Classes include: How to hear God's voice , How to Begin and Grow in Prophecy, The Seer Gift: How to Grow in Pictures and Visions, Prophetic Discernment, Discernment and Prophetic Warnings and the Prophetic Guidance Master Class.
You can view and sign up to my self-paced video lecture series in the Enliven Prophetic School here. Choose between a small monthly subscription, or a one-off payment with no expiry date.
---
© 2020 Helen Calder, Enliven Blog
Enliven Ministries: In the David McCracken Ministries family