The Emmaus journey.
Recently, I heard the Lord say, "You are expecting Me to come through the front door, but I am about to enter through a side door"!
It reminds me of times in the Gospels, when Jesus came in a way the disciples weren't expecting—
Walking on the water at night (Matt 14:26-27)
Stepping into a locked room, without opening a door (John 20:26)
And then, there was the moment Jesus surprised two of His disciples on the "Road to Emmaus" (Luke 24:13-35)
---
Emmaus: 5 Signs of a Visitation from God
Right now, many of us are on an Emmaus journey.
The Holy Spirit is moving us through transition, into a season of visitation. [1] And the story of what unfolded on the road to Emmaus, and the "visitation" of Jesus, holds prophetic lessons for us today:
1. You've Been in a Difficult Time of Transition
"Now behold, two of them were traveling that same day to a village called Emmaus, which was seven miles from Jerusalem." (Luke 24:13, NKJV)
It was only a few days after Jesus' crucifixion, and Cleopas and his friend were still reeling from what had taken place.
Just before they left Jerusalem, the two disciples heard rumors of Jesus' resurrection.
But these reports, instead of filling them with joy, confused them. And apparently, they didn't believe the stories, for they were walking away, without investigating them further!
This is where Jesus—in His grace and mercy—stepped into their painful journey.
Like Cleopas and his friend, you may be in transition right now, but be assured that while you are wondering, God is working.
---
2. You Have Trouble Seeing God in Your Circumstances
"But their eyes were restrained, so that they did not know Him." (Luke 24:16, NKJV)
These disciples knew Jesus well, yet they were prevented from recognizing Him.
It was the Holy Spirit at work.
During times of transition, God is operating in His wisdom, in ways we don't understand.
Jesus was hidden in plain sight, but He had a purpose.
For though the disciples' physical senses were in darkness, their hearts were awake and listening. And Jesus was able to enlighten them from the Scriptures, about how His (the Messiah's) suffering and glory was a part of God's plan.
It may be hard to see God in your circumstances right now.
But He says, "I am with you! I have never left you!"
God is present in your mystery! He is strengthening your faith.
---
3. You Sense God Calling You into a New Conversation
Cleopas and his friend were deep in conversation, processing the events of the last few days. We're told they were "reasoning".
Jesus came alongside and said to them, "What kind of conversation is this that you have with one another as you walk and are sad?" (Luke 24:17) Of course, Jesus already knew what they were talking about—but He was seeking to enter their conversation.
Like the two disciples, we often tell the story of the "what, where, when, and why" of our situation.
We are reasoning.
It is our own version, our own view—it may be all we know, but it is not the full picture.
You have a conversation going on, that your Father wants to be a part of.
Be assured that nothing is "off-limits" to God.
Your authenticity will lead you to answers.
---
4. The Holy Spirit is Opening the Scriptures to You
And they said to one another, "Did not our heart burn within us while He talked with us on the road, and while He opened the Scriptures to us?" (Luke 24:32, NKJV)
The disciples told Jesus their view of events—their story and the meaning they attached to it—and in return, He gave a different perspective.
A Biblical one.
God wants to reveal more of Himself from His Word!
This is what Paul spoke about when He said, "But we all, with unveiled face, beholding as in a mirror the glory of the Lord, are being changed into the same image from glory to glory, just as by the Spirit of the Lord." (2 Cor 3:18, NKJV)
The insertion of Scripture, into your story—illuminated by the Holy Spirit—will turn depression into delight, and pain into a breakthrough.
You discover that God's word is burning in your heart.
Hear your Father say, "As you see Me in My Word, you will see My footprints, you will see My face—and you will see your future."
---
5. You Get Hungry Enough to Pull on God
"As they approached the village to which they were going, Jesus continued on as if he were going farther. But they urged him strongly, "Stay with us, for it is nearly evening; the day is almost over." So he went in to stay with them." (Luke 24:28-29, NIV)
What struck me about this encounter, is that Jesus acted as though he would go further.
His intention was clear, by what unfolded.
This was a Divine appointment!
Cleopas and his friend were about to recognize Jesus, know Him as the Resurrected Christ, and become witnesses and evangelists.
Yet His appearance—every indication Jesus gave—was that He was moving on.
Why? There was something necessary and valuable in the response He was drawing from them.
And it speaks to where we are today:
"And you will seek me and find me, when you search for me with all your heart" (Jer 29:13, NKJV)
The disciples' response to Jesus was not only forceful, it was time framed. It was urgent. [2] "Stay with us, for it is nearly evening; the day is almost over."
In those moments, their destiny hung in the balance.
Like the two on the road to Emmaus, you may have felt as though the move of God is passing by you.
Be assured that God's intention is to visit you.
He is awakening your heart to seek Him.
To pull on Him!!
---
The Power of a Visitation from God
During Jesus' visit, everything changed. As He broke the bread for dinner and gave thanks, the disciples' eyes were suddenly opened and they recognized Him.
Yet, He had already been with them!
Just as Jesus was present with the disciples on their journey, we know God is already with us, by His Spirit.
But sometimes—especially when we have been through hardship—our sense of His Presence dims.
Doubts press against us. We have difficulty recognizing Him.
We are due for a visitation.
---
A Visitation is on God's Mind
The Bible tells us that visitation is on God's mind. [3]
Jesus' words, "Behold, I stand at the door and knock" are given to His church. (Rev 3:20) "I will come in…and dine'". He again wants to reveal Himself to us in the breaking of bread!
But visitation is not only for the church.
During a visitation, the work God is doing in His people becomes visible to the world (Is 60:1-2).
"Don't pass us by!"
The lesson of Emmaus is that God wants us to PULL on Him. To say, "Lord! This is the time. We need you now! Not a moment longer.
In this generation, the night is coming on!"
He is moving us, to move Him.
For now is the time, for the world to see Jesus.
---
Notes:
[1] I share here about 6 times the Bible says God "visited" his people, and what happened as a result –  Divine Visitation: 6 Ways it Can Touch Your Life
[2] The Greek word for constrained parabiazomai, Strong's G3489 – "to compel by employing force" or "constrain one by entreaties". Translated "urged him strongly" (NIV)—they "constrained Him" (NKJV).
[3] A dictionary definition will tell you that a visitation today has reference to the appearance of a Divine or supernatural being—or in everyday terms, it is used of an "official visit" (Google search, 26 June 2020)
---
Leave a Comment
How is the story of Emmaus speaking to you today? I'd love to hear from you. Leave a note in the comments box below, to share with us or leave your prayer request.
---
Related Posts:
Divine Visitation: 6 Ways It Can Touch Your Life
God Said, "I am Coming to Visit You!" (Kingdom Conversations)
6 Characteristics of a Divine Appointment
---
Enliven Blog is on Instagram, Facebook, and YouTube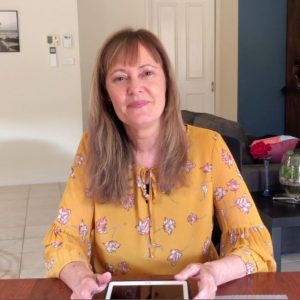 Thank you for visiting Enliven Blog. I would love you to join me on my other platforms too:
My online courses now include the School of Prophecy and Discernment, Spiritual Warfare Course, and School of Intimacy and Prayer.
You can find the Enliven Ministries courses page here.
---
© 2020 Helen Calder ~ Enliven Blog – Prophetic Teaching
Enliven Ministries
In the David McCracken Ministries family