When God visits, supernatural breakthroughs occur.
Prophetic words are fulfilled, seasons are shifted and new things are brought to birth. Jesus gets the glory.
Divine visitation should not be considered an exception; instead, it can be your expectation.
When you understand what a visitation from God means, you can position for it in faith.
---
6 Ways a Divine Visitation Can Touch Your Life
What does it mean, Biblically, to have a season of visitation from God?
Here are 6 times the Bible tells us God visited His people.
As you read these accounts, there may be one or two that particularly resonate with you. If that happens, allow the Spirit of God to ignite faith in your heart, that His Word will be fulfilled in your life in the coming season.
1. Fulfilment of Prophecy & Removal of Barrenness
'And the LORD visited Sarah as He had said, and the LORD did for Sarah as He had spoken.' (Gen 21:1) [3]
A visitation of God broke the long season of barrenness in Sarah's life, resulting in fulfillment of prophecy and the birth of Isaac, whose name meant 'laughter.'
2. Recognising God Has Seen our Pain and Come to Act on Behalf of His People
'When they heard that the LORD had visited the children of Israel and that He had looked on their affliction, then they bowed their heads and worshiped.' Ex 4:31
A visitation of God broke the long season of Israel's bondage in Egypt. They realized God had not left them alone in their suffering but was intimately concerned for them. His power was about to be revealed.
3. Divine Help And Provision
' Then [Naomi] arose with her daughters-in-law that she might return from the country of Moab, for she had heard in the country of Moab that the LORD had visited His people by giving them bread.' (Ruth 1:6)
A visitation of God broke a long season of famine in Bethlehem, Judah.
That Visitation had a chain reaction! The testimony of God's goodness reached a grieving widow called Naomi, who was living in Moab. She moved to that place of visitation and her inheritance and family line were restored there.
4. Restoration of Inheritance and Homecoming
'For thus says the LORD: After seventy years are completed at Babylon, I will visit you and perform My good word toward you, and cause you to return to this place.' (Jer 29:10)
A visitation of God broke the long season of Judah's exile, and they returned to Jerusalem at His appointed time.
5. The Ultimate Divine Visitation—Jesus
"Blessed is the Lord God of Israel, for He has visited and redeemed His people…the Dayspring from on high has visited us" (Luke 1:68,78)
In the New Testament, Zacharias understood that the ultimate visitation of God to His people was fulfilled in the birth of our Redeemer, Jesus Christ.
6. Outpourings of the Holy Spirit
"Repent therefore and be converted, that your sins may be blotted out, so that times of refreshing may come from the presence of the Lord…" (Acts 3:19)
From the day of Pentecost in Acts 2 and throughout church history, we understand visitations of the Holy Spirit to be times of outpouring, bringing refreshing and empowering to God's people.
---
3 Ways To Position For Divine Visitation
When God moves on our behalf, or in the lives of others around us, it is not because we deserve it—it is on the basis of Jesus' shed blood, and the Father's favour and mercy.
We cannot earn His visitation—however, we can position ourselves to enter into what the Father wants to do.
As you will see, the key to having a Divine visitation lies in our relationship with God.
1. Understand God's Timing
The primary key to experiencing Divine visitation lies in understanding the timing of God for our lives.
In each of the above situations in scripture, it was God's time to act. For example:
Sarah's pregnancy with Isaac
The four hundred years in Egypt come to their conclusion
The seventy years in Babylon completed
The birth of Jesus
You may know that there are two Greek words for time in the New Testament: The first is 'chronos.' This refers to 'clock time' or 'calendar time.' It is the word used for general time. [2]
The second Greek word for time is 'kairos.' Kairos means 'due time, a fixed time, a season, or an OPPORTUNE time.'
Pregnancy is a great example of the two types of time. Approximately 9 months of 'chronos' time pass. But the moment comes when it is time to give birth. That moment is 'kairos'—the due time.
God always desires to bring people closer to Himself, to fill us with His Spirit, to act on our behalf.
But we also need to see as Jesus did, what the Father is doing 'now.' (John 5:19)
Jesus always walked in the kairos time of God—and we can too. Here are some areas you might like to seek God for His kairos timing both now and throughout the coming year.
Ask, "Father, what are You doing in these areas?"
A fresh infilling of the Holy Spirit
An area of your life that needs a breakthrough
Family members and relationships
Non-Christians that are around your life
A shift of season
Prayer journaling is a great way to communicate with Him and record His response. [3]
2. Pray in the Season of Divine Visitation
'You will seek Me and find Me when you seek Me with all your heart.' (Jer 29:13)
When God spoke these words to Judah, He was saying, in effect, 'When the kairos time comes for Me to deliver you, you will seek Me—and I will answer and deliver you.' (see Jer 29:10-14)
The prophet Zechariah put this well when he said,
'Ask the LORD for rain in the time of the latter rain.' Zech 10:1
The prophet was saying, "when it's God's 'kairos' due time, pray!"
When we pray, we acknowledge that we cannot fulfill God's plan through our own efforts. We need His help.
When that prayer is answered, Jesus gets the credit, the glory for what takes place.
3. Participate With God Through Acts of Obedience
When we have prayed, it is time to look for ways to cooperate with the Holy Spirit. We want to participate with God in His work.
If God asks us to do something specific, an act of obedience can bring a powerful breakthrough.
Goliath was killed by the word of the Lord AND by a stone from David's sling (1 Samuel 17). God provided food for a widow and her son, but first, she had to give away the last of what she had to Elijah (1 Kings 17:7-16).
Sometimes, however, it is not about doing anything except simply receiving—equally an act of obedience.
There are times to contend, and there are also times to just open our hands and say, 'Thank you, Lord.'
For we are His sons and daughters, and what we receive from Him, we receive by inheritance.
Through our relationship with God, we can experience the ongoing visitation of God in our lives—to move from visitation to habitation.
Today I pray with you, that you experience a powerful visitation of God upon your life, your family, work, region, and ministry. A Divine visitation that will cause a chain reaction to take place, so that as happened in the time of Naomi, people who have never known God will turn to Him, and generations to come will be impacted by the move of God.
---
Notes and Related Posts:
[1]  These scriptures are all quoted in the New King James Version (NKJV)
[2] VINE, M.A. Vine's Expository Dictionary of New Testament Words.  1985. Virginia: MacDonald.
An example of 'chronos' is in Matt 2:7. 'Then Herod called the Magi secretly and found out from them the exact time (chronos) the star had appeared.'
An example of 'kairos' is in Gal 6:9. 'Let us not become weary in doing good, for at the proper time (kairos) we will reap a harvest if we do not give up.' (See also 2 Cor 6:1-2)
[3] For an explanation and examples of prayer journaling, see the post: Activate Your Prophetic Gift Through Prayer Journaling
---
Related Posts
6 Characteristics of a Divine Appointment
Emmaus: 5 Signs of a Visitation from God
Divine Interruption: You Will be Surprised by Joy
---
Study Online: Classes for Those Growing in Prophecy:
Would you like clear and easy to understand, Biblical teaching on the prophetic gift and ministry?
Do you need some straightforward keys to get you on track as you learn and develop in prophecy?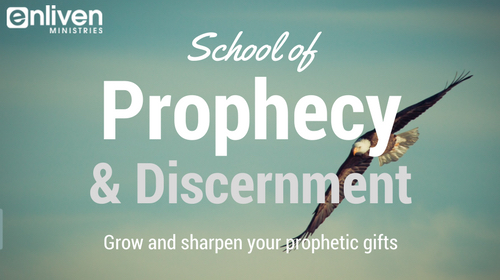 The best mentoring and teaching I can give you is now rolled into this one place, on the Enliven School of Prophecy and Discernment.
Classes include: How to hear God's voice, How to Begin and Grow in Prophecy, The Character of the Prophet, The Seer Gift: How to Grow in Pictures and Visions, Prophetic Discernment, Discernment, and Prophetic Warnings, and the Prophetic Guidance Master Class.
You can view and sign up for my self-paced video lecture series in the Enliven Prophetic School here. Choose between a small monthly subscription or a one-off payment with no expiry date.
---
© Helen Calder 2011-2018
Enliven Ministries: Prophetic ministry for a revival generation