I believe this is a word from God for many today:
You can anticipate the Holy Spirit directing the flow of your conversations.
And some unexpected turns will result in miracles!
God is providing solutions.
He is preparing you for a breakthrough.
He is inviting you to join Him.
---
"I am Coming to Visit You"
Recently, my husband and I sat in our regular café, after church.
Malcolm said, "God spoke to me clearly today. It was clearer than I have heard him speak for a long time.
And He said, "I am coming to visit you."
Malcolm talked of how the Holy Spirit had reminded him of times he arranges with a friend, to pay him a visit.
His friend makes a coffee and gets ready for him to arrive.
The Lord was saying, "This is what I want you to be like for Me. It is time to get ready."
When Malcolm told me that, I was amazed. Because God spoke the same thing to me, at the same time.
I'd had an impression of Jesus standing at the door (Rev 3:20), and He spoke to me at length, about visits among friends!
We hadn't been listening to a sermon on the topic—we'd simply been worshipping.
---
The Unseen Contributor
I believe we are in a significant period, where the Lord is going to move on our conversations in a tangible way.
As we talk, our discussions will touch on what God is doing—and then, they will linger there.
We discover that in the lingering, the Holy Spirit is present
And that the Lord has been the unseen, yet very real, Contributor to our conversation
There will be moments when it is as though Jesus has stepped into the room.
---
Behind the Closed Doors
Luke tells us that after the resurrection, Jesus appeared to His followers, and talked about the Kingdom.
There was at least one occasion Jesus joined them for a meal (Acts 1:3-4).
How often did they meet, and what did they discuss?
I have yearned to have been in on those conversations! And it was this longing the Lord reminded me of that morning. He said,
"As you have conversations about My Kingdom, the Holy Spirit will make His presence known. It will be as though I have walked into the room."
Astonishingly, this happened an hour later, as my husband and I sat in a café.
For we both realized the miracle:
We had heard precisely the same thing.
---
An Unforgettable New Year's Conversation
I was reminded of a New Year's holiday back in 1997.
One day, we were sitting around a dining table with friends.
As we chatted, the subject came up between Malcolm and his friend, "Where are we going to travel this year?"
At that time, my husband was leading a mission agency. He and his friend began to discuss the possibility of visiting a nation for the first time.
As we were talking, a strong sense of the Holy Spirit's presence came within the conversation.
Tears came to my eyes, and one of the others started to cry, too—our host had to run for the tissue box!
That unexpected turn in conversation launched a year of signs and miracles.
---
4 Ways Your Kingdom Conversation is Powerful
1. During A Kingdom Conversation, You Discover What God is Up To
Why was Jesus emphasizing a conversation "between friends"? This was clarified later as I recalled Jesus' words in John 15:
"No longer do I call you servants, for a servant does not know what his master is doing; but I have called you friends, for all things that I heard from My Father I have made known to you." (John 15:15, NKJV, [1])
What an amazing truth!
There is a conversation happening in Heaven, and your Father wants you to be in on it.
---
2. A Kingdom conversation is a Prelude to Power
The book of Acts contains many conversations.
These record discussions about God, about what He is doing—and what His intentions are.
Some people had conversations with God! There were even a few conversations with angels!
As God's people left those moments of conversation, they went on to speak boldly, to act, and to do exploits that shook nations.
"For the kingdom of God is not in word but in power." (1Cor 4:20, NKJV)
---
3. A Kingdom Conversation is a Way we can Host His Presence
"For where two or three are gathered together in My name, I am there in the midst of them."
(Matthew 18:20, NKJV)
---
4. A Kingdom Conversation Delights and Honors God
"Then those who feared the LORD spoke to one another, And the LORD listened and heard them;
So a book of remembrance was written before Him For those who fear the LORD
And who meditate on His name." (Malachi 3:16, NKJV)
---
In the Circle of Conversation
The Holy Spirit is planting a desire in our hearts, to participate in the conversations of Heaven.
What does this look like?
You may be alone physically, but in an online meeting, or in social media.
Or you may be in a special gathering.
Perhaps, you're simply having a coffee catchup with family or friends.
You will be talking and become aware that a shift has taken place.
You sense the anointing of the Holy Spirit.
And you will know you have stepped into a Divine appointment.
Some of the most powerful Kingdom conversations in 2021 will take place online, via social media, Zoom or other means.
And we will discover this simple truth:
Jesus is here with us, in the circle of conversation.
---
Notes:
[1] A friend learns of "the master's business" (NIV translation).
---
Leave a Comment:
How does this word about "Kingdom Conversations" most speak to you? Do you have your own story about a significant conversation? I'd love to hear from you.
Scroll down to share your thoughts and prayer requests in the comments box below.
---
Related Posts:
Divine Visitation: 6 Ways It Can touch Your Life
Emmaus: 5 Signs of a Visitation from God
---
Study Online: Classes to Help You Growing in Prophecy
Would you like clear and easy to understand, Biblical teaching on the prophetic gift and ministry?
Do you need some straightforward keys to get you on track as you learn and develop in prophecy?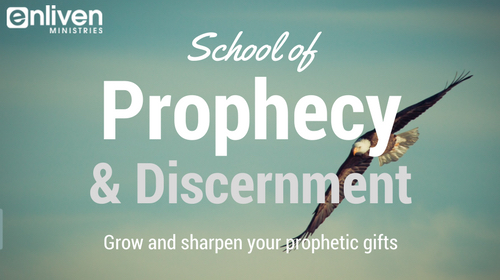 The best mentoring and teaching I can give you is now rolled into this one place, on the Enliven School of Prophecy and Discernment.
Classes include: How to hear God's voice, How to Begin and Grow in Prophecy, The Character of the Prophet, The Seer Gift: How to Grow in Pictures and Visions, Prophetic Discernment, Discernment, and Prophetic Warnings, and the Prophetic Guidance Master Class.
You can view and sign up for my self-paced video lecture series in the Enliven Prophetic School here. Choose between a small monthly subscription, or a one-off payment with no expiry date.
---
A Blessed New Year
Today's insight about Kingdom conversation has certainly touched us, as we begin 2021. And preparing this post has helped me to process it further and lean into what God is saying!
This photo of us in a café is an older one, but I just thought of it, as we inadvertently captured the word "new" in the background.
This week, we are especially mindful of our close friends and family in the US and UK. Our thoughts and prayers are with you—indeed, our readers of every nation—as you navigate these challenging times.
Let me know in the comments below, what is happening in your part of the world, and how we can pray for you. 
From our home in Melbourne, Australia to yours,
Helen & Malcolm
---
© 2021 Helen Calder, Enliven Blog
Enliven Ministries: In the David McCracken Ministries family