Seeds of faith are being released!
I believe this is a word from God for many right now: the Holy Spirit is awakening dormant seeds of faith.
It may not look like it, but there has been a change in the environment, and the conditions are right for growth.
---
You Have Those Seeds in Your Pocket!
Do you have a task immediately ahead of you and wonder how you will be able to accomplish it?
The size of the need, or the enormity of what you are called to do, is confronting you
You are uncertain how God can use you, but He wants you to know, you are already carrying every gift that you need.
You have those seeds in your pocket!
There are seeds of creativity, wisdom, and greatness—and above all, seeds of faith—ready for you to sow.
---
Not the Size but the Source of Your Seeds
And what counts is not how big those seeds are, or how many you have.
It is not the "size" of your faith, but the source of your faith that matters—for the Holy Spirit is with you.
One day, Jesus taught a lesson about having faith as a seed:
"And the apostles said to the Lord, "Increase our faith."
So the Lord said, "If you have faith as a mustard seed, you can say to this mulberry tree, 'Be pulled up by the roots and be planted in the sea,' and it would obey you." (Luke 17:5-6, NKJV)
Faith can be like a dormant seed until it is activated.
Then, all things are possible, when your faith is:
Based on a word from God and
Infused with the Holy Spirit's power
---
God is Turning Your Questions into Wisdom
And it's okay to express the reason why this is difficult.
Go ahead and tell your Father about the gap between your ability and the task ahead.
For there is a miracle in the gap—and He wants to reveal His power to you.
When the Jews of Persia were under threat, Mordecai called on Queen Esther to plead the case before her husband the king. Esther sent a reply, explaining that by approaching the king, she was putting her life in danger.
Invariably, those who obeyed the call of God had a reason why it was impossible!
And they did not hold back from vocalizing those objections [1]
As a result, we can read God's response (or that of His angelic messengers) to these questions raised by his people.
---
Questions Reveal the Seeds!
In fact, God's answers to objections provide us with some of the greatest, faith-filled words of scripture!
Here is a powerful word that exists in the Bible because Esther raised a question—and Mordecai delivered God's answer!
"…Yet who knows whether you have come to the kingdom for such a time as this?" (Esther 4:14b NKJV)
And it speaks to your situation today.
So be open with God, and share your heart and mind, for there is grace for your honesty.
Express to Him every reason that you have, as to why it is impossible to step out.
And listen to His voice. "Beloved, I have already given you the seed. You have everything you need."
He is turning your seeds of doubt into seeds of faith
---
Seeds of Faith and the Holy Spirit
Mary of Nazareth asked a question, and God provided an explanation—one that was glorious! And God's answer has not changed.
When Mary learned that she was to conceive and give birth to the Messiah, she responded with a question: "How can this be…?" And the angel replied to Mary, "The Holy Spirit will come upon you, and the power of the Most High will overshadow you. So the baby to be born will be holy, and he will be called the Son of God." (Luke 1:35, NLT)
And He is your source.
---
Seeds are Awakening
When winter makes way for spring—even before there is an outward change, seeds are awakening. Bulbs that have lain dormant, begin to sprout.
Buds are forming.
Activity is taking place, that you are unaware of.
And right now, the Holy Spirit is making connections, even though you are unaware of it.
"The connections are already in place".
Hear Him say, "I am turning fatigue into faith!"
"Behold, I will do a new thing,
Now it shall spring forth;
Shall you not know it?
I will even make a road in the wilderness
And rivers in the desert."
(Isaiah 43:19, NKJV)
Today, courage is rising from within you! We call it forth, and say,
"Let every gift and seed of faith reserved for this time, be anointed and emerge, in Jesus' Name."
---
Notes:
The core word in this post is excerpted from a video previously published in my course, "Prophetic Worship + Creative".
[1] See for example, Ex 4:10, Isa 6:5, Luke 1:34
---
Prophetic Journaling: Create Your Treasury of Insights from God
Now available inside the Prophetic Worship + Creative Course
I've now compiled all my best tips and insights on journaling in the book, "Prophetic Journaling: Create Your Treasury of Insights from God".
Discover creative ways to journal your prophetic insights from the Holy Spirit
Learn practical tools and ideas you can immediately put into practice
Grow in your personal relationship with God, hear his voice, and gain wisdom
Learn how to weigh up what you receive and take it to the next level—while keeping your Bible at hand—for it is your number one source!
In this PDF book, I share examples from my own prophetic journals, of dreams and visions.
I pray these, along with my story will inspire you even more, to pursue your own encounters with God.
NOTE: This eBook is currently ONLY available inside the course, which you can find here.
Chapter titles:
1: Gather the Manna! God has an Abundance for You
2:  How Journaling can Sharpen Your Prophetic Gift
3: My Best Tip for Prophetic Journaling
4: Ideas for Journaling Tools and Media
5: Ask Questions in Prophetic Journaling
6: The Surprising Strength of "Prayer Journaling"
7: How to Receive a Prophetic Word for a New Chapter
8: Your Key to the Greatest Treasure in Journaling
9: Let the Holy Spirit be Your Writing Tutor
10: How Prophetic Journaling Can Break Open Your Destiny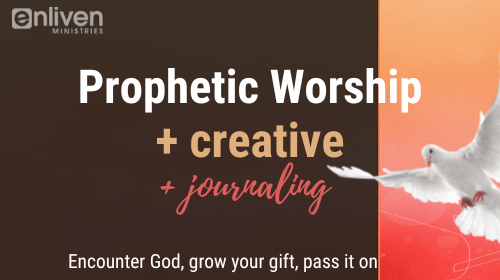 The Prophetic Worship + Creative course includes video lessons on Prophetic Journaling—and includes both this book and "The Prophetic Worship Journey" in downloadable PDF format.
Enroll in the course at a 20% discount until 15th February in the Prophetic Worship + Creative course here.
---
Leave a Comment
Which parts of this word about the Holy Spirit awakening dormant seeds of faith speak most to you? I love that He is a Redeemer who turns seeds of doubt into seeds of faith! I'd love to hear from you, so leave your comment in the box below.
---
© 2023 Helen Calder, Enliven Blog
Enliven Ministries: Prophetic ministry for a revival generation