Are you faced with a gap in your circumstances right now?
Hear your Father say, 'Surrender that problem to Me, because there is a miracle in your gap!'
God is setting you up for an encounter with Him.
He is bringing you comfort; He is releasing faith.
---
What is a Gap?
Physically, a gap can be a break, or a space.
A gap can also be symbolic, such as:
The difference between your ability and what needs to be done
The disparity between what you have on hand, and what you actually need
The distance between where you've been and where you're going
The gap may be a trial, or a contradiction.
It may be the sadness in your heart, when someone has left, or something has hurt you.
Your gap may be a mystery. But it is also a place of promise.
---
Your God is Getting Ready to do Something Big
The Bible is full of the stories of people who experienced 'gap' moments, right before a miracle.
And this tells us that at times, our Father will allow a gap, when He is getting ready to do something big through us.
So, if you're experiencing a gap right now, be assured of this:
That gap is an opportunity. It represents possibilities; it speaks of potential.
It's an empty space waiting to receive something.
---
6 Ways You Can Position for Your Miracle in the Gap
1. Look Out for Your Divine Appointment
In Luke chapter 5, Peter, James and John have been out fishing all night, working hard, casting their nets without a catch.
And the following morning, they're still working!
They are washing their nets, with nothing to show for their labour.
There's a gap.
Nets that are empty.
A day with four workers, in a business with zero income.
But then, Jesus arrives on the scene.
Today, know that gap is your place of Divine appointment, where Jesus is present in your situation.
And in this moment, everything changes.
---
2. Give What You Have to Jesus
As the fishermen wash their nets, a crowd gathers to listen to Jesus.
And Jesus commandeers Peter's boat, telling Peter to move out onto the lake.
That fishing boat becomes Jesus' pulpit.
What is that for you, today?
What is the 'vessel' or boat Jesus is pointing to, and He's saying, 'Surrender that to Me'?
Perhaps you haven't seen what you expected to, or things haven't worked out how you hoped they would.
What matters is, now, Jesus is in your situation.
He says, 'I am in this. I am in your boat!'
---
3. Acknowledge Your Feelings, but Act on God's Word
When Jesus finishes speaking to the crowd, He says to Simon Peter,
'Go out into the deep water and let down your nets for a catch.'
And that's when Peter airs his frustration.
'Master, we've worked hard all night and haven't caught anything!'
Invariably there are emotions attached to a gap.
Feelings that go with loss or uncertainty. Or disappointment.
It's okay to get real with God, it's okay to be honest and to vent in prayer
But we come to a crossroads, like Peter did
Will we act according to how we feel?
Or on what the circumstances tell us?
Or will we act according to His Word?
And Peter goes on to say, 'But because you say so, I will let down the nets.'
---
4. Stay on Track in the Gap
What are Peter, Andrew, James and John doing between the unfruitful night of fishing and their miracle catch?
They are being diligent in their service—washing nets that haven't caught anything.
They are getting on, faithfully doing their work, serving.
But they are positioned for encounter.
Our greatest temptation during gap times is to give up and walk away from the very place of God's appointment.
Today hear your Father saying, 'I know the night has been long. I have been present with you in your trial. I have shared your pain.
I'm here right now.'
Whatever that looks like for you right now, stay on track in the gap.
You are being positioned for encounter!
---
5. Receive God's Grace and Power
'But because you say so, I will let down the nets.'
The fish show up, and the nets begin to break.
It's a suddenly from God.
From zero to overflow.
Divine acceleration is 'double time'—it's where God makes up for lost time.
Declare over your circumstance today, 'It's time for the season of Divine acceleration.'
What does 'gap' stand for?
G.A.P. It stands for 'Grace And Power'.
God is releasing His grace and power into your situation for a supernatural outcome (see 2 Cor 12:9).
---
6. Prepare to Testify
From your gap will come a story testimony of God's goodness.
'I was in the gap when I encountered God.
By His grace, I was staying on track. I was in the gap when Jesus walked in to my situation.
And Heaven broke loose.
And what He did for me, He can do and will do for you.'
When the miracle happens, it releases faith in those who are watching you.
Today, declare:
There is no void my God cannot fill!
There is no problem my God cannot solve.
No chasm He cannot bridge!
There is no need my God cannot meet.
There's a miracle in my gap!
---
Prayer
'Jesus, I thank You, that You are present with me in this gap. I even thank You for this gap, because it is an opportunity.
I know You are working all things together for good (Rom 8:28).
I yield my life and every circumstance to You once more. Open my ears to hear Your word to me. And I know that as I participate with You in obedience, the miracle is being released. Amen.'
---
Conversation with the Holy Spirit: Now on the Prayer School
Can we actually have conversation with the Holy Spirit? Can we talk to Him? What does the Bible say about it and are there any Biblical examples we can look at?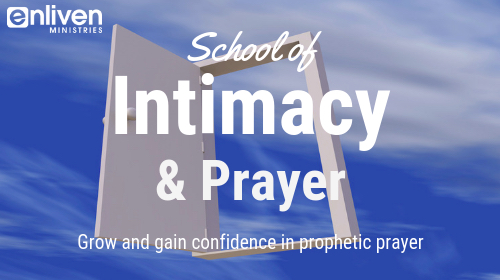 I've loved exploring this topic and have just added a new video on 4 Biblical keys to growing in this area. It is part of the section on Intimacy with the Holy Spirit on the Enliven School of Intimacy and Prayer.
Currently on the Prayer School are self-paced video lessons, along with PDF's on:
Intimacy with the Holy Spirit
Create Your Unique Devotional Space
Introducing Prophetic Prayer
Praying the Mysteries of Heaven
The Gift and Ministry of Prophetic Intercession
Angels and Encounters
Bonus mini-eBook on Prophetic Dreams
Low Price for a Short Time Only
I am currently holding the price at a low $19.95 USD, so as many as would like to can get on board ~ until I reach 30 videos, which is coming up (I'm now up to 29!)
You can find out more or join the School of Intimacy and Prayer here.
---
© 2019 Helen Calder Enliven Blog – Prophetic Teaching
Enliven Ministries
In the David McCracken Ministries family