Do you long to hear God's voice more, or believe God may be speaking to you, but are unsure?
Today, be assured that you can grow in your ability to hear God's voice.
---
God Wants to Speak to You
The Bible reveals a communicating, speaking God.
He is a loving Father, who wants to have an intimate relationship with His children.
Many people today have a scarcity mindset when it comes to hearing the voice of God. But you can be aware of Him continually speaking to you.
'How precious to me are your thoughts, God!
How vast is the sum of them!
Were I to count them,
they would outnumber the grains of sand—
when I awake, I am still with you.'
(Psalm 139:17-18, NIV)
---
7 Ways to Tell if You're Hearing God's Voice
Here's an amazing thought:
God is already speaking to you frequently, but perhaps you haven't tuned in to hear all that He's saying!
The Bible cautions us to test what we believe is God's voice (1 Thess 5:19-22). So, how can you tell if it really is God's voce and that He is speaking to you?
1. Understand There are Many Ways God Speaks
Hearing the voice of God, is simply the Holy Spirit communicating with us.
We use the language 'hearing' and 'voice', as though God would speak to us by human means! But God is Spirit, and there are many various and creative ways He can communicate to us.
God's voice can come in a light or fleeting impression. It may be a moment of insight, a prompt, a thought, a word.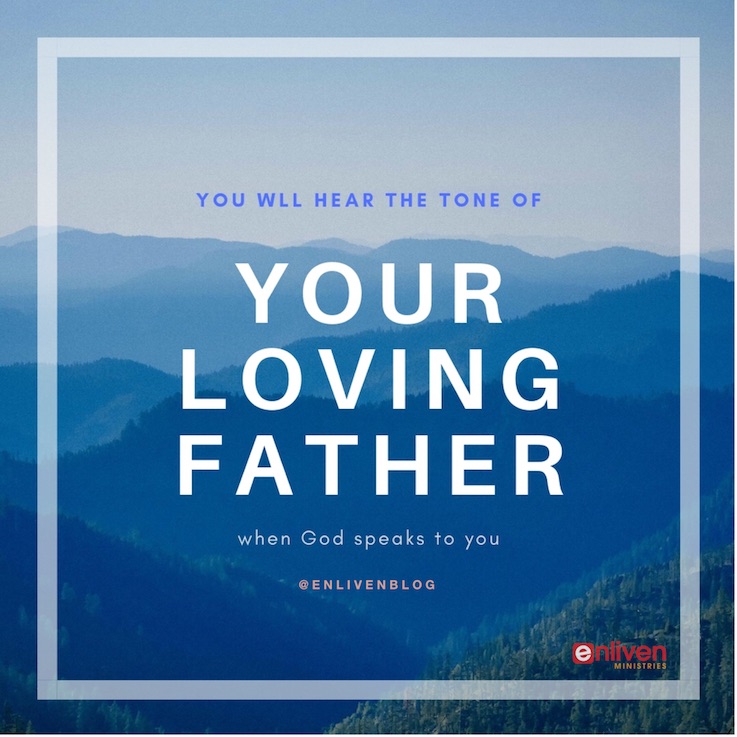 We may hear God speak through a Scripture being recalled to our mind. We may be studying the Bible or hearing a teaching, and a central point stands out to us.
God can speak to us through other people. We may be listening to a preacher, come across a post on social media that touches us, or even simply be chatting with a friend over coffee.
It may be a coincidence—someone or something positioned just at the right time.
And in that moment, you are impacted by a personal message that changes your life or touches your heart.
God's voice may come in the symbolism of a dream, a snippet, or a fleeting image to our mind.
And this is just a start.
So, the first step to hearing God's voice is to be open to the many ways He can speak to you,
---
2. Find out What the Bible Says
'All Scripture is God-breathed and is useful for teaching, rebuking, correcting and training in righteousness' (2 Tim 3:16)
As you weigh up whether or not you are hearing God's voice, know that He is never going to tell you to do something that contradicts Scripture, or that violates a Biblical principle.
Ask, 'What does the Bible say?', for by it, we can test whether or not God is really speaking to us.
The Bible is also the primary way God speaks to us.
As you read and study the Bible, the Holy Spirit will illumine (highlight) God's Word and reveal something personal to you.
So, if you are on a quest to hear God's voice, make it your aim to discover what the Bible says.
And when you want to grow in hearing God's voice and in your prophetic gift, the Bible is an invaluable source of symbolism. It will assist you in interpreting visions, picture impressions and dreams.
---
3. Seek Confirmation from Appropriate People
Confirmation is important when you are hearing God's voice, especially when you are starting out—and especially if it concerns a significant point of decision.
The Bible teaches about prophetic accountability. This simply means having someone who is experienced in hearing God's voice, and a leader, to turn to when you need help checking whether what you are hearing is from God or not.
The New Testament context of operating in prophecy and hearing God's voice is Church life. We are meant to grow in community, where there is spiritual oversight, and others who can help discern and apply wisdom to what we are hearing (1 Cor 12-14).
---
4. Listen for the Tone of the Voice
When you understand that God is a good and loving Father, this will help you filter what you are hearing.
It also helps to understand the nature of the enemy. He will come as a tone that is mocking, belittling, accusing or condemning (Rev 12:10)—and he will contradict what God says in Scripture.
"Which of you fathers, if your son asks for a fish, will give him a snake instead? Or if he asks for an egg, will give him a scorpion? If you then, though you are evil, know how to give good gifts to your children, how much more will your Father in heaven give the Holy Spirit to those who ask him!" (Luke 11:11-13, NIV)
When you want to hear God's voice, don't be afraid; instead anticipate receiving a good gift from God.
---
5. Identify the Atmosphere Surrounding the Voice
Can you identify an atmosphere with the voice?
When the Holy Spirit is speaking, there will be a peace about it. You may have a sense of His Presence.
God's voice will be empowering, not disempowering.
'Let the peace of Christ rule in your hearts, since as members of one body you were called to peace. And be thankful.' (Col 3:15, NIV)
That Greek word translated 'rule' means to govern, or 'act as an umpire' (Strongs G1018)
What is your internal atmosphere as you meditate upon what you've heard?
Is it one of peace and witness?
Or do you feel unsettled and have a 'check' in your spirit?
Paul wrote, 'For the kingdom of God is not a matter of eating and drinking, but of righteousness, peace and joy in the Holy Spirit'. (Rom 14:17, NIV)
If you are hearing a voice and it is the opposite of 'righteousness, peace and joy'—for example, condemnation, fear—do not receive it as the voice of God.
This is an aspect of beginning to grow in discernment, which will strengthen over time.
---
6. Ask, 'What Fruit will come from Responding to this Voice?'
James wrote,
'But the wisdom that comes from heaven is first of all pure; then peace-loving, considerate, submissive, full of mercy and good fruit, impartial and sincere.' (James 3:17, NIV)
The voice of God is the Person of the Holy Spirit. Therefore, a word or insight from God will have His 'personality'; His stamp will be on it.
So, if you believe God is speaking to you, run it past this test:
'But the fruit of the Spirit is love, joy, peace, forbearance, kindness, goodness, faithfulness, gentleness and self-control.' (Gal 5:22-23a, NIV)
This applies even if the word is a warning, in which case God's motivation is to protect, prevent, or prepare.
And if the word does concern an area of discipline, it will also carry the Father's heart and intent. He wants to restore and redeem.
The 'fruit' or outcome of God's voice will be consistent with the Gospel. Jesus came to save, not to condemn. And a word from God will lead us closer to Him.
---
7. Realize God Wants You to go on a Journey With Him
God often speaks in the language of mysteries.
You will not always be able to understand what God is saying immediately, and that is okay. He speaks in mysteries (like dreams and visions) because He wants us to go on a journey with Him. He is a God of relationship.
---
Related Posts
---
Enliven Prophetic School: Grow in Prophecy and Hearing God's Voice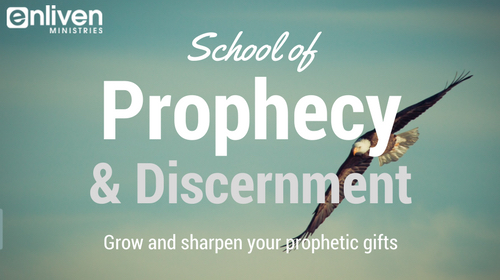 It is one thing to hear God's voice, it is quite another to interpret and understand it. And then, we need wisdom as to how to respond to what He saying.
For further help in this area, or if you would like to develop your gift or ministry of prophecy, I invite you to join me at the Enliven School of Prophecy and Discernment.
The best mentoring and teaching I can give you is now rolled into this one place.
Choose between a small monthly subscription, or a one-off payment with no expiry date.
Classes include: 'How to hear God's voice' ,'How to Begin and Grow in Prophecy', 'The Seer Gift: How to Grow in Pictures and Visions', 'Prophetic Discernment, 'Discernment and Prophetic Warnings' and the 'Prophetic Guidance Master Class'.
You can view and sign up to my self-paced video lecture series at the Enliven Prophetic School here.
---
© 2018 Helen Calder Enliven Blog – Prophetic Teaching
Enliven Ministries
In the David McCracken Ministries family