Have you sought to serve God during this past year? Perhaps, your life has been affected by limiting circumstances. And small opportunities to give or serve have cost you dearly.
Whatever the word "labor" means to you personally, the Lord wants you to know this:
He sees what you pour out to others and He knows your heart's desire, that it be an offering worthy of Him
Others may not know the extent of your work, or that it has stretched you beyond your ability at times.
But you can be assured that
"…God is not unjust to forget your work and labor of love which you have shown toward His name, in that you have ministered to the saints, and do minister." (Heb 6:10 NKJV)
---
A Prophetic Vision of an Offering
A few weeks ago, I was closing a ministry time in a business, when a leader offered to pray for me.
As he began, the Holy Spirit propelled me into a vision. A large vessel was in my arms and I was pouring the contents out onto the ground, directly in front of my feet.
The liquid, along with some oil, looked exactly like metallic gold paint. And it pooled on the floor of the room.
I knew it was an offering to the Lord—and I felt the cost of it acutely.
Yet even as the jar emptied, an intense longing filled me, to give out more.
---
As You Serve God, it Comes at a Cost
It was personal, yet at that moment I was also standing as an intercessor.
And the Lord was revealing the price being paid by every person in that room, as they served God.
Three hours later, I was in another business center, and I saw actual drops of dried metallic gold paint on the ground in front of my feet!
Instantly, I recalled the vision of earlier that morning.
No doubt the gold paint, was due to someone's past mishap—and yet, it felt as though it was a sign left for me.
I heard the Lord simply say, "Your offering is valuable to Me."
---
Trials Have Come as You Serve God
Perhaps, as you serve God, you are familiar with times of testing. And seasons of vulnerability.
It has been in your heart to serve God in your family, ministry, or vocation.
Today, the Lord says, "Your offering is valuable to Me."
The enemy may have sought to come against you in waves, with threats and intimidation. But still, you have persevered, declaring, "I have put my hand to the plow and shall not turn back!"
And you continued to advance.
You may have poured out until it seemed you could give no more. For that vessel—of your time, energy, and opportunity—was limited.
But be assured, your impact will be lasting.
---
As You Serve God, You will see His Glory
Hear the Lord say, "Your offering is valuable to Me. Your labor is precious to me; for it is an offering of worship.
And it will not go without reward, for you will see those trials turned to gold. And you will see My glory.
As surely as you have sown to Me, so shall I multiply that seed."
"See, I am replenishing you. And now, as you rest by faith, watch as I release My power.
And you will know that it is not only what you carry, but what I command, that releases the blessing.
For yes, you have sown in tears, but you will reap joyfully, and behold the great harvest."
For the promise of ages past belongs to you:
"Those who plant in tears will harvest with shouts of joy. They weep as they go to plant their seed, but they sing as they return with the harvest." (Psalms 126:5-6, NLT)
---
Bible Verses for Reflection
"As we pray to our God and Father about you, we think of your faithful work, your loving deeds, and the enduring hope you have because of our Lord Jesus Christ." (1 Thess 1:3, NLT)
"Work willingly at whatever you do, as though you were working for the Lord rather than for people." (Col 3:23, NLT)
"So let's not get tired of doing what is good. At just the right time we will reap a harvest of blessing if we don't give up." (Gal 6:9, NLT)
---
Related Post:
Prophetic Word: God is Rewarding Your Hidden Work (Obadiah)
---
Leave a Comment
Which parts of this word speak most to you? A personal anticipation I take away from this (as the incidents took place in businesses) is that God's glory is coming to the marketplace! I'd love to hear from you, so leave your comment or prayer request in the box below.
---
Your Invitation to go on a Prophetic Worship Journey:
"The Prophetic Worship Journey: Encounter God, pass it on" is now available as a downloadable e-book (PDF and ePub).

Are you passionate about encountering God in worship, and would you like to go deeper?
Do you dream of moving with the Holy Spirit and developing in the prophetic, in a worship context?
No matter where you are right now, God invites you to encounter Him. And here, you will discover that worship is not just an event and not just a song—but a journey that you take out of love for God.
This book is also a manual, with many scriptural examples and specialist topics, to which you can return at any time.
And it is also about a story—my own journey of worship, which has ultimately led me into prophetic ministry. My prayer is that my testimonies stir your hunger. That this book sparks your creativity.
And that you encounter God through these pages.
(3rd edition ~ revised and updated ~ formerly published as "Prophetic Worship: Develop Your Ministry of Encounter")
View the chapter and topics, and purchase the book on our eStore here.
---
Join the Prophetic Worship + Creative course!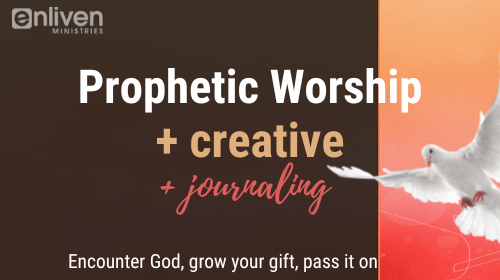 For even greater value, the course includes additional topics that are not in the book—such as Prophetic Journaling.
Plus, you receive the Prophetic Worship Journey book as a PDF inside the course, along with a complete course transcript!
This is a space where we value creative expression in worship, writing, and other art forms.
And above all—make room to encounter, worship, and honor Jesus.
Enroll or learn more about the Prophetic Worship + Creative course here.
---
© 2022 Helen Calder, Enliven Blog
Enliven Ministries: Prophetic ministry for a revival generation