"As we dream with God, we see possibilities without pressure."

A question I've been asking this year is, "How is God leading me to dream about the future?" And along the way, I've discovered this:
Dreaming can take you to a reset, and even a "suddenly" type moment of change
I believe there's someone reading this who needs to hear, "Don't give up! It's time to dream again."
By "dreaming", I'm not talking of dreams of the night, but your ability to see what is possible—a hope-filled future.
---
"What If I Could Bring in the Tide?"
A few years ago, I had a life-changing encounter with Jesus.
In my mind's eye—in a vision—I was at the seashore, with a child-size bucket and spade.
And armed with these tools, I was digging a hole in the sand, to capture the water.
But I was close to the sea, so the walls kept caving in—no matter how hard I worked!
Then suddenly, Jesus stood before me, and He said,
"What if I could bring in the tide, and all that is in the sea is yours?"
---
The Abundance of the Sea
As it's often been said, when God asks you a question, it's not because He doesn't know the answer!
And Jesus was inviting me to take a different view—to dream again with Him.
At the time, I was worshipping in church, and a few minutes later, a scripture appeared on the physical screen above me. It was the theme of our pastor's preaching that day!
"Then you shall see and become radiant, and your heart shall swell with joy; because the abundance of the sea shall be turned to you…" (Isaiah 60:5a, NKJV)
---
A Woman Who Discovered How to Dream with God
The Gospel writers tell us of a woman who suffered from long-term bleeding. Her big dream was to be well—and so she spent all the money she had on doctors.
But the medical system couldn't help her.
So, she suffered for twelve long years. And the Law of Moses declared her unclean, which isolated her socially.
These are dream-crushing obstacles—but there came a day she encountered Jesus as her Healer. [1]
---
How to Dream with God
Here are three keys from the story of this courageous woman that inspire me to "dream again with God" and I pray they minister to you.
1. Pay Attention to Good Reports of What God is Doing
We read, "When she heard about Jesus, she came behind Him in the crowd and touched His garment. For she said, "If only I may touch His clothes, I shall be made well." (Mark 5:27-28, NKJV)
The woman not only listened to the stories about Jesus, but she also paid attention to them.
And then, she saw herself in those stories.
As a result, she believed and acted!
This is the faith that comes by hearing (Rom 10:17)—and you can do the same.
For the stories of those who encountered Jesus, and also those He commissioned, are your stories.
Perhaps you have come across a testimony recently, that has stirred you.
This is not a coincidence, for the Holy Spirit is at work, leading you to dream with Him.
---
2. Dream with God as You Move Towards Him
Next, the woman who was sick sought to get close to Jesus.
And she kept him in sight.
Even when a crowd stood in the way, she continued to press forward.
Today, know that Jesus is the difference maker. His proximity in your present, and His presence in your future, changes everything.
No matter what your limitation is, Jesus is your source—and with Him, the impossible becomes possible.
---
3. Dream with God by Using the Power of "If"
Sometimes, "if" is an expression of doubt or weakness.
But an "if" can also be filled by God with possibility and power.
She said, "If only I may touch His clothes, I shall be made well" (Mark 7:28)
In the encounter I describe above, Jesus spoke to me and said, "What if!"
And those words, together with His Word, changed my view and my future.
"What if…?" is the question hanging behind Jesus' parables.
God steps into our world and stirs us to wonder, "What if…this picture, this story, could be my reality?"
As we respond to His invitation, we begin to dream, until we see as He sees. And dreaming turns into vision.
---
"What if We Could be Known for Victory?"
Shortly after this, I saw a movie called "Ford Versus Ferrari". And it's the story of how, against all odds, the motor company Ford built a racing car that beat their competitor Ferrari in the famous "Le Mans" race.
One day, an executive observed that the name of their competitor, Ferrari, had become synonymous with victory.
And he asked, "What if Ford could become known for victory?"
It was a crazy statement and one that had no precedent! And yet it was a tipping point.
Because as they pursued that dream, the impossible became reality.
---
Why It can be hard to Dream With God
To dream with God isn't easy, for painful events can knock down our ability to dream.
And dreaming after a loss can be especially hard to do.
Our confidence has been damaged, and for a season, our ability to dream seems broken.
But there comes a time when we feel the drawing of the Holy Spirit to dream with Him again.
And here is another wonderful truth:
Sometimes, we focus on the need to dream (the hard thing)—when God wants to give us the grace to dream.
And His grace towards you is abundant!
---
As We Dream Again, Possibility Begets Reality
To dream with God is to see possibilities without pressure.
Perhaps—like my vision of the bucket and spade—your dreaming has been hindered by your seeming lack of tools and resources for doing the work.
Yet still, God calls, "Look up! It's time for a bigger dream!"
For the tide is coming in and the abundance of the sea has turned towards you.
---
Notes:
[1] Read the story of the "woman with the issue of blood" who touched Jesus' garment in Matthew 9, Mark 5, and Luke 8.
More on this story in Prophetic Word: That Pressing is Turning to Joy
---
Related Posts:
Overcome Fear and Doubt by Declaring It's Possible
---
Leave a Comment
Which of the three points speaks most to you? The first thought—see yourself in the story—challenges and inspires me today! I'd love to hear from you, so leave your comment or prayer request in the box below.
---
Your Invitation to go on a Prophetic Worship Journey:
"The Prophetic Worship Journey: Encounter God, pass it on" is now available as a downloadable e-book (PDF and ePub).

Are you passionate about encountering God in worship, and would you like to go deeper?
Do you dream of moving with the Holy Spirit and developing in the prophetic, in a worship context?
No matter where you are right now, God invites you to encounter Him. And here, you will discover that worship is not just an event and not just a song—but a journey that you take out of love for God.
This book is also a manual, with many scriptural examples and specialist topics, to which you can return at any time.
And it is also about a story—my own journey of worship, which has ultimately led me into prophetic ministry. My prayer is that my testimonies stir your hunger. That this book sparks your creativity.
And that you encounter God through these pages.
(3rd edition ~ revised and updated ~ formerly published as "Prophetic Worship: Develop Your Ministry of Encounter")
View the chapter and topics, and purchase the book on our eStore here.
---
Join the Prophetic Worship + Creative course!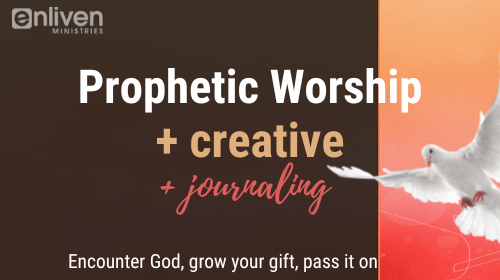 For even greater value, the course includes additional topics that are not in the book—such as Prophetic Journaling.
Plus, you receive the Prophetic Worship Journey book as a PDF inside the course, along with a complete course transcript!
This is a space where we value creative expression in worship, writing, and other art forms.
And above all—make room to encounter, worship, and honor Jesus.
Enroll or learn more about the Prophetic Worship + Creative course here.
---
© 2022 Helen Calder, Enliven Blog
Enliven Ministries: Prophetic ministry for a revival generation