Have you felt as though you have been pressed in some way?
Or, do you believe God is calling you to press in closer to Him, for a breakthrough or intimacy?
Receive encouragement from Heaven today:
That "pressing" is giving way to joy, because it is God's time to birth new things in your life
---
The Power of Pressing and Being Pressed
Peter said, "Master, the people are crowding and pressing against you." But Jesus said:
"Someone touched me; I know that power has gone out from me." 
This past week, I was preaching about the woman who made her way through a crowd, to touch Jesus' robe.
As she touched the hem of Jesus' garment, she was miraculously healed. [1]
---
The Day of the Crushing Crowd
Today, you may feel as though you are up against obstacles, or impossibilities. 
There may be challenges standing between you and your miracle.
Be assured that you have the strength that you need to press into Jesus.
To understand the determination of this woman, Luke tells us,
'As Jesus was on his way, the crowds

almost crushed him

' (Luke 8:42, NIV)
The Greek word translated 'crushed' or 'thronged', means to choke utterly. [2]  It reminds me of a time my family visited Melbourne's CBD for the New Year's Eve celebrations.
As we walked towards the venue, we found ourselves in narrow city streets. They were jammed with people, wall-to-wall, standing room only.
It was suffocating.
That this woman was able to move towards Jesus—the One at the centre of the crowd's attention—and to touch Him…
It was no less than a feat.
How could she do it?
---
You Have the Ability to Press Towards Jesus
The reason that sick woman was able to press, was that she was being pulled:
By a vision of what was on the other side of an encounter with Jesus
By the grace of God
By God's destiny for her life
And like her, your destiny is to be a testimony.
So, if getting close to Jesus requires you to press hard against some things right now, don't give up!
You can press, because you are being pulled by God.
Your Father's mercy is abundant towards you.
Make this your confession today:
'I am pressing in. I am touching Jesus like I have never touched him before!'
---
It's Time for the New Wine and Fresh Oil
The day after I shared this message, I heard the Holy Spirit say,
'New wine is pressed!
The oil is pressed!'
'The threshing floors will be filled with grain; the vats will overflow with new wine and oil.' (Joel 2:24, NIV)
The new wine speaks of the move of the Holy Spirit, and the fresh oil speaks of His anointing.
Both speak of harvest and inheritance. [2]
New wine and fresh oil have this in common: both are produced through the fruit being pressed and crushed.
You sense God has been moving to bring change and adjustment in your heart.
He is wooing you into repentance; into conformity with Him.

Your Father has an end-view in mind—that you will bear Jesus' likeness
What you have seen up until now is the beginning of fruitfulness.
You may have felt as though you are being squeezed.
But now, through this season of pressing, you will see the fresh oil and the new wine.
Say 'yes!' to the press. There is power in your surrender.
A new move of the Holy Spirit is being unleashed in your life.
---
The Pressing of Bringing to Birth
"Sing, O barren,
You who have not borne!
Break forth into singing, and cry aloud,
You who have not labored with child!" (Isaiah 54:1a, NKJV)
When a woman is bringing a child to birth, her whole being is swept up in the contractions of labor.
Pressure is a sign that the new birth is imminent. Pain will soon give way to joy (John 16:21).
So, if God is bringing a new move of His Spirit—or a new season or ministry to birth in your life, say 'yes!' to the press.
Submit to God and let Him bring forth joy and praise.
---
Say 'Yes!' to the Press of the Holy Spirit
Today, hear the calling and wooing of the Holy Spirit: 'It's time to press in!'
Push against fear. Push back against any demonic pressure.
Say 'no more!' to excuses.
But press towards Jesus.
Be like the woman who pressed through the crowd—she saw what an encounter with Jesus could do for her.
One touch of Jesus' robe released her miracle healing.
Her testimony was recorded in Scripture, for our benefit.
Say 'yes!' to the press—and your testimony will stand for generations to come.
---
Notes:
[1] This is the story of the 'woman with the issue of blood'. You can read it in Mark 5:24-34 and Luke 8:42-48
The quote is from Luke 8:45-46, NIV
[2] In other contexts, it can mean to strangle completely, or to drown (Strong's G4846).
[3] Find out about the prophetic meaning of new wine here: 'What is the Prophetic Meaning of New Wine?'
The Lord said to Moses, "Command the Israelites to bring you clear oil of pressed olives for the light so that the lamps may be kept burning continually.' (Lev 24:1-2)
See the article, 'How to Receive Your Fresh Anointing'
---
Your Invitation to Join the Enliven Prophetic School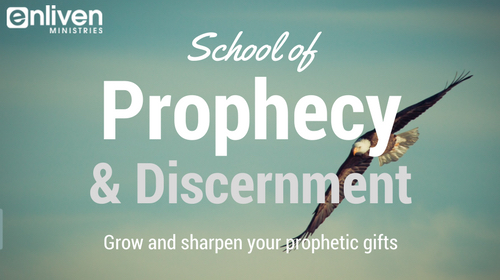 The best mentoring and teaching I can give you is now rolled into this one place, on the Enliven School of Prophecy and Discernment.
Classes include: 'How to hear God's voice' ,'How to Begin and Grow in Prophecy', 'The Seer Gift: How to Grow in Pictures and Visions', 'Prophetic Discernment, 'Discernment and Prophetic Warnings' and the 'Prophetic Guidance Master Class'.
Recent addition: Tips for interpreting numbers and colors.
You can view and sign up to my self-paced video lecture series in the Enliven Prophetic School here. Choose between a small monthly subscription, or a one-off payment with no expiry date.
---
Welcome Karen!
Please join me in warmly welcoming Karen Stuckey to the Enliven Ministries team!
Karen has been assisting me with my social media posts and some emails. You will also receive a note back from Karen if you reply to the Enliven Blog emails.
One of the things I love about Karen is that she carries the same heart and DNA as me. So if you do hear from her, I know you will be encouraged and helped!
It has become increasingly hard for me to answer every online request. The best way to receive a response from me personally is to leave a comment on the blog soon after it's posted, or via public comment on social media. For more information,  my FAQ sheet is here.
We'd Love You to Partner with Us!
Up until now, I've resisted putting ads here on Enliven Blog. This is the main way people raise the money for the costs of running a busy website.
The website and email list hosting is costing us more than ever. So, if you've been fed by Enliven Blog, I invite you to help us by making a donation. You can also choose to partner monthly with us!
---
© 2019 Helen Calder Enliven Blog – Prophetic Teaching
Enliven Ministries
In the David McCracken Ministries family