Recently, I heard the Lord say, "The season of tiredness and weariness is giving way to Heavenly encounters".
I had the impression of Jesus standing on a mountain, waiting—and this reminded me of the day, He took three of His disciples up on a mountain to pray (Luke 9:27-36).
Luke tells us that instead of praying, the trio was heavy with sleep!
Perhaps, the climb exhausted them—the way may have been arduous, or the day long.
Another reason the disciples were "heavy with sleep", may have been that they were experiencing the weighty glory of God! (Dan 8:18)
But however it happened, they were stirred awake to a great shining light.
And it was emanating from Jesus!
Peter would later say, "We…were eyewitnesses of His majesty." (2 Peter 1:16)
---
It's Felt Like an Uphill Battle
I believe there are many who—like the three disciples that day—have done their best to follow Jesus and have found themselves on an uphill climb. Perhaps, even an uphill battle!
You have sought to do the right thing, and at times, it's felt as though you've given a great deal of energy into it.
There may have been few opportunities to rest along the way.
Yet it may feel as though you are becoming "weary in well-doing".
Be encouraged, for you are in a meeting place; a place of Divine appointment!
"…when they were fully awake, they saw His glory".
---
Weariness in the Waiting
"And let us not grow weary while doing good, for in due season we shall reap if we do not lose heart." (Gal 6:9, NKJV)
Weariness does not always come from working.
Sometimes, weariness comes from waiting.
Jesus tells a parable about a group of bridesmaids who take their lamps to meet the bridegroom (see Matthew 25:1-13).
The hour becomes late and all of them fall into slumber.
Suddenly, at midnight, the bridegroom is announced.
Immediately, the cry rouses them from sleep! But five of them—the ones Jesus calls foolish—have no oil supply for their lamps.
And in their rush to purchase oil, they miss the bridegroom.
---
The Game Changer
At the moment of the bridegroom's appearance, what was the one thing needed?
The problem of the bridesmaids was not their weariness.
It was not in the journey or the length of day.
What was the game changer, the difference maker—that which they needed to encounter the bridegroom?
---
From Weariness to "Wake up and Attend to the Oil!"
Jesus' parable calls to mind a time an angel rouses the prophet Zechariah from sleep!
"Now the angel who talked with me came back and wakened me, as a man who is wakened out of his sleep." (Zech 4:1, NKJV)
It is a sudden change of state—from being zoned out, to being awake!
And I believe that just as the angel roused Zechariah, this is the time Jesus is calling to each of us:
"Beloved, awake! Pay attention!"
If you have been feeling weary, or low, know that God is extending His kindness toward you.
For there is a gift in the presence of God for you.
---
He sees the Move of the Holy Spirit
Once Zechariah is awake, the angel says, "What do you see?"
Now, he's alert, and Zechariah has a vision of flowing oil (Zech 4:2-4).
He is seeing the move of the Holy Spirit!
We know the oil represents the Holy Spirit, for God goes on to declare, "It's not by might, nor by power, but by My Spirit, says the Lord of hosts." (Zech 4:6)
The Holy Spirit is God in His glorious presence with you.
He is the difference-maker, the game-changer.
"It's not by might, nor by power." No amount of human energy or willpower can bring about Kingdom results, for they can only come about by His Spirit.
Today, see His glory in you, with you—and before you.
---
In Weariness, God is Your Supply
God's anointing in you has not been "used up". You are only beginning to tap into the fullness of what He has for you.
Now, His anointing is being released!
It's like when olives are pressed, and the oil flows forth.
That pressure you have experienced—that weariness—is not emptying you.
Instead, God is using that pressure, to bring forth an abundance of fresh oil.
You do not need to run on empty, for God says, "I AM your supply."
Now, that season of weariness is giving way to a heavenly encounter.
---
Happy Birthday, Enliven Blog!
This week is the 13th anniversary of Enliven Blog.
When I started blogging on 30th July 2009, I didn't know if I could write beyond a few weeks. It is surely a miracle and a testimony to the Holy Spirit's "supply of oil" that 13 years later, the Lord is using this platform to reach so many.
These days, my greatest desire for every post is that through it, readers will encounter Jesus and fall in love with Him. And secondly, that they will fall in love with God's Word.
This year 2022 I have reduced the blog cycle to two posts per month. And this has given me some much-needed breathing space personally, and for other creative projects, like the one below.
A huge thanks to my husband Malcolm, to those who are on my board and team—and to all who have partnered and donated during the past year. You are the unseen champions and I'm grateful.
The blog continues to be free, and I want to keep it free of the distraction that advertising would cause.
But costs rise, so I'd love you to partner financially, which you can do via the Partner Page here.
Another way you can support me and the blog is to purchase a digital resource, such as the one below!
---
Newly Released: My Prophetic Worship + Creative Course
Have you felt hidden in your worship or creative gifts?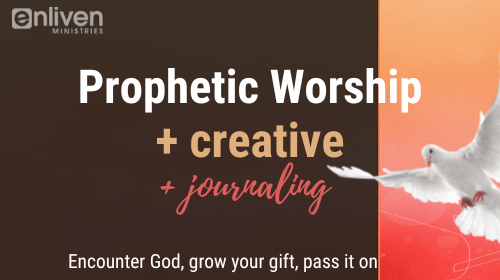 This course is for you, if you love worship, identify as being prophetic—or would like to be—and are creative. Even if you are a beginner or have felt hidden in your gifts!
So, if you are hungry for God and ready to go on a journey of personal renewal—welcome to the Enliven Prophetic Worship + Creative course.
This is a space where we value creative expression in worship, writing, and other art forms.
And above all—make room to encounter, worship, and honor Jesus.
Learn about the power of prophetic worship at a personal level, and receive your glory garment of praise
Be inspired to break your art and creativity out of stuck places
Learn how to operate in the Holy Spirit's anointing and your gift
Find out how to gather the treasure of what God is saying to you through prophetic journaling
And be encouraged by prophetic words and grace-filled insights along the way.
+ includes entry to a private Facebook group (I've just shared a word from my personal journal here! Who will be the first to join me?)
What is your dream?
I dream of worshippers, writers, and creators, coming out of obscurity and into their destinies—to emerge filled with the Holy Spirit and dripping with the presence of God.
I dream of those who once felt their ministry was over, being rejuvenated, discovering fresh creativity…
And finding the sweet spot again.
This is a self-paced video course ~ introductory price until 31 August ~
Enroll or learn more about the Prophetic Worship + Creative course here.
---
© 2022 Helen Calder, Enliven Blog
Enliven Ministries: Prophetic ministry for a revival generation