I believe God is awakening creativity and releasing gifts and ideas. Some of these may have been held back—or reserved for this time.
If you can relate to this, be encouraged by this word: "I have placed a well of creativity within you and I am stirring the waters. This is the time of anointed creativity and new ideas, for My grace is upon you."
---
Creativity Touches Every Part of Life
We know that creativity flourishes in design, writing, arts, music, and more! But it can also be seen in wisdom, ideas, strategy, and vision:
Deborah wrote a song after directing a battle (Judges 4-5)
David received plans from the Holy Spirit for the temple his son later built (1 Chron 28:10-12)
Naomi gave creative instructions to Ruth at a turning point (Ruth 3)
Joseph outlined an anointed strategy to preserve Israel and save nations from famine (Gen 40)
---
Creativity Lost in Captivity
Yet, we can lose touch with the creative parts of our identity. And sometimes, those flames that once sprung up, have been quenched along the way.
One psalmist wrote of a period of captivity in Babylon when Judah was far from their homeland.
As they remembered Jerusalem, the people wept. He adds,
"We hung our harps upon the willows in the midst of it." (Psalms 137:2 NKJV)
And I believe there are some reading this, who have been through troubled times. It may feel as though you have "hung up your harp".
You may have lost your heart's song for a season, but God is your Redeemer—and He is restoring your joy.
The psalmist describes this turnaround: "Those who sow in tears shall reap in joy." (Psalms 126:5, NKJV)
---
God is Redeeming Your Creativity
Creativity can be stifled in a number of ways:
For some, it was a critic. Perhaps you were told, "You are not good enough for…"
Or it was implied when others were promoted or chosen over you—and you stepped back or stopped reaching
Some of us need to detach our creative identity from another person, such as a family member, or former influencer—and shake off those expectations
Today, we declare, "Be released. Be healed. Be free!"
May you flow in your gifts in your unique, God-appointed stream.
---
You Have a Suite of Creative Abilities
There can also be times when a decision to leave a ministry or creative pursuit behind is God-appointed, to which we respond in obedience.
Or we move on due to a personal refocus, which is essential and healthy.
But even as we develop and focus on some gifts, we still carry a suite of creative abilities—and each remains a part of us.
So, if it seems that a part of your life and identity has been left behind, you have not lost it.
And the time is coming when the Holy Spirit will breathe on it again.
---
God is Releasing A New Sound
For many, this is a renaissance season, of renewed interest in creative ideas and pursuits. And recently, as I was writing my course on prophetic worship, I heard the Spirit say, "jailbreak!"
I was reminded of that moment Miriam picked up a tambourine and led a song.
It was a song never heard before in Israel—a new sound, a song of victory:
"Sing to the Lord, for He has triumphed gloriously! The horse and its rider He has thrown into the sea!" (Exodus 15:21, NKJV)
Today, there is a prophetic sound being released and it is piercing the darkness. Listen, for it is a new song; it is your voice, singing praise to God.
---
Join the Dance Again, in Your Creativity
You are created by God in His image, with creative ability wired into your DNA, and this is true, no matter what your role, gifts, or age!
What creative gift is the Holy Spirit breathing over?
Beloved, join the dance again.
Your gift may be hidden from public view, but that does not mean it is insignificant.
Because God not only loves you, but He also enjoys you.
Remember the Song of Songs—the Bridegroom calls to the Shulamite: "Rise up, my love, my fair one, and come away!
"O my dove, in the clefts of the rock, in the secret places of the cliff, let me see your face, let me hear your voice; for your voice is sweet, and your face is lovely." (Song of Solomon 2:13b-14)
I hear God say through this Scripture, "See with new eyes, for this is a season of awakening".
---
A Novice in the New in Creativity
The Holy Spirit is breathing on creative gifts at this time. It may seem they are hiding, but like a bird fluttering its wings in a cage, we feel them, calling to emerge.
Because there is something childlike God is releasing from within us.
You may enter your creativity as a novice in the new—but with it, you will burst forth with freedom!
---
Note
Sections of this word are excerpts from chapter 7 in the Prophetic Worship + Creative Course, published 21st July 2022, in a video entitled "Beloved, join in the dance again!"
---
Do you love Prophetic Worship?
Be equipped, gain confidence, and go on a prophetic journey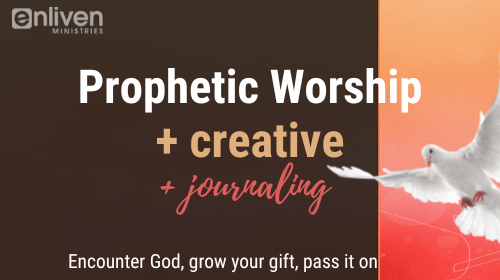 This course is for you, if you love worship, identify as being prophetic—or would like to be—and are creative.
So, if you are hungry for God and ready to go on a journey of personal renewal—welcome to the Enliven Prophetic Worship + Creative course.
This is a space where we value creative expression in worship, writing, and other art forms.
And above all—make room to encounter, worship, and honor Jesus.
Be equipped to convey a vision for prophetic worship confidently
Experience the power of prophetic worship at a personal level, and receive your "glory garment" of praise
Be inspired to break your art and creativity out of stuck places
Learn how to operate in the Holy Spirit's anointing in your gift
Find out how to gather the treasure of what God is saying to you through prophetic journaling
And be encouraged by prophetic words and grace-filled insights along the way.
+ includes entry to a private Facebook group
Suitable for beginners, with content for those who are advanced.
This is a self-paced video course ~ introductory price until 31 August ~ with more content on prophetic worship on the way!
Enroll or learn more about the Prophetic Worship + Creative course here.
What is your dream?
I dream of worshippers, writers, and creators, coming out of obscurity and into their destinies—to emerge filled with the Holy Spirit and dripping with the presence of God.
I dream of those who once felt their ministry was over, being rejuvenated, discovering fresh creativity…
And finding the sweet spot again.
---
© 2022 Helen Calder, Enliven Blog
Enliven Ministries: Prophetic ministry for a revival generation