"I am giving you treasures in the darkness—and these will be a testimony in the light."
As I've been praying this week, the Holy Spirit has reminded me of a prophetic vision I received many years ago. [1]
One in which God reveals that He is already operating within our scene.
And He is reminding us of His promises.
Or as Peter describes them, "exceedingly great and precious promises."
---
Like a Heavenly Palace
In this encounter with God, I was walking through a dark, cave-like tunnel. It had rough, stony walls, and there was no end in sight.
And yet, I was walking in wonder. Because there were jewel stones, embedded in the walls of this cave.
These were of many different colors, and each one glowed with an unearthly light. They were treasures of Heaven. And such was the wonder presented by each one, that this dark place felt like a heavenly palace.
The vision changed, and I saw a large fishing net being cast out across the water. And that net was covered with the same glowing jewels. They appeared in every knot and corner!
I knew many fish were coming to this net because they were attracted to the brightly shining gems.
---
God Says, "I Occupy that Space"
If this vision stirs you, hear the Lord saying:
"I am giving you treasures in the darkness—and these will be a testimony in the light.
And many shall see My wonders and I will draw them into the net of My grace.
So, you shall see that I already occupy the hidden and dark places. I have gone before you, even in those places so deep, that you do not know how you can emerge.
But you will emerge, for My hand is upon you."
---
David Sings of God's Deliverance
David's first place of refuge, when he was on the run from King Saul, was a stronghold known as "the cave of Adullam" (1 Samuel 22).
This is where David wrote Psalm 57.
And in its verses, David cries out for God's mercy. He declares his trust in God—even in the face of his enemies' hateful words and pursuit. There, in that dark place, David sings of God's deliverance. And he finishes his song with these closing words of praise:
"Be exalted, O God, above the heavens; Let Your glory be above all the earth." (Psalms 57:5, 11 NKJV) [2]
---
A Testimony that Touches Many
David's heartfelt cry for mercy, together with his praise to God, reaches us today.
We have been in a prolonged time of crisis, globally—and for many of us, locally.
Even personally.
There is power in recalling the Lord's personal promises to you and your family.
For these living words will be active and powerful as you speak them.
And what happens next, will be a testimony that touches many.
---
Courage to Move Forward
Hear Jesus say, "You will behold My face in the night. And you will receive the gift of My courage to continue to move forward.
Even the small nuggets of truth that you discover in this season, will become the greatest of treasures. And you will carry these onwards.
Now, you will know that I have spoken for you and reserved you for Myself. For I have marked you for greatness.
And you are held by Me and I will not let you go."
---
Your Past Word Bears New Fruit
It's amazing how a dream or vision from God, like the one I've described today, can be pertinent when you receive it.
And in that space of time, it is a comfort.
But then, later, that word returns to you, bearing new fruit. [2]
Now, you realize that vision has been held in reserve. And the passing years have only served to grow that word and increase its value!
For it has been kept—as you have—for such a time as this.
---
"I will give you the treasures of darkness and hidden riches of secret places, That you may know that I, the LORD, Who call you by your name, Am the God of Israel." (Isaiah 45:3 NKJV)
---
Notes & Related Posts:
[1] When I describe a vision I've seen, it's usually a vivid impression in my mind's eye (in this case also "hearing"), accompanied by a strong sense of God's Presence—I'm not speaking of an "open" (physical) vision. I believe all prophetic words, encounters, and visions should be compatible with Scripture and need to be weighed up.—also see 8 Ways to Grow In Prophetic Visions and Pictures
[2] My husband Malcolm was visiting Umpherston Cave in South Australia a couple of days after I wrote this—he was on a business trip and did not know about my study! This photo is taken from just inside the mouth [entrance] of the cave and I think it's wonderful. Even "the mouth" is prophetic)
[3] See the post, Prophecy: "This Prophetic Word is for Right Now!"
---
Leave a Comment
Can you relate to this vision and word about treasures in the darkness?
I'd love to hear from you, so leave a note in the comments box to share your thoughts, testimony, or prayer request with us.
---
Signs You May Be A "Watchman Intercessor"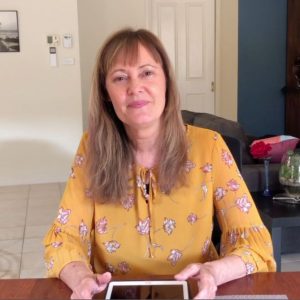 Over the past few months, I've been stirred to create some special classes (within the Prayer School) for prayer warriors who are discerners.
You may identify as a "Watchman Intercessor".
These are the prayer warriors who are God's Heavenly alert system.
Do you relate to any of the following?
You have an instinct to guard, protect or warn
Being a discerner, you perceive or see spiritual realities that others don't see
You are highly sensitive to atmospheres
Having a burden of prayer is familiar to you
You may have a specific assignment to pray for individuals, groups, or regions
Others may have misunderstood you, or you felt lonely in your journey
I invite you to join me at the Enliven School of Prophetic Prayer, where I have recently added a new class on the topic of "Empowering the Watchman Intercessor". These will help you gain confidence in how to operate in your gift. You will also learn how to rest when you need to, without stress or fear of leaving your "post"!
And you will receive helpful Biblical foundations in the watchman gift and ministry.
Currently on the Enliven School of Prophetic Prayer are over 40 self-paced video lessons (to complete in your own time), along with a full PDF transcript, exercises and bonus eBooks.
Alternatively, you can view all online courses, including the Prophetic School here.
---
© 2022 Helen Calder, Enliven Blog
Enliven Ministries: Prophetic Ministry for a Revival Generation