This week, as I've been meditating on the power of prophetic prayer, I've been drawn to the story of Boaz and Ruth.
It was the night Ruth visited the threshing floor, to make a request of Boaz.
She crept in quietly and lay at his feet.
Suddenly during the night, Boaz was startled by her presence!
"Who are you!" he asked.
"I am your servant Ruth," she replied. "Spread the corner of your covering over me, for you are my family redeemer." (Ruth 3:9, NLT)
It is a wonderful story. But it is this moment that especially stands out to me, as a message from the Lord right now:
"Then Boaz said to her, "Bring your cloak and spread it out."
He measured six scoops of barley into the cloak and placed it on her back. Then he returned to the town." (Ruth 3:15, NLT)
---
God is Tipping Out Answers to Prayer
"Bring your cloak and spread it out".
Have you been praying about a situation over a long period of time?
It's like you have spread out your cloak before the Lord—and there have been times you have laid your heart open before Him!
You may have felt as though you have been waiting in a dark place, or a hidden place.
Today, God says,
"I am pouring life into you.
I have an inheritance for you.
And this is the sign: I am tipping out the beginning of your answer to your prayer."
---
His Promises are Not Passive
"Ruth told Naomi everything Boaz had done for her, and she added, "He gave me these six scoops of barley and said, 'Don't go back to your mother-in-law empty-handed.'" (Ruth 3, 16b-17, NLT)
In this simple act, Boaz provided Ruth and Naomi with a generous supply of food.
But more than that—the tipping out of barley was also symbolic of a promise. For Boaz was about to take action, to secure Ruth's hand in marriage.
Perhaps, like Ruth, you have experienced loss and hardship along the way.
You know what it is to labor and wait for the reward.
Be assured that God's promises concerning you are not passive. They are working and active!
Right now, the Holy Spirit is moving on your behalf.
---
God is Pouring Out the First Measure
"Then Naomi said to her, "Just be patient, my daughter, until we hear what happens. The man won't rest until he has settled things today.'" (Ruth 3:18, NLT)
When Boaz poured a measure of grain into Ruth's shawl, it was a sign of what was to come.
And right now, it is a tipping point season in our relationship with Jesus.
The story of Boaz and Ruth is a reminder of Jesus' call to fellowship with Him. (Rev 3:20)
Today God says, "I see your hunger.
I see your offering.
And I am pouring out a measure into your lap.
But this is just the beginning, for I have much more for you."
Be encouraged, for this is the season of the first fruits; the early signs.
And you shall see the fullness to come.
---
Here are 8 ways to use prophetic prayer for breakthrough
Have you ever felt as though you'd love to pray confidently about a situation—but you don't know where to start?
This is a companion post to my new teaching about prophetic prayer, 8 Ways to Use Prophetic Prayer for Breakthrough
---
Related Posts:
Fresh Bread: It's a Tipping Point Moment!
The Tipping Point of Prayer: God's Answer is on the Way! "The tipping point of prayer is the moment at which God moves in response to persistent prayer, to bring about His answer."
More inspiration from the story of Ruth: "Take that Label Off and Agree with What God Says"
---
Help for Prayer Warriors: Overcome Spiritual Dryness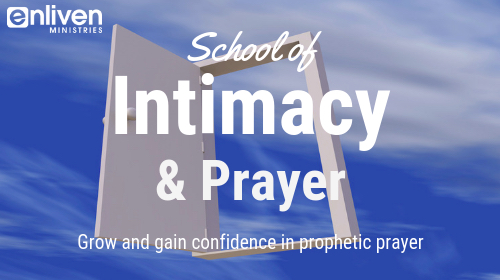 If you have felt dry or depleted in your prayer life lately, the lessons in my Prophetic Prayer School will be of benefit to you.
You will find these in the class, "How to Prevent and Recover from Dryness in Prayer":
Causes of Dryness and Depletion in the Intercessor
Ten Keys to Being Replenished as an Intercessor
Receiving Prayer: How to Stay Filled with the Holy Spirit Through Soaking Prayer
This impacted me personally, and I'm sure it will benefit many of you! I warmly invite you to join me in the Enliven School of Prophetic Prayer
For a short period of time, while the Prayer School is under construction, I'm bringing the full price down to $19.95 USD.
Currently on the Enliven School of Prophetic Prayer are 41 video lessons (complete in your own time), along with PDF transcripts, exercises, and bonus eBooks.
Alternatively, you can view all online courses, including the Prophetic School here.
---
© 2021 Helen Calder, Enliven Blog
Enliven Ministries: In the David McCracken Ministries family