God's power is coming upon you, as you surrender to Him
I believe God is bringing peace to those who have unresolved situations.
It may have seemed lately as though you have been in a fiery trial, but you are about to see His hand at work—His power is coming upon you!
And what He has designed all along, will come into view.
---
A "Sign Moment"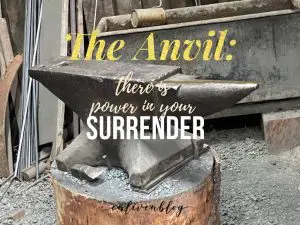 "Arise and go down to the potter's house, and there I will cause you to hear My words." Then I went down to the potter's house, and there he was, making something at the wheel." (Jeremiah 18:2-3, NKJV)
I stopped in front of the anvil, and caught my breath, amazed!
For it was the very one I had seen in a prophetic vision, a week earlier.
At the time, we were in the countryside ministering and had a short lunch break.
So, I said to my husband Malcolm, "Let's pay a quick visit to the Murray River!"
That's when we entered the blacksmith's shop in the historic Port of Echuca.
It had seemed to be a spontaneous idea. A whim!
But we walked into a "sign moment".
---
My Mind was Elsewhere
An anvil is a heavy iron block. It's designed so that metal can be hammered and shaped on it.
And we watched, as the blacksmith took a metal rod and laid it in the fire until it was glowing and pliable.
It was ready to be placed on the anvil—where it could be hammered into shape.
Now, to be honest, I was listening to the blacksmith chatting—but my mind was elsewhere.
Back one week earlier, standing in our home church.
---
The Cost of Revival
It was Sunday, the week before, and Pastor Russell Evans had just finished preaching on "The Cost of Revival".
As we returned to worship, I found myself in a vivid encounter with the Holy Spirit.
A blacksmith's anvil was directly in front of me!
This was a prophetic vision.
But in this vision, I wasn't standing. My whole body was draped over that anvil in a posture of complete surrender. [1,2]
I knew at that moment that the Holy Spirit was speaking to me about what I'd just heard about the "cost of revival".
But I never anticipated standing in front of an actual anvil, a week later!
---
There is Power in your Surrender
"Lord, come move. Come, visit us.
Have your way.
Bring revival!"
Sometimes, the very outcome we are praying for, calls for a personal response.
And I believe for all of us right now, God says, "Beloved, you are a part of My answer."
Being "on the anvil" speaks of an attitude of surrender. Of holding nothing back from God.
And as I've been writing about this, the example of Samuel is coming to mind.
---
Samuel Took Time Out
It was a tough experience for a prophet to go through. The prophet Samuel anointed Saul as king of Israel, but early into his reign, King Saul failed.
Everything Samuel invested into Saul was lost, through the new king's weakness of character
And worse still—Saul was acting in blatant rebellion against God
After pronouncing God's judgment on Saul, Samuel stepped out of public life for a while, grieving and disappointed.
In that season, the prophet was struggling with the loss of a vision.
But there was hope, for God knew what was up ahead.
---
The Blacksmith has a Vision
That day we stood in the blacksmith's shop, we saw only a plain metal rod in the fire. But the blacksmith saw a finished article. He had a vision in mind; it was one of his own designs!
Likewise, Samuel may have been through a fire, but he was on God's anvil. And God had a plan!
Finally, there came a day when God spoke to the prophet again.
"How long will you mourn over Saul? …Fill your horn with oil, and go…" ( 1 Sam 16:1)
It was time to anoint David.
---
God is Working in Your Unresolved Situations
For some of you reading this, the "anvil" has a particular meaning.
God wants you to know, He is working in those unresolved situations.
You've been in the fire, and you don't know the purpose for it.
You don't have all the answers.
You may relate to the story of Samuel.
And perhaps there are "loose ends". Your situation—whether it is recent or in the past—is not clear-cut.
---
There is Power in Your Surrender
In the anvil, is a message from your loving Heavenly Father.
And you realize, the point is surrender!
He wants you to surrender, even before you understand.
And to say, "Lord, even if I never understand why this happened, I choose to yield to you."
Sometimes, being "on the anvil" means you are not available to something else, for a season.
There is a cost.
But there is power in your trust!
---
God is Giving You Strength Through Trust
It is trust that will keep you on God's anvil.
Yes, your trust in people may have been damaged along the way—but you can receive a new trust.
For trust in God is not a feeling; it is a position. A choice.
And a gift!
The enemy has sought to rob from many, the gift of trust—by attaching conditions to it.
"God, if I see this, or if you do this, I'll trust you."
Or, "If I feel trust, I will know I have it."
But this trust—the trust that keeps you on God's anvil—is in a Person.
You can trust Jesus, the One Who laid His life down for you.
---
Out of the Fire
The anvil is your "yes" to God.
And being "in the fire" speaks of two things:
You may have been through a recent trial and can relate to "feeling the heat"
But also, God is inviting you into the fire of His Presence
Here, in His glory, He is purifying and preparing you.
And right here on the anvil—as you lay vulnerable but ready—is where revival begins.
"For You, O God, have tested us; You have refined us as silver is refined…We went through fire and through water; But You brought us out to rich fulfillment." (Psalms 66:10-12, NKJV)
---
Notes:
[1] Our home church is Planetshakers in Melbourne, Australia
[2] How I receive visions:
When I describe a vision I've seen, it's usually a vivid impression in my mind's eye, accompanied by a strong sense of God's Presence. I'm not speaking of an "open" (physical) vision. I believe all prophetic words, encounters and visions should be compatible with Scripture and need to be weighed up.
---
Related Posts:
Prophetic Word: Rise Up, Go, Anoint!
---
The Enliven Prophetic School (Video e-Course)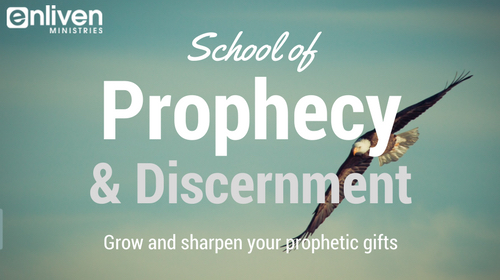 When our starting point is to see ourselves and others as valuable, we have a prophetic mindset.
This empowers us to speak life, even when we are identifying and ministering into that which needs adjusting!
If you would like to grow and sharpen in your prophetic gift, I warmly invite you to join me at the Enliven Prophetic School.
The Enliven Prophetic School includes the following classes:
How to get closer to God and hear His voice
The basics of the discernment gift
Keys to growth in the seer gift, prophetic pictures, and visions
Find out how to receive and process prophetic warnings from the Holy Spirit
Prophecy, foundations, prophetic guidance, and more
You can view and sign up for my self-paced video lecture series in the Enliven Prophetic School here. Choose between a small monthly subscription or a one-off payment with no expiry date.
---
© 2021 Helen Calder, Enliven Blog
Enliven Ministries: In the David McCracken Ministries family