Have you found it difficult to move on from a past season?
Or, perhaps you feel as though there is some unfinished business.
If this sounds familiar, hear God say, "I am making room for you!
I have freedom and favor for you, now and in the future!
This is your time to flourish and be fruitful."
---
The "Soul Tie" I Was Unaware of
"Rise up, my love, my fair one, and come away…the winter is past, the rain is over and gone." (Song of Solomon 2:10,11 NKJV)
In the post, "The Holy Spirit is Coming to Your Room", I tell the story of how the Spirit's power flowed into our living room in 2018.
At the time, I was watching a live stream of our church service!
I was unaware that deep in my heart, I was still bound to a past season—until God suddenly revealed it and set me free.
Just a few weeks earlier, my husband, Malcolm had received prayer to break off a soul tie, regarding a past prophetic vision.
But I never imagined it applied to me!
---
Pull up ALL of the Tent Pegs
A season is like the chapter of a book—it has a beginning, a middle, and an end! Then eventually, a new chapter opens.
This is where we can learn from the tent-dwellers of the Bible, and tents today.
A tent is secured, when we connect it to the ground with cords. And these are held in place with tent pegs (or stakes).
Then, when we move on, it is time to pull ALL of the tent pegs out of the ground!
Of course, ties and tent pegs of the heart can be healthy, necessary, and powerful. For example:
Loyalty, love, and service are qualities that create a deep connection
Relationships form bonds and are a crucial part of our lives
And then, there is commitment and responsibility
In addition to this, those of us who are intercessors labor in prayer. We may travail to bring God's purposes to birth.
If you are a prayer warrior, you will know your ministry creates a close, heartfelt bond.
But when God calls us to move on, it is time to pull up the tent pegs of the past and let those cords go.
For new things are up ahead—our Father has more for us!
---
A Spiritual "Umbilical Cord"
Soul ties, like tent cords and pegs, can run deep.
On that day the power of God came upon me, I felt that He severed a hidden "umbilical cord". This was from the 16 years my husband and I served a mission organization.
We believed it was a life calling—but instead, it was a chapter that suddenly closed in 2004.
I mention this, because it may be helpful for someone:
God often uses ministries, leaders, and ministry relationships, to birth and grow new things in our lives
And just as an umbilical cord connects an unborn baby to its life support system, we may be nurtured and fed spiritually through a ministry, or mentors for a period.
This can also apply to work, and places we have lived, where our identity was nourished and affirmed.
If you relate to being in a new season, hear the Lord say, "I have a new source of supply for you! I have an abundance for you!"
---
5 Keys to Cut a Soul Tie from a Past Season
1. Recognize it is Operating in the Background
When a "soul-tie" from a past season is operating, it can work as an underlying code. It's like inner programming!
That code may be operating in the background
Perhaps, it is pulling us off track or stalling us
As a result, we are unable to fully move with the fresh thing God is doing
This is because deep within, we are still tracking with the old!
How? We have a tent peg located in the past.
It may have been right and good once, but now, it is time to release it!
And when the Holy Spirit reveals this to us, it's not bad news—it is good news! It has come to the surface to be removed.
Be assured that what God is revealing, He is healing.
---
2. Turn Your Heart's Desire Towards Jesus!
One of the great commands in Scripture is:
"You shall love the LORD your God with all your heart, with all your soul, and with all your strength." (Deut 6:5 NKJV)
Think about, what "all our soul" means!
When we love Him with all our heart, soul, and strength, other loves are second to Him. And the One who is with us means more to us than the past that is behind us.
In the Song of Songs, the Shulamite maiden declares, "I will seek him whom my soul loveth". (SOS 3:2b, KJV).
This is where your healing journey starts—in your relationship with Jesus. You realize He is wonderful, He is delightful, and He is glorious.
Hear God say, "Come, be with Me. Let My love and power dissolve every tie to a past season."
And I believe there is such a power of the Spirit at this time—even at this moment—that bands are simply dissolving.
---
3. See the Cords of the Lord Drawing You
Think about these beautiful words, and hear God speak them over you:
"I drew them with gentle cords, with bands of love, and I was to them as those who take the yoke from their neck. I stooped and fed them." (Hosea 11:4, NKJV)
See, instead of cords holding you back, the powerful bands of God's love and kindness drawing you!
He is setting you free.
He is healing you so that you no longer see through a lens of loss.
You are looking instead, through the lens of His love.
---
4. Receive Freedom from Fear
I believe there are some reading this, who have been hesitant to make new connections.
Due to past experiences, you have been fearful to put down tent pegs in your new situation.
Hear your Father say, "You are safe with Me! Receive the courage to start over, in the place I have appointed you."
He is the God of new beginnings and He has a fresh assignment for you.
---
5. Take Time to Pray
Sometimes, we can benefit from some transactional prayer.
So, if there has been a mental or spiritual battle, take extra time to pray—you may benefit from having someone pray with you.
Right now, God's grace is here to help you pull up tent pegs of regret, envy, and disappointment. You can be free from the negative effects of past relationships.
"Cut off" refers to a specific transaction with the Lord, which is stronger than simply loosening.
Ten more tips for praying over a soul tie
Here are some more tips for praying over a soul tie—ask the Holy Spirit to highlight which ones relate to your situation:
Set aside time to pray
Forgive anyone who has hurt or let you down (including yourself)
Repent of and/or renounce any negative responses God is bringing to mind
Pray and break off past expectations (of yourself and others)
Verbally release any personal responsibility you bore (including towards the fulfillment of a prophetic word). By faith, hand the outcomes over to God.
Release burdens of prayer from your past era
By faith, apply the work of the cross—see and declare it finished!
Receive a fresh infilling of the Holy Spirit
Take regular time to encounter God in a way that is meaningful to you
Journey forward with a leader or mentor who can speak into your life
---
NOTE:
[1] Friendships (such as Jonathan and David) and family ties (like Ruth and Naomi) can form soul ties. And marriage relationships and other intimate relationships are another way a soul tie is created (see 1 Cor 6:15-20).
This subject is outside the scope of this article, and I encourage you to seek help from those who have a specialized ministry in this area.
---
Leave a Comment
Can you relate to these thoughts about a soul tie to a past season? Which of these points resonate with you, as you've been reading this? Number 1. has definitely been a revelation to me recently!
I'd love to hear from you, so scroll down and share with us in the comments box below.
---
Related Posts:
Dealing with Prophetic Disappointment: Why is My Prophecy Unfulfilled?
4 Reasons Why the Opposite of Your Prophetic Word is Happening
---
Discover More in the Prophetic Guidance Master Class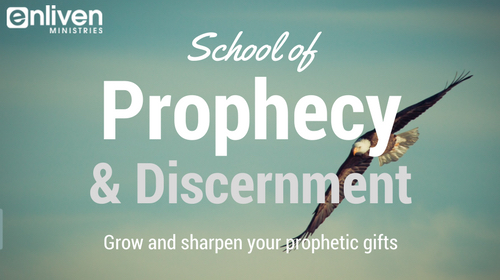 Is the above article timely, and would you like to learn more about the prophetic?
In my Prophetic Guidance Master Class, I tackle some tough questions such as:
How do faith and wisdom work together when following prophetic guidance?
What extra care can I take when my prophetic insights are about relationships or emotional issues?
When I'm faced with a closed door, what can I do?
If my prophetic guidance is unclear, what actions should I take?
What is God doing when there are delays and disappointments?
These are some of the questions I explore in my Prophetic Guidance Master Class. Plus, I've uploaded the PDF transcript of these ten lessons, so you can keep your own summary for reference.
You can find the Prophetic Guidance Master Class in the Enliven Prophetic School here.
Modules on the School currently include: "How to hear God's voice"; "How to Begin and Grow in Prophecy"; "The Seer Gift: How to Grow in Pictures and Visions"; "Discernment and Prophetic Warnings" and the "Prophetic Guidance Master Class".
---
© 2021 Helen Calder, Enliven Blog
Enliven Ministries: In the David McCracken Ministries family