Have you been questioning a past prophetic word or vision?
Perhaps, you have been holding on to a promise from God for a long time, but it has not come to pass in the way you expected.
Today, God is inviting you into a place of liberty with Him.
"Do not remember the former things,
Nor consider the things of old.
Behold, I will do a new thing,
Now it shall spring forth;
Shall you not know it?"
(Isaiah 43:18-19, NKJV)
---
A Signpost Word
There are times to continue contending for a prophetic word, even when the opposite is taking place.
Every true word from God goes through a season of testing and purifying—and Joseph's story is a great example of this.
But there are also times to let go.
A prophetic word may have been a "signpost" word and God used it to lead you in a certain direction.
But now, He has a new path for you to follow and new instructions for you.
---
The Day God Changed His Instructions
One day, God spoke to Moses about a change in direction.
"Then we turned around and headed back across the wilderness toward the Red Sea, just as the  Lord had instructed me, and we wandered around in the region of Mount Seir for a long time. "Then at last the Lord  said to me,  'You have been wandering around in this hill country long enough; turn to the north." (Deut 2:1-2, NLT)
At one stage, that mountain was a prophetic destination.
But it was time to move on!
What if some of those people had resisted Moses' new instructions? They could have complained, "But Moses, God said go to Mount Seir."
And that was true.
Yet, it was not true for "now" and it can be like that for us!
God sent an earlier word to position us. But now, it is time to receive His new agenda.
---
We Needed to "Unhook" from Past Prophetic Words
Someone needs to know today, that a past prophetic vision is no longer your assignment! You may have been grieving over it, but your Father is giving you fresh instructions.
My husband Malcolm and I were involved in a mission agency for around 16 years. We sacrificed a great deal in that season—and believed that calling was for life! But our time with that organization came to a close unexpectedly in 2004.
At that time, and during the years since, there have been times we've needed to "unhook" from our past prophetic dreams of that time. These ran very deep for us.
We also had some prophetic words from that era, that were left unfulfilled. But our call from Jesus was bigger than that season. Be assured right now, your life's calling is greater than any single season!
---
You are Not Disempowered
The story of how Moses redirected the people from Mount Seir, is a helpful reminder.
When we know God has planted us in a church or team, and we are in the place of His choosing, we can trust God's oversight of our leaders.
Through the decades, and transitions of life, I've learned this:
My personal prophetic calling is not bound to a church or ministry, beyond the timing of God
When I believed that it was, and a leader of my church or ministry changed direction, it affected me deeply (and needlessly).
So, don't buy into the lie that you have been disempowered by another person.
No one else can "torpedo" your God-given prophetic dream—and you can trust in God's sovereignty regarding your calling.
---
Full of Power
Whenever and however a prophetic insight comes, it is not untouchable—it is adjustable!
And this is true, even when years have passed.
God's instructions to you are not fragile, but full of power!
Paul wrote, "Do not quench the Spirit. Do not despise prophecies. Test all things; hold fast what is good." (I Thess 5:19-21 NKJV)
The Bible tells us to hold onto prophetic words that have been proven to be good and of the Holy Spirit.
That Greek word translated good, Kalos (Strong's G2570), means excellent, eminent, genuine, approved.
The question could be—is this prophetic insight "good" for right now?
Ask, "Is this a promise to carry into my next season?"
---
The Power of Surrender
Is something resonating with you as you read this? You are not being unfaithful by surrendering a past prophetic promise to God! Your Father is a God of resurrection, and well able to cause it to spring to life.
Remember Abraham, who was willing to sacrifice his son Isaac, a prophetic promise to God. Even when we head in the opposite direction of God's commands, His grace is still available to us.
On the other hand, all of us have made mistakes in our past. If this has been troubling you, the story of Jonah will encourage you: "Then the word of the Lord came to Jonah a second time: "Go to the great city of Nineveh and proclaim to it the message I give you." (Jonah 3:1,2, NKJV)
Whatever has taken place that has affected your prophetic vision, yield to God now.
And lean in close.
Now, hear your Father say, "Beloved, I have new instructions for you to receive."
---
Leave a Comment
Do you believe God is speaking to you about becoming free of past expectations? I'd love to hear from you, so scroll down to share your thoughts in the comments box below.
---
Can a "Soul Tie" Hold Us to a Past Prophetic Vision?
This is a question I'm currently exploring some answers to, so if you're interested in this topic, let me know in the comments. And keep an eye out for the upcoming "Part 2" on this topic, as I share further about letting go of past prophetic words and visions.
This can now be found here: Tent Pegs: 5 Keys to Cut Soul Ties from Past Seasons
---
Related Posts:
Dealing with Prophetic Disappointment: Why is My Prophecy Unfulfilled?
4 Reasons Why the Opposite of Your Prophetic Word is Happening
---
Discover More in the Prophetic Guidance Master Class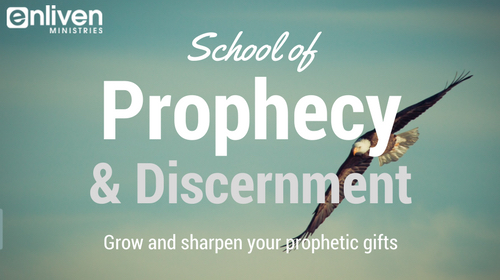 Is the above article timely, or would you like to learn more on this topic?
In my Prophetic Guidance Master Class, I tackle some tough questions such as:
How do faith and wisdom work together when following prophetic guidance?
What extra care can I take when my prophetic insights are about relationships or emotional issues?
When I'm faced with a closed door, what can I do?
If my prophetic guidance is unclear, what actions should I take?
What is God doing when there are delays and disappointments?
These are some of the questions I explore in my Prophetic Guidance Master Class. Plus, I've uploaded the PDF transcript of these ten lessons, so you can keep your own summary for reference.
You can find the Prophetic Guidance Master Class in the Enliven Prophetic School here.
Modules on the School currently include: "How to hear God's voice"; "How to Begin and Grow in Prophecy"; "The Seer Gift: How to Grow in Pictures and Visions"; "Discernment and Prophetic Warnings" and the "Prophetic Guidance Master Class".
---
© 2021 Helen Calder, Enliven Blog
Enliven Ministries: In the David McCracken Ministries family