Have you ever heard God speak to you through your physical environment?

It may have been something ordinary—yet in that moment, you knew God was speaking to you in a special way.
What a day we live in! God is speaking to His people in many varied ways, as He has always done.
The Holy Spirit is pulling on our attention.
I pray this study from my online Prophetic School helps bring some clarity to you in this area.[1]
---
The Prophet and the Potter
One day, Jeremiah heard God say, "Go down to the potter's house, and there I will give you my message."
So, Jeremiah went to visit the potter and watched him working at the wheel.
As the potter worked with the clay, a pot began to take shape—but it became misshapen! So, the potter formed it into another pot, shaping it as seemed best to him.
Then the word of the Lord came to Jeremiah.
"Can I not do with you, Israel, as this potter does? Like clay in the hand of the potter, so are you in my hand, Israel."
(See Jer 18:1-6)
God took Jeremiah to a potter's studio, to speak to him. The clay in the potter's hand was a living parable, used by the Lord to illustrate His prophetic word.
This snapshot from Jeremiah, is one example of how the Holy Spirit can speak to us through both internal and external revelation.
"Revelation" simply means an insight given by the Holy Spirit—it is God speaking to you, revealing His mind, heart and intent. [2]
---
9 Insights About God Speaking Through the Environment
1. God Leads Us Primarily Through Internal Revelation
Most of the time, when God speaks to us personally, we are hearing inwardly. It's internal (inner) revelation.
It's personal to us—not something that can be touched, seen or experienced physically
It's God communicating with us, Spirit to spirit
We describe the voice of God as something we feel, perceive, see or hear. This may be through a light or simple impression of the Holy Spirit, as He touches your heart or mind.
This is commonly how the gift of prophecy operates. The Holy Spirit reveals something to you, and you share that message with others.
It is also the usual way God speaks to us in our relationship with Him, alongside our study of the Bible. We grow in intimacy with God as we become familiar with hearing His voice this way. [3]
"Internal revelation" is able to be confirmed by others, but not necessarily experienced by others.
---
2. "External Revelation" is When God Speaks Through the Environment
External revelation, is the Holy Spirit communicating a message from the Father in and through our physical environment.
Here are a couple of examples:
You notice a sign on the roadside—and in that moment, the words or a symbol leap out at you. The message is relevant. It is a "now" word and you know that God is speaking to you through it
Your attention is drawn to a person, who reminds you of someone you know. You wonder if the Holy Spirit is calling you to pray for the individual you are reminded of (this often happens to prophetic intercessors)
God can direct what is happening in the physical environment, in order to communicate a message to you.
Or, as He did with Jeremiah, the Holy Spirit may position you, to be at the right place, at the right time, to encounter Him.
When this happens, He is using your physical senses—for example, what you see and hear—to speak with you.
And that's when the Holy Spirit within you, alerts you to pay attention.
---
3. Internal and External Revelation Work Together
Notice, just as with Jeremiah's example, there is an inter-relationship between the two ways God speaks.
You may see or experience something physically, while the Holy Spirit within you is confirming that it's a message from God
You have an inner prompting, an internal yes or "aha" moment—that the Lord is speaking to you
The Apostle John talks of the anointing that you have abiding on the inside of you, that teaches you. It is the Holy Spirit confirming what is genuinely from God. (1 John 2:27)
---
4. The Bible Gives Examples of God Speaking Through the Environment
There are many examples in Scripture of God speaking or intervening, using physical objects, plants, creatures or signs in the environment.
• A donkey talks to Balaam (Num 22:28)
• Wise men follow a star to find Jesus the Messiah (Matt 2:2)
• Birds feed Elijah (1 Kings 17:4)
• God honors Gideon's request for a physical sign, in the form of wet and dry fleece (Judges 6:36-40)
• The sun is reversed on the dial (Isaiah 38:8)
• The prophet Ezekiel constructs a diagram and model, as a physical sign of what God will do (Ezekiel 4/ 5).
• God uses a tree growing and withering to speak to Jonah. (Jonah 4:5-11)
• God directs a certain fish, at a certain time, to be caught by Peter—one that has a coin in its mouth (Matt 17:27)
So, while God mostly speaks to us inwardly, and through other people, sometimes He does choose to speak (or intervene) through our physical environment.
And sometimes, this is a prophetic message to us.
---
5. The Spiritual Realm Can Manifest in the Physical Environment
In the above examples, God was using "ordinary" objects and creatures to communicate with His people. But on other occasions in the Bible, God Himself, or an angel sent by Him, manifested physically to people.
In these cases, the spiritual realm manifested in the physical realm!
These two types of external revelation are seen together in what happened to Moses.
The shepherd was going about his ordinary everyday life, herding a flock, when he saw a burning bush
The bush was ordinary—but the fire within it, was God's manifest presence
---
6. External Revelation can Happen in Our Everyday Life
Those of God's people who are gifted in visions, pictures and the seeing realm (often called "seers") will be more alert to signs, symbols and things seen—God's "sign language".
But you don't have to be a prophetic visionary to experience God speaking in the external environment! Some of the following examples of external revelation are not exclusive to seers:
Supernatural timing of events
Creatures or objects showing up in unexpected times and places
Remarkable coincidences
Numbers appearing repeatedly
Divine appointments
When God speaks through external revelation, it is not accidental, it is by design. It is God's handiwork.
And yet, it can happen in our everyday life! He is teaching us to walk with Him in delight and wonder, as children with our Heavenly Father.
But that doesn't mean we should just accept anything—even if it is a significant sign—without weighing it up carefully.
---
7. Tips for Weighing Up External Revelation
"Do not quench the Spirit. Do not despise prophecies. Test all things; hold fast what is good." (1 Thess 5:19-20, NKJV)
Not everything is a sign, and not every unusual coincidence is a message from God—although I do believe the Holy Spirit is speaking to us, and the Kingdom is at work through the environment, far more than we realize!
Here are some suggested questions to ask, as we weigh up signs and external revelation:
1. Is this message from the Father? (John 5:19)
Does this sign (and the message we believe it represents) reflect the heart and mind of the Father as demonstrated through Jesus?
2. Is the sign and message consistent with the Bible? (Ps 119:89, 2 Tim 3:16)
The Bible is not only the main way we hear God speaking to us, it is also the standard by which we weigh up every prophetic insight we receive.
3. (For prophetic insights) Do I have a leader who can help me assess this? (1 Cor 14:29)
When we move beyond general encouragement, and into the realm of the prophetic—or believe God is giving us guidance for significant life decisions—this is especially important.
4. What is the fruit of this sign? (Gal 5:22-23)
What is happening as a result, and is it honoring God?
5. Where is the attention of people being drawn? (John 2:11)
A sign from God is a signpost that points to Jesus! So, a sign should not cause people to elevate someone or something else.
The purpose of signs from God is to attract us to Jesus, not to distract us from Him.
---
8. Share About Signs from God in a Natural Way
We all know of prophetic people who share every little sign or appearance of a number (for example).
It's not remarkable—it's their "thing"!
A true sign from God will often be confirmed by more than one incident and may be witnessed by more than one person
The timing will be extraordinary—it will be remarkable and will result in wonder
We can talk about what God is doing in everyday language—even when unusual things are happening to us and we are amazed.
When people say someone is "flaky", what they are really meaning is, you can't relate to that person. They are living in another world! But we are ordinary people that supernatural things happen to—not strange people, that weird things happen to.
If anyone can be described as being "out of this world", it was Jesus! Yet we read that the common people heard him gladly (Mark 12:37b).
People loved to listen to Jesus speak, and crowds gathered around Him.
So, let's stay practical and natural in our approach to sharing about signs and external revelation.
---
9. Be Wise About the Timing of Sharing with Others
Jesus' focus was always on responding and doing what His Father showed Him to do. In the Gospels, Jesus didn't go into detail about how the Father spoke to Him. And we can be the same.
Yet there are other times when God is using the environment to share a prophetic message that will encourage many!
So let's use wisdom about when to share about external revelation, and when not to. There are times to hold back, and like Mary did, treasure the signs of what God is doing in our hearts (Luke 2:19).
Let's make it our aim to be a people to whom God can entrust prophetic signs and wonders—such as the world has never seen—in our generation. For these small signs are just the beginning; the breath before the awakening.
---
Notes:
[1] The original source of this content is the Enliven Prophetic School
[2] "Revelation" comes from a Greek word that means "uncovering" or "disclosure". See Strong's G602, apokalypsis
[3] See How to Check your Prophetic Insight is From God
Note that in this topic, I'm talking about personally received signs, i.e., God speaking to (or through) His people personally.
I'm not discussing "global" signs, major signs in the earth, or signs in the heavens. This broader topic is outside the scope of this discussion.
---
More on this topic:
Angels: 5 Powerful Reasons to Test Angelic Encounters
6 Questions to Ask About Supernatural Signs
---
Study Online: New Classes for Those Growing in Prophecy: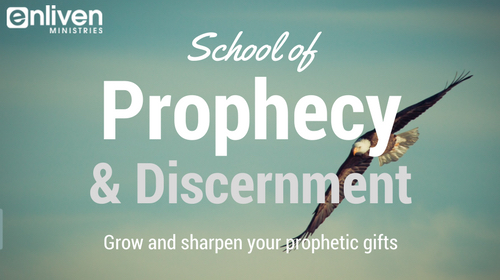 In my latest series on the Enliven Prophetic School, I have been sharing what I've learned through the recent encounters my husband Malcolm and I have had, in our prophetic journey with the Holy Spirit. The topic is on "God's Sign Language, Stories and the Prophetic Environment". There is also a PDF with tips on how to interpret numbers and colors.
The best mentoring and teaching I can give you is now rolled into this one place, on the Enliven School of Prophecy and Discernment. You can view and sign up to my self-paced video lecture series in the Enliven Prophetic School here. 
---
© 2020 Helen Calder, Enliven Blog
Enliven Ministries: In the David McCracken Ministries family