I believe this is a "now" prophetic word for many people:
The miracle will happen as you count on God.
---
The Man on the Shore
Peter and his friends fished all night, but caught nothing.
At dawn, they could just make out the figure of a man standing on the shoreline.
Unrecognizable in the dim light, the man called out to them,
"Friends, have you caught any fish?"
"No," they replied.
"Throw your net on the right side of the boat," their observer called.
In spite of their weariness, there was something compelling about this stranger on the shore, and his confident command.
As they obeyed, to their utter amazement, the net suddenly filled—to overflowing—with fish.
It was John who recognized him first. "It is the Lord!" (John 21:1-7)
---
6 Principles of Kingdom Mathematics
Now, more than ever, we need to understand Kingdom mathematics!
In this day when so much doesn't add up—and, much that we counted on has been taken away—the Bible has good news.
And that good news is a Person.
---
1. Jesus is Closer Than You Think
Jesus was on the lakefront. He was distant, and His own disciples didn't recognize Him. (John 21:4)
I believe there are some reading this, and it feels like Jesus is far off. You are having trouble recognizing Him.
The waters of recent events have somehow got between you.
But—there is a Man on the shore!
And He is saying,
"Beloved, this is the moment of your encounter.
What concerns you, concerns Me."
---
2. God has Already Set Aside a Miracle Supply for You
Peter swam ahead of the others to the shore.
There, he discovered Jesus already had fish cooking on the fire. Not only that, He had bread as well!
That fish wasn't caught by Peter and the others.
Jesus already had possession of it!
The fish on the fire was symbolic.
It was a flag; a message from God.
Kingdom mathematics is nothing like we know.
We work with facts, with items, with something quantified.
God works with words
He works with power
Jesus already has possession of your provision.
---
3. God Uses New Instructions to Create and Multiply
Sometimes Jesus' instructions, seem offbeat.
They don't make natural sense—or they conflict with our experience and expertise.
The Holy Spirit often speaks in mysteries; in ways we don't understand.
Or in new ways, that we are not familiar with.
"Throw it over the right side of the boat"
This brings us to an important principle of Kingdom mathematics!
Throughout the Bible, miracles happened when people obeyed new instructions from God!
God will use the wisdom of the world to position us, but the ultimate truth is this:
The finest wisdom of the Kingdom is to obey the voice of the King.
---
4. Miracles Happen When You Surrender Your Empty Nets
Perhaps, like the disciples after their long night with no catch, you face a shortfall.
Your Father says, "You can count on me."
"You can rely on me. You can depend upon me. I am trustworthy!"
It's a reminder that the most powerful thing you can do right now, is to have a conversation with Jesus.
And to listen for what He says.
At the instant a word from God is inserted into an equation, everything changes!
Surrender and obedience are the ingredients we can add, to create a miracle.
That day, the disciples on the boat counted 153 fish.
From zero to overflow!
When God is doing the multiplication, numbers can bring glory to Him!
It's Kingdom mathematics.
---
5. Kingdom Mathematics Applies Where You Live and Work!
Jesus often spoke to Peter using the language of his everyday life.
As He did for many others!
And encountering Jesus' power in the context of fishing, was nothing new for Peter.
There was the time of Peter's call—another miraculous catch of fish.
And then, there was the moment Jesus sent Peter out to catch a single fish, with a coin in its mouth. The coin paid their temple tax.
Just as He did with Peter, Jesus will come to you in your work and everyday life.
To your livelihood, and at your point of need.
You don't need to be anywhere different to where you are right now, for God to show up.
And to see Kingdom mathematics at work.
He's already here.
---
6. There's a Divine Appointment in your Transition
As this story opens, Peter had already met his resurrected Savior.
But there was unfinished business in his heart.
The miracle catch was Jesus again reminding Peter, "This is where your service starts. It begins with encounter.
Being with Me."
In the conversation that followed, Jesus restored and recommissioned Peter.
Perhaps, today, you can relate to Peter's situation.
During transition, you have experienced the loss of what used to be, yet the future has not become clear.
You may find yourself in frustrating circumstances, empty net in hand
Take a moment to listen.
Hear Jesus say,
"Surrender that empty net to Me.
For this is the very place I am going to feed you, and many through you."
---
Related Posts
How to Access Your Heavenly Supply Line
Prophetic Word: There's a Miracle in the Gap
God is Giving You Faith in the Face of Shortfall
---
Notes:
[1] For example, John 14:20, Col 1:27, Rom 8:20, Eph 3:17
---
Leave a Comment
Which of the insights on this word about Kingdom Mathematics do you most relate to?
The one that personally speaks to me most right now, is #2!
I'd love to hear from you.
Scroll down to share your thoughts and prayer requests in the comments box on the blog.
---
Prayer School News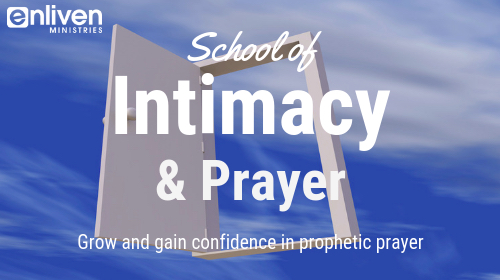 If you have felt dry or depleted in your prayer life lately, the news lessons in my Prophetic Prayer School news will be of benefit to you.
You will find these in the class, "How to Prevent and Recover from Dryness in Prayer"
Causes of Dryness and Depletion in the Intercessor (PDF)
Ten Keys to Being Replenished as an Intercessor (PDF)
Receiving Prayer: How to Stay Filled with the Holy Spirit Through Soaking Prayer (Video + PDF)
This has impacted me personally and I'm sure it will benefit many of my readers.
For a short period of time, while the Prayer School is under construction, I'm bringing the full price down to $19.95 USD.
Currently on the Enliven School of Prophetic Prayer are 40 self-paced video lessons (complete in your own time), along with PDF transcripts, exercises and bonus eBooks.
Alternatively, you can view all online courses, including the Prophetic School here.
---
© 2021 Helen Calder, Enliven Blog
Enliven Ministries: In the David McCracken Ministries family