"You are the Father's golden vessel!
I see nobility in you. I see glory upon you."
The Holy Spirit is the one Person on this earth who knows us intimately.
And nothing is secret to Him.
No trial, no pain, no scar, no shadow.
Nevertheless, wonder of wonders, the Spirit of God—God Himself in us—sees, and calls forth greatness.
"You are My golden vessel!"
---
The King's Golden Vessels
"All King Solomon's drinking vessels were gold, and all the vessels of the House of the Forest of Lebanon were pure gold. Not one was silver, for this was accounted as nothing in the days of Solomon." (1 Kings 10:21, NKJV)
This week, I've been struck by this verse!
In Solomon's time, gold was plentiful—and silver became so common they stopped counting it.
"All of the King's drinking vessels were gold…"
I believe we are coming to such a day, when God's sons and daughters awaken to their true worth.
This will be a time in which miracles that once seemed scarce, will become plentiful!
For He is touching our eyes.
So that we will see who we are in Him.
And what we are capable of.
---
4 Keys to Seeing Yourself as a Golden Vessel
1. Start Perceiving the Golden Vessel
If you have struggled with feelings of insufficiency, this is good news!
Perhaps, you can identify with what I heard the Lord say to me recently:
"Stop judging the earthen vessel, and start seeing the golden vessel."
It was a challenge that went straight to the heart.
"How do you perceive yourself?"
Today, reflect on this life-changing truth:
There is more grace than you realize, towards you as an earthen vessel
And, there is more glory than you know, upon you as His golden vessel!
Right now, shame is being broken off.
Shackles are falling away.
Let the kindness of God soak into your heart.
"The Lord is like a father to his children, tender and compassionate to those who fear him. For he knows how weak we are; he remembers we are only dust." (Psalm 103:13-14, NKJV)
---
2. See Yourself as Already a Golden Vessel
What makes the golden vessel, gold?
A gold vessel is created gold.
You can know, without a shadow of a doubt, that you're His beloved.
You can look upon who you are in Christ.
"But in a great house there are not only vessels of gold and silver, but also of wood and clay, some for honor and some for dishonor.
Therefore if anyone cleanses himself from the latter, he will be a vessel for honor, sanctified and useful for the Master, prepared for every good work." (2 Timothy 2:20-21, NKJV)
There is a vast difference between striving to become a gold vessel, and realizing (with wonder) that you already are one!
Yet, this is the truth.
Instead of trying hard in our own strength to get rid of contamination—and faltering—our starting point is that we are already made holy, through Jesus' sacrifice (Heb 10:10)
Defilement can't stick to us, when we are conscious of being holy—sanctified and cleansed.
It falls away!
Today, you can know you are His golden vessel.
---
3. See Yourself in the Light of Eternity—as a Golden Vessel
Now, here's another key:
The Apostle Paul reminds us that our outer body is a tent, that will be discarded one day.
Weakness of body and soul; that ageing person in the mirror; there more to us than that!
Hear the Father say, "You are My golden vessel".

The real you, the inner person of the heart.
The eternal you.
Be assured that through every trial, you are going from glory to glory.
And there will come a time when your glory is fully revealed.
On that day in God's safekeeping, when we each pass through death into eternal life, the "clay vessel" will be discarded (see 2 Cor 5:1-5).
But God's Word says you are already glorious!
So, let's ask, "What does it look like to live now as His golden vessel?"
Today. Tomorrow. And in every situation.
---
4. Meditate on the Truth that You are Located in Christ
You are in Christ.
And when you look into the mirror of God's Word and see Jesus, you also see where you are located—in Him.
The mirror gives you perspective.
It not only reveals His glory—but also, your own glory.
And when you look to Heaven, you're not only looking towards God's Throne; you are also looking at where you are located (Col 3:1-4).
In glory.
Righteous!
What a relief!
What joy.
Hear Him say, "Beloved! Look into My mirror."
You do not need to look to yourself, in your earthly frailty, for glory.
You need only look to Jesus. For your life is bound with His.
Your future is joined to His future.
And your glory, with His glory.
You are the King's golden vessel.
---
Notes
If this message has touched you, I encourage you to look up the Scripture references. Here are some further Scriptures to meditate on: 1 Kings chapter 10, 2 Corinthians chapters 3-5, Colossians chapter 3.
---
The Enliven Prophetic School (Video e-Course)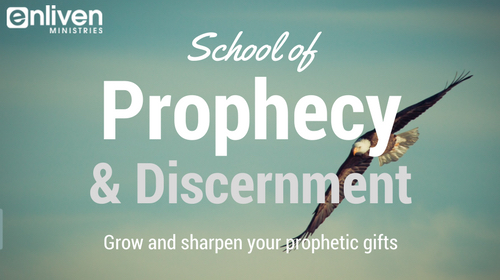 When our starting point is to see ourselves and others as His "golden vessels", we have a prophetic mindset.
This empowers us to speak life, even when we are identifying and ministering into that which needs adjusting!
If you would like to grow and sharpen in your prophetic gift, I warmly invite you to join me at the Enliven Prophetic School.
The Enliven Prophetic School includes the following classes:
How to get closer to God and hear His voice
The basics of the discernment gift
Keys to growth in the seer gift, prophetic pictures, and visions
Find out how to receive and process prophetic warnings from the Holy Spirit
Prophecy, foundations, prophetic guidance, and more
You can view and sign up to my self-paced video lecture series in the Enliven Prophetic School here. Choose between a small monthly subscription or a one-off payment with no expiry date.
---
Related Posts:
Your Discomfort Zone is the Zone of My Glory
---
Leave a Comment
Do you relate to this word about being a golden vessel today?
Let me know which of the keys most speak to you. (I've been soaking in all of these truths, but number 1. is definitely the most impacting personally!)
Scroll down to share your thoughts in the comments box below.
---
© 2021 Helen Calder, Enliven Blog
Enliven Ministries: In the David McCracken Ministries family