If you can relate to being at a low point right now, be encouraged by this prophetic word from the story of Elijah.
"This low place doesn't disqualify you; it prepares you.
It positions you."
And your lowest point will become your launching pad.
---
"This is Where I Birth My Champions!"
Elijah had a low point when he was on the run from Jezebel's threats. (1 Kings 19)
For a short time, the prophet was driven by fear.
And Elijah became so low in spirits, he despaired of his life.
But his lowest point was about to become a launching pad.
After encountering God, Elijah went on to anoint Elisha, his successor, and Jehu—the very one who would take down Jezebel!
So, if it seems as though the enemy has been chasing you, and for a time, you've failed to hold your ground
If circumstances have caused you to become disheartened, or you have been pressed on every side
You may feel as though you are in your lowest place. But right here, the God of grace is waiting for you!
Hear Him say, "This is where I birth My champions!"
---
Launching Pad: 4 Ways God is Turning Your Situation Around
1. God is Sending Angels to Help You
Exhausted, Elijah slept, but an angel interrupted his uneasy rest.
That angel gave him supernatural food and drink.
No matter what is happening right now, there are angels around you.
Even in the times of your greatest need and weakness, they are present.
We see this in Jesus' life. After the temptation, angels came and ministered to Him (Matt 4:11).
And later, as He wrestled in great agony over the upcoming crucifixion, "…an angel appeared to Him from heaven, strengthening Him." (Luke 22: 43)
Angels ministered to Jesus, and to Elijah.
They provided replenishment for the soul and body, in moments of pain and stress.
This tells us that one of their roles is to strengthen God's people in times of trial.
Be assured that just as with Elijah, not only is God present with you, but He has also sent His ministering angels to impart to you what you need.
Today, hear your Father say,
"Receive my strength and comfort in the middle of the trial. For you are moving from here with flying colors."
---
2. You will Personally Experience Revival
At his lowest point, Elijah was so depressed that he wished to end his life.
But it was right there, he met the God of resurrection.
Buoyed by that angelic encounter—and the refreshment supplied—he began his journey again.
A low place can be like a drop in a road. When there is a dip in the terrain, the way ahead is obscured
At such times, it is difficult to make progress. Perhaps, "hope deferred" has made you heart-sick (Prov 13:12)
The way out of a valley requires a climb—and when you lack energy, it's much easier to stay in a slump, than to move forward.
Yet, this is a Biblical principle we see over and over again:
Our God is a God of revival
He is the Reviver
So, if you can identify with being at a low point today—even if you feel you're at your lowest!
Receive new life, the breath of God today.
---
3. As Elijah did, You Will See Divine Acceleration
Renewed in strength, Elijah traveled 40 days and nights, until he arrived at Mount Horeb.
There, he had a significant encounter with God—experiencing His manifest Presence and hearing His audible voice.
And so it is, that a destiny doorway often stands at a low place.
You may have been stopped for a moment, but as Elijah did, you will experience Divine acceleration!
A low place may be characterized by depletion, or beset by uncertainty.
There, stripped of your usual capacity, you realize that you cannot fulfill God's call in your own strength.
Emerging, freshly reliant upon the Spirit of God, you are empowered for your new season.
---
4. God is Giving You a New Song
For a time, Elijah forgot his message.
He lost his voice.
He was in a pit of despair.
David writes of being rescued by God at such a low point:
"He also brought me up out of a horrible pit,
Out of the miry clay,
And set my feet upon a rock,
And established my steps."
(Psalm 40:2, NKJV)
Miry clay speaks of being a stuck place, and the pit is a symbol of helplessness.
It is the ultimate low point.
The word translated "horrible" means an uproar; a rushing noise!
It so well defines our day, when clamor surrounds us.
David spoke of the low place becoming a birthing place, where a new song would emerge, given by God!
And with it, a ministry to many (Psalm 40:3, NKJV).
So, if trials have weighed you down; or uncertainty has rocked your world.
If you have reached a low point or even your lowest.
Or, you have felt weak or stuck.
God has not left you.
He is here to rescue you.
Look up and see the hand of Jesus reaching down to you.
Hear Him say, "Let me lift you up, beloved, for I want you to be with Me.
I have a secure place for you to stand. Walk with Me."
Take it from Elijah: Your low place is about to become a miracle zone.
---
Leave a Comment
Have you been touched by God as you've read this prophetic word, with regard to your own "low place"? Which of the four points most inspires you? I'd love to hear from you! Leave your thoughts and prayer requests in the comments box below (scroll down to view).
---
Related Posts
---
Are you a discerner-intercessor?
This new class on the "Watchman Intercessor" is for you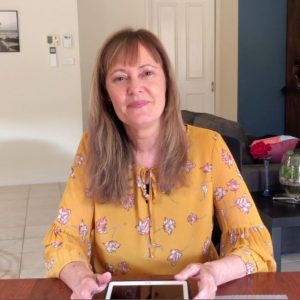 Over the past few months, I've been stirred to create some special classes (within the Prayer School) for prayer warriors who are discerners.
You may identify as a "Watchman Intercessor".
These are the prayer warriors who are God's Heavenly alert system.
Do you relate to any of the following?
You have an instinct to guard, protect or warn
Being a discerner, you perceive or see spiritual realities that others don't see
You are highly sensitive to atmospheres
Being burdened to pray is familiar to you
You may have a specific assignment–to pray for individuals, groups or regions
You may have been misunderstood or felt lonely in your journey
I invite you to join me on the Enliven School of Prophetic Prayer, where I'm in the process of adding a new class on the topic of "Empowering the Watchman Intercessor".
For a short period of time, while the Prayer School is under construction, I'm bringing the full price down to $19.95 USD.
Currently on the Enliven School of Prophetic Prayer are 40 self-paced video lessons (complete in your own time), along with PDF transcripts, exercises and bonus eBooks.
Alternatively, you can view all online courses, including the Prophetic School here.
---
© 2020 Helen Calder, Enliven Blog
Enliven Ministries: In the David McCracken Ministries family