One day, I heard the Lord say these words: "the oil is not in the bottle"!
It was an unusual statement, and yet potent with meaning.
And I believe it is a word for many today.
The oil of the Holy Spirit—in particular, His power to heal—is flowing.
It is not contained.
His power to heal is not confined!
The Father's relentless love pursues and finds you.
There is no deterioration of soul or body, and no dark place, that is beyond His touch.
---
A Forgotten Bottle of Oil
It was 23rd February 2020, and a news report about COVID-19 caught my eye.
At that moment, I was reminded of John G Lake, who was used by God to bring healing miracles during a time of disease, a century ago—"Do it again, Lord!"
I went on to reminisce of the time I flew into Spokane, Washington, on a visit to my Mum and Stepdad, who lived nearby.
On my last day in the US, we visited the Spokane Healing Rooms ministry. [1]
I left with two bottles of fragrant anointing oil—both of which, I gave away.
It was now a decade since I gave the second of those bottles away. I had passed it on with a prophetic word, to a leader, with very little thought of it since! [2-4]
Yet at that moment in February, standing in my home, I felt a sudden desire to hold that bottle of oil in my hands again.
---
Longing for the Holy Spirit
The hunger I had in that instant was urgent.
The strength of it gripped me!
Of course, there is no special power in a bottle of oil —the power is in what that oil symbolizes.
The Holy Spirit and His anointing
God was stirring up a hunger in me for Him.
It had been months since I'd been in contact with fragrant anointing oil—and yet the following evening, I walked into our home with a gift, given to me that day.
It was a bottle of anointing oil. It was fragrant with rose oil.
This one was from Jerusalem.
---
The Oil Went on a Journey
As my husband Malcolm and I held that small bottle in our hands, we knew that somehow, it was a sign.
We had no idea of the trials that were to come.
A few weeks later, I the bottle of oil in my hand luggage to New Zealand, where I used it to pray for family members.
It was with me, during those long, drawn-out hours I sought to return home, through Australia's closed borders.
It traveled with me when my flight was detoured via Christchurch, in the south.
Come to think of it, that bottle of oil has journeyed from Jerusalem to the ends of the earth!
Afterward, it sat on my shelf during our long months of lockdown, where I returned to it occasionally in prayer.
---
Not Confined to a Bottle
6 months after receiving the oil, the Holy Spirit again took me by surprise.
I wasn't near the bottle; it hadn't been on my mind—and yet He interrupted my thoughts with this statement:
"The oil is not in the bottle!"
To which I instantly responded, "No! The oil is the Holy Spirit, and of course, He is not confined to a bottle!"
I knew that all along. But a word from God holds great power.
---
Fragrant Oil in the Mantle
A desperately ill woman once said, "If only I may touch His clothes, I shall be made well." (Mark 5:28, NKJV)
Today, you too can reach out, touch Jesus and receive healing.
"If only I may touch His clothes…"
The Psalmist describes fragrant oil in the Messiah-King's garments (Psalm 45:7-8)
It is echoed in the declaration of the maiden in Song of Songs:
"Because of the fragrance of your good ointments, Your name is ointment poured forth…" (Song of Solomon 1:3a, NKJV)
The name of Jesus is like fragrant oil poured out!
His reputation, the power of His name—all that His name represents. The essence of who He is!
Savior. King. Anointed One!
Healer.
---
A Persisting Fragrance
Fragrant oil.
We see it in the anointing of Jesus, prior to His crucifixion when a woman poured out an alabaster flask of fragrant oil on His head. (Matt 26:7)
That oil would have flowed into His garments. The fragrance of it may well have lingered over His body, and been present as He was whipped and crucified.
For Jesus had said, "…in pouring this fragrant oil on My body, she did it for My burial." (Matt 26:12, NKJV)
That day, it was our sin, that was borne in His suffering.
Our sickness.
Today, someone needs to know—God's Spirit, now, is moving in power.
His healing is touching you.
Jesus' willingness to heal has not changed.
His power has not been diluted.
The oil is not in the bottle!
---
The Message in the Bottle
Perhaps today, your need for healing is not of the body, but of the soul.
I treasured the gift of the oil, for its personal message.
For earlier in January, during a prayer retreat, my Bible had stayed open—the entire time—at a single verse:
"Because of the fragrance of your good ointments, Your name is ointment poured forth…" (SOS 1:3a, NKJV)
It was composed by Solomon, a king enthroned in Jerusalem.
His bride-to-be laments her shortcomings. But as chapter two opens, she realizes, "I am the Rose of Sharon".
Such is the transforming love of the bridegroom.
And such is the love of God, who will even chase down His weary daughter, with a message inscribed on a bottle of oil.
"Anointing oil from Jerusalem.
Rose of Sharon."
---
The Bottle is Unstopped!
"The oil is not in the bottle!"
"Poured out" means active. It means available!
Receive His healing now.
And see by faith, the healing power of the Holy Spirit being released from you to others, as you pray.
For you are His vessel.
Indeed, you are His bottle—and He in all His fullness, is pouring forth from you.
---
Leave a Comment
Have you been touched by God as you've read this story, or do you sense his healing being released? I'd love to hear from you! Leave your testimony and prayer requests in the comments box below.
---
A Prophetic Parable
Recently, I've written about how God will use your story, to tell His story. He is a God of parables and symbols, who may, at times, use unusual ways and means to speak to us.
This week's post is an example of these.
Related teaching:
I believe all prophetic insights, including those received by remarkable and supernatural means are to be tested and weighed up. See 5 Reasons Powerful Reasons to Test Angelic Encounters
---
Notes
Scriptures about healing for meditation: Acts 10:38, 1 Peter 2:24, Matt 8:16-17
[1] At that time, the ministry was located at the same street address where John G Lake had established his own rooms.
[2] I tell more of this story in a blog post from 10 years ago: The Power of a Prophetic Act 
[3] A snapshot of the history of the modern Healing Rooms founded by Cal Pierce can be found on the Australia site here.
[4] Anointing with oil is a physical sign of a spiritual reality, oil representing the Holy Spirit and His anointing. It is one of a number of ways we can pray for the sick, and it's seen in the Gospels (Mark 6:12-13) as well as in the New Testament church (James 5:14-15).
---
Are you a discerner-intercessor?
This new class on the "Watchman Intercessor" is for you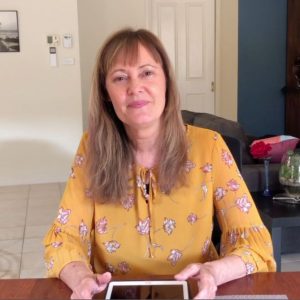 Over the past few months, I've been stirred to create some special classes (within the Prayer School) for prayer warriors who are discerners.
You may identify as a "Watchman Intercessor".
These are the prayer warriors who are God's Heavenly alert system.
Do you relate to any of the following?
You have an instinct to guard, protect or warn
Being a discerner, you perceive or see spiritual realities that others don't see
You are highly sensitive to atmospheres
Being burdened to pray is familiar to you
You may have a specific assignment–to pray for individuals, groups, or regions
You may have been misunderstood or felt lonely in your journey
I invite you to join me at the Enliven School of Prophetic Prayer, where I'm in the process of adding a new class on the topic of "Empowering the Watchman Intercessor".
For a short period of time, while the Prayer School is under construction, I'm bringing the full price down to $19.95 USD.
Currently on the Enliven School of Prophetic Prayer are 40 self-paced video lessons (complete in your own time), along with PDF transcripts, exercises and bonus eBooks.
Alternatively, you can view all online courses, including the Prophetic School here.
---
© 2020 Helen Calder, Enliven Blog
Enliven Ministries: In the David McCracken Ministries family