This word is for those who are faced with closed doors—it may be one closed door in particular. [1]
And with it, there has been a sense of being held up, or held back.
If you can relate to this, hear God saying, "Look up! For the windows of Heaven are open above you."
Be assured of this:
Heaven's open windows are more powerful than earth's closed doors.
---
God is the Source of Your Supply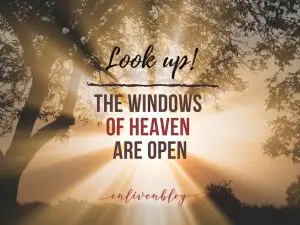 A door may be closed in front of you, but your Father has a supply above you!
In the Bible,  the "windows of heaven" being opened, was first used of the downpour of rain. (Gen 7:11, 8:2) [2]
So, receive this as a word for you, your family, work and ministry today:
"The Lord will open to you His good treasure, the heavens, to give the rain to your land in its season, and to bless all the work of your hand." (Deut 28:12, NKJV) [3]
---
Prophesy at Your Closed Door
This is your time to rise up and say, "There may be a closed door before me, but there's an open Heaven above me!
A powerful story about Heaven's open windows took place in the era of the prophet Elisha (2 Kings 7).
The city of Samaria was shut tight against the onslaught of the enemy.
And while closed doors offered protection from their foe, it also meant that the residents couldn't trade or access food
It is echoed in today's COVID lockdowns—designed to keep out the enemy, yet damaging the economy
One day, when the famine was desperate, Elisha brought a prophetic word: "Tomorrow, food will be cheap and plentiful!"
---
Don't Listen to "Official" Unbelief
When Elisha prophesied that food was on the way, the king's official expressed disbelief.
"Even if God were to open the windows of Heaven, how could this be?"
Perhaps you have had "officials" in your life, now or in the past—those who say, "that could never be!" They may have even been people in authority.
But your Father says, "Look up!" For I am indeed opening the windows of Heaven!

And Heavens windows are more powerful than earth's closed doors!
---
They had Nothing to Lose
That day, God chose an unlikely team to discover—and deliver—the good news.
A group of lepers who lived outside Samaria's gates, decided to risk approaching the enemy's camp.
Starving, they felt they had nothing to lose.
But when they arrived at the Syrian encampment, the army had already fled, leaving a feast behind them.
It seemed, God opened the windows of Heaven and released His host of angels!
For the sound of chariots and horses had cause the enemy to flee
And so, it became just as the prophet Elisha had said.
Poverty turned into plenty.
Famine became feasting!
And their enemy had melted away.
The doors and gates of the city were open again.
---
Shut Out but Chosen
This is the grace of God!
He can use a prophetic word, and a group of lepers—unintentional heroes—trembling with fear.
And what was true then, is true today!
You may have been shut out by the opinions of others. You may have felt weak, or disempowered by a closed door.
But in Christ you are powerful! You are chosen, and you will lead the way.
---
The Enemy is Being Toppled
There are times when the enemy is seeking to occupy the windows.
We look up, but it is difficult to see God.
A spirit of intimidation has been coming against us.
Queen Jezebel occupied the upstairs windows of her palace (2 Kings 9).
She viewed the fast-approaching Jehu in his chariot, thinking she would conquer him, as she had all the rest.
But her time to rule had come to an end, for Jehu had come in response to a prophetic word from Elijah
In fact, Jehu did not even need to lay a hand on Jezebel.
He just heeded God's word and gave a word.
Jehu shouted out to allies inside, who threw that evil queen out of the window and to her death. (2 Kings 9:30-33)
Has there been an enemy that has sought to intimidate and control you from a high place—perhaps in your thinking? (2 Cor 10:3-5)
It is a masquerader.
Today, know that you have power to overcome your enemy.
Every threat is being cast down at your word, declared in Jesus' Name!
---
A Window of Opportunity
A "window of opportunity" speaks of a short space of time; it is a moment of possibility, within our grasp.
But Heaven's windows are not like earthly windows. They are not fragile or limited.
They are not bound by time.
In early March, I saw a window of opportunity to visit my family in New Zealand.
And I literally flew through that window, just as it was closing.
The timing was such that I arrived in Auckland just hours before a 14-day quarantine order began!
I know it was a move of the Holy Spirit that held open that window of opportunity, enabled me to postpone a ministry engagement, and caused a miracle to take place.
After a few days I was able to return home—this time, through Australia's closed border.
---
There's a Miracle in Your Window
Today, wherever you are.
No matter what is taking place.
Look up! For there's a miracle in Heaven's window above you.
And no matter what door is closed—even though it has caused frustration or distress—be encouraged by this word for you today:
"Heaven's open windows are more powerful than earth's closed doors!"
---
Notes
[1] "In the New Testament, an 'open door' is a metaphor for an opportunity and access—whereas a 'closed door' means that access to something is currently being denied or blocked. The Apostle Paul often used the imagery of closed and open doors, with regard to his ministry and opportunities to preach the Gospel." See, "That Closed Door Could be a Heavenly Redirection"
[2] The word "windows" has also been translated "floodgates". (Strong's H699)
[3] A memorable Scripture is from Malachi—in reference to tithing:
"And try Me now in this," Says the LORD of hosts, "If I will not open for you the windows of heaven and pour out for you such blessing that there will not be room enough to receive it." (Mal 3:10 NKJV)
The Hebrew word translated blessing, means "blessing, gift, prosperity" (Strong's H 1293).
Study today's stories in 2 Kings 7 and 2 Kings 9
---
Leave a Comment
How does this word about "Heaven's open windows" speak to you today? I'd love to hear from you, so leave your testimony or prayer request on the blog (scroll down to view comments box).
---
Related Posts
---
Hi from Melbourne, Australia
We have recently emerged from one of the world's harshest and longest lockdowns. And whilst we've been rewarded with eliminating a second wave of COVID (and seeing our family again), that victory has taken its toll on many hearts, lives and livelihoods in our city.
Today, the word about Heaven's open windows is an encouragement for us personally.
I pray it touches you, too, wherever you are, for God is faithful, and He's coming through for you ~ Helen
---
Are you a discerner-intercessor?
This new class on the "Watchman Intercessor" is for you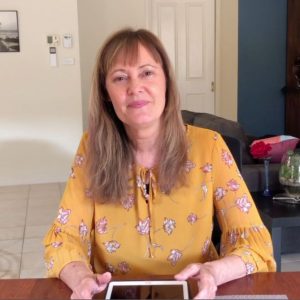 Over the past few months, I've been stirred to create some special classes (within the Prayer School) for prayer warriors who are discerners.
You may identify as a "Watchman Intercessor".
These are the prayer warriors who are God's Heavenly alert system.
Do you relate to any of the following?
You have an instinct to guard, protect or warn
Being a discerner, you perceive or see spiritual realities that others don't see
You are highly sensitive to atmospheres
You know what it means to be burdened to pray
You may have a specific assignment–to pray for individuals, groups or regions
You may have been misunderstood or felt lonely in your journey
I invite you to join me on the Enliven School of Prophetic Prayer, where I'm in the process of adding a new class on the topic of "Empowering the Watchman Intercessor".
For a short period of time, while the Prayer School is under construction, I'm bringing the full price down to $19.95 USD.
Currently on the Enliven School of Prophetic Prayer are 40 self-paced video lessons (complete in your own time), along with PDF transcripts, exercises and bonus eBooks.
Alternatively, you can view all online courses, including the Prophetic School here.
---
© 2020 Helen Calder, Enliven Blog
Enliven Ministries: In the David McCracken Ministries family