Are you facing a role, crisis, or complex situation that requires "the wisdom of Solomon"?

If this is a quality you hunger for, you are on track for an encounter with God!
For we are living in a time when God is releasing gifts of wisdom—wisdom sourced in the Holy Spirit—to His people and leaders.
I believe the Lord is saying, "I am raising up My leaders from unexpected places."
It will be as Hannah prophesied:
"He raises the poor from the dust and lifts the beggar from the ash heap, to set them among princes and make them inherit the throne of glory…" (I Sam 2:8 NKJV)
The wisdom of this new generation of leadership will not come from experience, but from encounter.
---
Where did Solomon's Wisdom Come From?
Here's the astounding truth:
The wisdom Solomon obtained through prayer, was not a wisdom he was born with.
Neither was it gained through experience.
It was a powerful gift, given through the Holy Spirit
It was a wisdom that enriched his people, and testified to nations
It is a wisdom that reaches down the ages to us, through the gifts of the Biblical books of Proverbs, Song of Songs and Ecclesiastes.
Today we also have the promise, that we can obtain gifts of anointed wisdom from God—extraordinary wisdom.
Not human wisdom, but Heavenly wisdom.
---
How You Can Have the Wisdom of Solomon
If this resonates with you, and you desire your own wisdom encounter with God, this promise is for you:
"If any of you lacks wisdom, let him ask of God, who gives to all liberally and without reproach, and it will be given to him." (James 1:5 NKJV)
There is a GIFT of wisdom that we can access as His sons and daughters!
And Paul tells us that a "word of wisdom" is one of the spiritual gifts of the Holy Spirit (1 Cor 12:7).
When you need wisdom, the wisest Person in Heaven and on earth is here for you.
The Holy Spirit. [1]
Whether you need wisdom in a moment, or desire it as a lifestyle, this gift of wisdom is simply a prayer away.
---
6 Steps on Solomon's Wisdom Pathway
So, what can we learn from Solomon, who was renowned for his God-given wisdom? As I've been meditating on this story, a 6 step pathway of wisdom emerges.
1. The Priority

– wisdom desired above all (1 Kings 3:5-9)

Solomon's response to God, shows that he recognized the need for wisdom above all else!

God's promise given through James is for those who "lack" (James 1:5).

When we hunger to have insight, discernment and understanding; when we long to know God's ways, not just his works; when we become aware of our dependency upon Him—then, we are positioned to receive His wisdom.
---
2. The Prayer

– wisdom sought from God (1 Kings 3:5-9)

In 1 Kings 3. God comes to King Solomon in a dream and says, "Ask! What shall I give you!"

Solomon's request was, "give to Your servant an understanding heart to judge Your people, that I may discern between good and evil".
He asked for wisdom.

James writes, "ask God, who gives liberally". There is power in asking God, with heartfelt passion, for wisdom!
You can trust that your Father will supply you generously.
---
3. The Promise – wisdom declared by God over you (1 Kings 3:10-14)
God's promise is that He will give you abundant wisdom.
Solomon needed wisdom for governance.
You may need wisdom for leadership, relationships, or financial decisions.
Whatever your need or circumstance, God has anointed wisdom for you.
And that wisdom will increase your capacity, discernment  and influence.
The overflow of wisdom will impact every part of your life. It will spill over onto many others.
---
4. The Problem – wisdom is put to the test (1 Kings 3:16-27 )
Solomon's opportunity to demonstrate wisdom, came after this encounter with God.
It was revealed in a pivotal moment, when he made a judgment between two women who were claiming to be the mother of a baby.
A test, or crisis, can be the tipping point that causes us to cry out for wisdom.
But a trial can also follow our encounters with God.
The outcome of our wise decisions and advice, will confirm what God has done in our lives!
---
5. The Presentation – wisdom is recognized by others  (1 Kings 3:28)
"And all Israel heard of the judgment which the king had rendered; and they feared the king, for they saw that the wisdom of God was in him to administer justice." (I Kings 3:28, NKJV)
Solomon became renowned for his gift of wisdom!
Anointed wisdom honors God. It will cause a testimony to go out.
Where there is wisdom, those who don't know God will look, wonder, and seek. [2]
---
6. The Process

– Wisdom is incorporated into leadership and lifestyle (1 Kings 4)

We see that after his encounter with God, Solomon wisdom became a part of his life and leadership.
He sought further understanding, delighted in knowledge, and then he communicated it to others.

King Solomon's wisdom was not confined to a single event, although it was marked by one.
It became a lifelong pursuit.
---
Solomon did not Finish Well—and here's one of the reasons
In 1 Kings Chapter 4, we learn that Solomon had so much wisdom there was no one wiser than him.
He outclassed the greatest and the wisest.
This is simultaneously, one of the most amazing yet saddest observations in the Bible
By way of contrast, his father David maximized the input of the wise men and prophets around his life. He had special advisers who were also his friends.
There were elders around Solomon's life. [3] Yet, when it came to the issues that mattered; his character, worship, heart, and relationship with God.
Solomon didn't heed them.
May you never outgrow the need to have input from others.
May you be one who moves in the opposite Spirit – to lean into that even more.
Ironically, it was Solomon who authored this advice:
"Without counsel, plans go awry, But in the multitude of counselors they are established." (Proverbs 15:22, NKJV)
---
Jesus, the Ultimate Wisdom
Jesus said, "…something greater than Solomon is here" (Luke 11, 31).
He was speaking of His own wisdom and teaching.
Today, reach out to God for supernatural, anointed wisdom.
This wisdom—available in Christ—is yours for the asking. [4]
---
Related Posts with insights from Solomon's Story:
Prophetic Word: You are My Golden Vessel 
9 Lessons on Angels: The Chariots of God are Coming (Solomon's chariots)
---
Notes for Bible Study:
[1] Further study: 1 Corinthians 2:1-16, James 3:13-18, Eph 1:17
[2] An example of this is the Queen of Sheba (1 Kings 10)
[3] In 1 Kings 12, we learn there were indeed elders who were Solomon's advisors—and there was also a prophet of the time—Ahijah (1 Kings 11).
[4] See 1 Cor 1:30, Col 1:9
---
Leave a Comment
Are you praying for anointed wisdom? Which point on Solomon's "Wisdom Pathway" do you most relate to right now? I'd love to hear from you, so leave a comment below (scroll down to view comments box).
---
Study Online: Classes to Help You Growing in Prophecy
Would you like clear and easy to understand, Biblical teaching on the prophetic gift and ministry?
Do you need some straightforward keys to get you on track as you learn and develop in prophecy?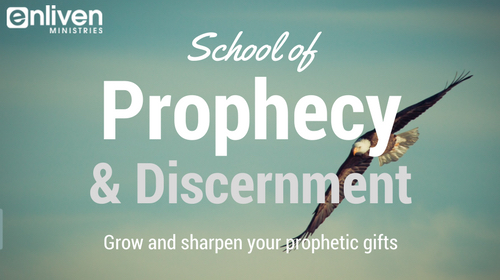 The best mentoring and teaching I can give you is now rolled into this one place, on the Enliven School of Prophecy and Discernment.
Classes include: How to hear God's voice, How to Begin and Grow in Prophecy, The Character of the Prophet, The Seer Gift: How to Grow in Pictures and Visions, Prophetic Discernment, Discernment and Prophetic Warnings and the Prophetic Guidance Master Class.
You can view and sign up to my self-paced video lecture series in the Enliven Prophetic School here. Choose between a small monthly subscription, or a one-off payment with no expiry date.
---
© 2020 Helen Calder, Enliven Blog
Enliven Ministries: In the David McCracken Ministries family