Many people have been in circumstances where it has felt like the enemy is controlling the outcome.
If you can relate to this in one or more areas, take heart! For the tables are about to be turned.
"The tables are turned"!
It's a saying we use when a situation is being turned around.
It speaks of gaining strength and advantage over an opponent
A circumstance being reversed!
Someone who was initially weak now has the upper hand
---
Jesus Turned the Tables on Them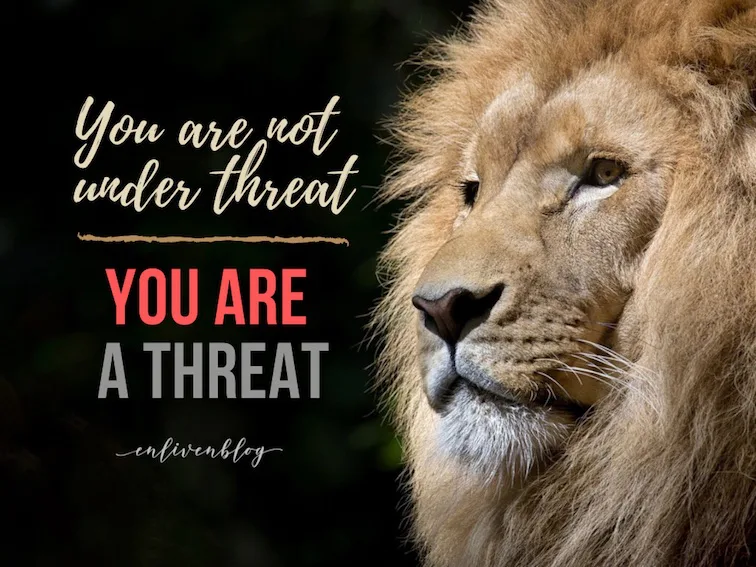 One day, Jesus strode into the outer courts of the temple, where greedy moneylenders were at work.
And He literally overturned their tables!
He declared, "It is written, 'My house shall be a house of prayer!' But you have made it a den of robbers!" (Matt 21:12-13)
We read that the next day—in that very place where greedy thieves had set up shop—Jesus taught and a crowd gathered.
He healed the lame and the blind who came to Him (Matt 21:14).
Children ran around the temple courts shouting, "Hosanna!"
Glorious contrast!
By His actions, Jesus declared: "This is what My Father's house really looks like!"
---
From Upside Down to Right Side Up
Greed in the temple.
Priests profiting from moneylenders.
It is a picture of the enemy presenting what appears to be a "legitimized" operation, clothed in religion.
But Jesus said, "This is against Scripture, and the heart of my Father!"
While this story is of corruption in high places, it also speaks to us on a personal level.
And perhaps there are some "tables" that are due to be overturned in your life.
It may be fear, addiction, or a relational issue
It could be the threat of loss
Or, a controlling spirit at work
You can face up to that issue and say, "Enemy, you are trespassing here!
You're not here to stay—that's a lie—you've got to go, in Jesus' Name!"
---
3 Ways Jesus has "Turned the Tables" on Your Enemy
When we look for our victory, all we need to do is look back to the cross.
Jesus said, "It is finished!"
He turned the tables on the enemy over 2000 years ago!
1. Life has Overturned Death
It is a threat that Satan wants us to believe.
The fear of death overtaking life.
We see its message in terrorism. In the spread of ungodly ideologies.
In bushfires and disease.
It's a lie the enemy sells us—it's the currency he operates in.
But the Bible paints a different picture; that of a River of Life, bringing healing, fruitfulness, and harvest wherever it goes (Ezek 47).
The truth is, God's Kingdom is the invading, spreading Kingdom. It cannot be contained. It is expanding.
This is the prophetic perspective. This is what God's Word says:
You are not under threat. You ARE a threat. And you carry a message of life that is unstoppable!
---
2. Light has Overturned Darkness
"The light shines in the darkness, and the darkness can never extinguish it." (John 1:5, NLT)
The nature of God's Kingdom is light.
And the nature of light is to invade darkness, exposing what it hides.
Turn on a light, and darkness flees!
But Kingdom light is not only about exposing evil.
It's about revealing good
It is about shining the light on what God is really like
Jesus overturned the tables of the moneylenders and exposed their greed. But He didn't stop there.
In that very location, He went on to demonstrate the heart of the Father.
So today, be encouraged!
By faith, see the light of Christ shining through you to others.
---
3. Holiness and Wholeness, has Overturned Defilement and Disease
Another time, Jesus touched the lifeless body of a young girl—and she sprang from death to life. (Mark 5:41-42)
He touched a leper and said, "Be clean!"
That leper was instantly healed. (Matt 8:2-4)
These were conditions that were "unclean" under the law of Moses.
Touching someone unclean would cause defilement in the Old Testament!
But—a new law was now in operation!
Upon the touch of the Christ, the anointed One, those who were unclean, diseased, or defiled, became clean and whole.
Are you filled and anointed with the Spirit of God?
"…the One who is in you is greater than the one who is in the world." (1 John 4:4b)
Who and what you carry is contagious—so, don't fear defilement of sin and sickness and don't judge those who are ensnared by it.
You are a carrier of life, and Jesus—the source of light and life—lives within you and He is releasing His power through you.
Today, know that at your location, in your life, the Spirit of God is present.
You are the Father's House!
Now the tables are turned, and the God of the turn-around is your Heavenly Father.
---
Notes:
These "3 Ways Jesus Has Turned the Tables On Your Enemy" were first published on Enliven Blog in 2015:
"Is Your Perspective Prophetic? Check it Against These Three Truths"
---
Leave a Comment
(I've just added my prayer for you in the comments below. You can take and personalize any part of this you would like to!)
Are you praying about a situation where "the tables need to be turned?" Let us know how this word has ministered to you, and how we can pray with you.
Leave a note in the comments box below
---
Spiritual Warfare Online Course:
More than ever, we need the Holy Spirit to stir faith within us!
I invite you to join me on my online video course, 'Spiritual Warfare 101: How to Identify and Overcome Spiritual Attack'
Are you interested in an approach to spiritual warfare that always leads you back to an attitude of worship?
Would you like practical and actionable steps to combat spiritual warfare?
Would you like Biblical tools to help yourself and others identify and overturn spiritual attacks?
Have you experienced oppression or pressure that you believe is from a spiritual source?
If your answer is "yes" to any of the above, and you'd like a faith-based approach to spiritual warfare that is focused more on worship and God's supremacy than on the demonic realm, this course is for you.
This course includes around 30 mini-lectures on video (self-paced learning), and is full of Biblical wisdom and faith-filled strategies to help you overcome in time of battle.
Use the course discussion board to ask questions and share stories.
There is also a downloadable full transcript in PDF version.
Once you're in the course, there is no expiry date.
Find out more about the course, 'Spiritual Warfare 101: How to Identify and Overcome Spiritual Attack' here. Scroll down to see the complete list of lessons and PDFs.
---
© 2020 Helen Calder Enliven Blog – Prophetic Teaching
Enliven Ministries
In the David McCracken Ministries family