A Vision About Breakthrough
Have you ever felt as though your contribution is small, but the need you are facing is great?
A few days ago, I had a vision. An impression. [1]
I saw a solitary figure, standing on a viewing platform.

That person was looking over the railing and into an empty spillway—such as you might see at a dam or water reservoir.
The spillway was circular, and clearly a work of great engineering! Yet at the same time, it was crafted of natural stones.
It was timeless.
As I followed the gaze of the person on the lookout, I saw that spillway descend, and turn out of sight.
There was no way to see where that great passageway headed, or where it ended.
Then, I saw that person lift up a bucket of water, and tip its entire contents over the railing, and into the spillway.
The water disappeared; it seemed as nothing!
And then—silence. A pause.
Suddenly, there was a rumbling in the distance, overhead.
A shaking.
It sounded as though an avalanche was being unleashed.
That one small offering had triggered a mighty force.
Water began to cascade into the spillway, from above.
---
"Don't Give Up!"
"I will stand my watch and set myself on the rampart, and watch to see what He will say to me" (Hab 2:1a, NKJV)
Can you relate to being someone who, like Habakkuk, is watching to see what God is doing?
You may feel as though your efforts, like that bucket of water, are small. But what is of little value in the world's eyes, when offered to God, holds great power.
Today, hear your Father say, "Don't give up! More is going on than you realize!"
4 Signs Your Breakthrough Is On The Way
The vision reminded me of a principle we see again and again in Scripture:
Breakthrough is a REACTION to an ACTION you take, that is one of obedience to God! [2]
With this in mind, here are some signs that a breakthrough is imminent:
1. You have given sacrificially, in obedience to God
One day, Jesus observed a woman who gave two small coins into the temple offering (Luke 21:1-4). We know that Gospel story as "the widow's mite".
The message of how much her sacrificial giving meant to God, has reverberated around the world for centuries.
Think about this:
There is no scale upon which you can measure the power of that offering!
Perhaps you can relate to that today.
You gave your best; you gave your all.
Perhaps, no one was watching.
But God says, "Your sacrifice is precious to Me. And it has been marked for a powerful return."
---
2. It seems as though God has been silent
For a season after King Saul's disobedience to God, the prophet Samuel withdrew and grieved.
But then came the day God spoke to him again.
"How long will you mourn for Saul…?
Fill your horn with oil, and go; I am sending you to Jesse the Bethlehemite. For I have provided Myself a king among his sons." (I Sam 16:1 NKJV)
Heaven's silence.
You may have felt it difficult to hear God speaking, during times of pain.
As Samuel did, you may have experienced leadership disappointments along the way.
Silence doesn't mean that nothing is happening, it means something is getting ready to happen.
And your Father whispers, "Beloved, it's time to rise again. To go again. To give again.
I am giving you a fresh anointing!"
---
3. There is a shaking taking place
"Prophesy!" God commanded Ezekiel.
All around him in the valley were dry bones.
As far as his eyes could see, there was barrenness.
So, Ezekiel spoke and echoed God's command (Ezek 37:7).
If chaos surrounds you, and you have nothing but a word from God:
If all you see are the broken fragments of what has been before.
Prophesy!
Your declaration may be small, it may be brief, but when fueled by the Holy Spirit, it holds resurrection power.
That rumbling and shaking is a sign!
What is out of order, is being shaken into alignment. The noise heralds a miracle!
---
4. You have obeyed God at a time of low supply
Once, in a time of famine, there was a widow whose pantry was nearly empty. All she had left, were the remnants of a jar of flour and a jug of oil.
She had only enough, to cook one last meal, for herself and her son.
That was the very time Elijah turned up.
As she obeyed God's command and gave her last food to the prophet, that flour and oil became an unlimited supply (1 Kings 17:7-16)
What do you have available right now?
You may even feel as though you are at an all-time low, but what you have in your hands is powerful.
God is a rewarder of faith, and you are about to see a miracle.
---
Breakthrough is Coming
Breakthrough! It is Heaven's response to an action that you take, that is one of obedience—and faith.
Your one small act of selfless generosity, obedience, or prayer can unleash a move of God
Your gift is so significant, that the enemy will do everything to hold you back—to try to get you to believe that you are powerless.
Or that what you have to offer will not change the world.
So ignore that lie, hold out your bucket, and begin to pour.
Now, wait—what is that sound?
It is the thunder of Heaven's answer.
---
Leave a comment
How is God speaking to you through this prophetic word and Bible study? Which sign of breakthrough do you most relate to?
I'd love to hear from you, so let me know in the comments section below.
---
Notes:
[1] How I receive visions:
When I describe a vision I've seen, it's usually a vivid impression in my mind's eye, accompanied by a strong sense of God's Presence. I'm not speaking of an "open" (physical) vision. I believe all prophetic words, encounters, and visions should be compatible with Scripture and need to be weighed up.
[2] This quote (and more teaching on this topic) can be found here: 3 Ways to Unlock Your Heavenly Breakthrough
---
Related Posts
4 Keys to Faith for Breakthrough
Prophetic Word: Rise Up, Go And Anoint!
3 Ways to Unlock Your Heavenly Breakthrough
---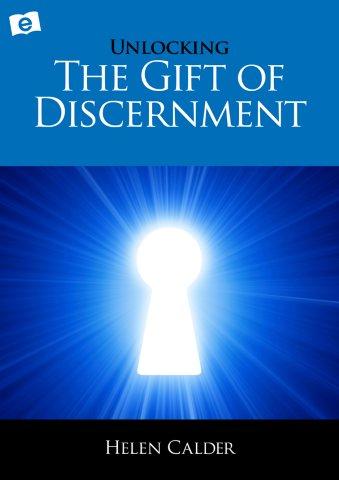 The gift of discernment of spirits is a powerful weapon in times of spiritual warfare and can be of great assistance when ministering freedom to individuals. And yet many who have the gift of discernment have difficulty knowing what to do with what they are feeling or sensing.
"Unlocking The Gift Of Discernment" incorporates wisdom from Enliven Blog as well as additional valuable material on how to be protected as a discerner in times of spiritual warfare.
View and purchase the eBook 'Unlocking The Gift Of Discernment' in our e-store, here
View my online courses, including the Enliven Prophetic School, here
---
© 2020 Helen Calder
Enliven Ministries: in the David McCracken Ministries family