"I will rain down bread from Heaven" (Ex 16:4)
This week, I've been drawn to these words God spoke, as He introduced the provision of manna to Israel during the wilderness journey.
And I believe it contains a timely, and anointed reminder for us all!
I hear the Lord saying,
"What I have for you is so abundant, it will be as a deluge from Heaven!"
---
5 Keys to Hearing God's Voice
"I will rain down bread from Heaven"
God is visiting His people in the wilderness places, in the dry places, in the place of test and trial.
He is breaking through failure!
He is bringing life into the barren places—and providing sustenance for every need.
The story of how God provided daily bread to His people in the wilderness, has many lessons to encourage us.
And as I reflect upon this in the context of hearing God's voice, these insights in particular stand out:
1. Expect to Receive an Abundance
Hear the heart of the Father in these words from Isaiah:
"…Listen carefully to Me, and eat what is good, and let your soul delight itself in abundance." Isaiah 55:2b NKJV
See with the eye of faith, an abundance of loving thoughts, flowing from God towards you.
This is what the psalmist says,
"How precious also are Your thoughts to me, O God! How great is the sum of them! If I should count them, they would be more in number than the sand; When I awake, I am still with You."
Psalms 139:17-18 NKJV
An orphan mindset is one of scarcity.
The enemy wants us to believe we have a shortfall of words from our Heavenly Father.
But God is speaking to you continuously, in one way or another.
You will never be short of the empowerment or direction you need.
You can know He is guiding you continually (Is 58:11).
---
2. Keep a Record of What God Says
"So they gathered it [the manna] every morning, every man according to his need. And when the sun became hot, it melted." (Ex 16:21 NKJV)
God gave the bread, but the people still had to gather the bread, because uncollected manna would melt away.
This is the life of relationship and partnership. Our Father gives, we gather!
In the Bible, God has spread a table, laden and rich with a plentiful and continuous supply of food.
And the food you gather from His Word today, can become His word through you tomorrow!
The same applies to prophetic revelation.
Dreams are a great example of this—if we don't lay hold of them, they evaporate.
What we neglect, we will forget!
When we value what God is saying to us personally, we will take note of it.
And it will be food to us—not only now, but on an ongoing basis.
"Then the LORD answered me and said: "Write the vision and make it plain on tablets, that he may run who reads it." (Habakkuk 2:2 NKJV)
---
3. Be Conscious of God's Affection Towards You!
When God "rained down bread from Heaven" in the form of manna, there was enough for everyone.
Those who had capacity to collect more, did not receive more (Ex 16:18).
No one was preferred over another person.
What a wonderful picture of God's favor and provision towards each of His children.
Towards you.
There are no little people in God's Kingdom.
No one is left out or held back.
He has an abundance of revelation for you, for you are loved unconditionally by God!
Jesus spoke of the miracles He did this way:
"For the Father loves the Son, and shows Him all things that He Himself does; and He will show Him greater works than these, that you may marvel." (John 5:21, NKJV)
The Father was not only sharing what was "necessary", in order for Jesus to get a job done!
He was sharing out of love and affection for His Son.
And it is the same for each of us.
"My sheep hear My voice, and I know them, and they follow Me." (John 10:27, NKJV)
---
4. Receive What Carries the Atmosphere of Heaven
When God said, "I will rain down bread from Heaven", it set His power in motion, to produce what He declared by His word (Gen 1:1-3).
Manna was a physical food, provided supernaturally by God. And it stopped after the Israelites reached the Promised Land (Josh 5:12).
Hear your Father say,
"There is no limit to the way I can supply. Even in the wilderness, when all around you seems barren, I have bread from Heaven for you."
Being from Heaven, a word that is from God will carry the power of the Holy Spirit, and the atmosphere of Heaven.
It will produce the fruit of the Spirit (Gal 5:22-23).
And it will bear the stamp of the Kingdom, "righteousness, peace and joy" (Rom 14:7).
Don't settle for less!
Turn your face towards that which carries the fragrance and flavor of His Presence
Words have reproductive power, so lay hold of those words that will reproduce Heaven on earth
"I am raining down bread from Heaven".
---
5. See Jesus as the Source of Your Open Heaven
In John 6, Jesus fed a vast crowd of people, bread and fish multiplying through His hands.
Afterwards, He directed the disciples to pick up the leftovers.
Perhaps, these had been left scattered across the ground.
As He contemplated what the Father was doing, was Jesus recalling another era, another supply of bread from heaven?
During the manna years, God supplied enough daily for each person's needs: no more, and no less.
And yet in this extraordinary act through Jesus' hands, the Father supplied an overflow.
Basketfuls of food were left over, plenty to feed the hungry another day.
Afterwards, Jesus said, "I am the living bread that came down from heaven…" (John 6:51a)
The bread was a sign of a Person!
Jesus is the living Bread who has come down from Heaven!
So, open up your heart to receive, your hands.
The capacity you have to hear God's voice, is not based on your merits. It is not accessed through a formula, but by faith!
The open Heaven God has for you, is through Christ alone!
Child of God, it is your Father's joy to give; and yours to receive and gather.
He says, "I have fresh bread for you.
I am releasing a deluge of words that will sustain you!"
---
Leave a Comment
How do you "mark the moment" when God is speaking to you?
I dictate notes and copy Scriptures into my iPhone, then I email them to myself as a backup! We're all different (I admire those people who write copious notes in, or highlight their Bible, but have never been able to bring myself to do that!)
I'd love to hear from you! Leave a note for me in the comments box below, or on our Facebook page.
---
Related posts:
10 Ways You Can Hear God's Voice
Overcoming Barriers to hearing God's voice.
---
Have a Cuppa and Listen to My Message on Prayer
This past weekend I shared a message on prayer at a church here in Melbourne.
We're in Stage 4 COVID lockdown, so this was filmed in front of an empty church!
More than ever, in these times of challenge, we need to know the power of prayer that is available to us.
It's 25 minutes long, so find a cuppa, put your feet up and listen to this simple but powerful word on one of my most loved topics.
~ Helen
---
Study Online: Classes for Those Growing in Prophecy:
Would you like clear and easy to understand, Biblical teaching on the prophetic gift and ministry?
Do you need some straightforward keys to get you on track as you learn and develop in prophecy?
I've been privileged to receive extraordinary prophetic mentoring, as one of a ministry team of prophets and teachers with David McCracken Ministries. But it hasn't always been that way. When it comes to spiritual gifts, I know what it is like to go on a long journey, and often a lonely one.
My own experience of struggling to find good mentoring is why I am extremely passionate about helping others learn how to hear God's voice, and grow in their gifts of prophecy and discernment.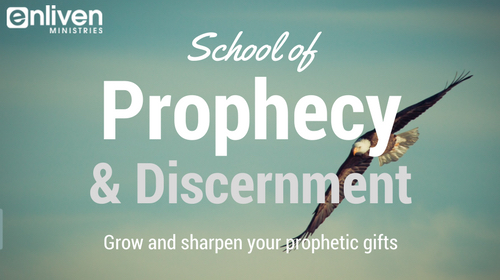 The best mentoring and teaching I can give you is now rolled into this one place, on the Enliven School of Prophecy and Discernment.
Classes include: How to hear God's voice, How to Begin and Grow in Prophecy, The Character of the Prophet, The Seer Gift: How to Grow in Pictures and Visions, Prophetic Discernment, Discernment and Prophetic Warnings and the Prophetic Guidance Master Class.
You can view and sign up to my self-paced video lecture series in the Enliven Prophetic School here. Choose between a small monthly subscription, or a one-off payment with no expiry date.
---
© 2020 Helen Calder, Enliven Blog
Enliven Ministries: In the David McCracken Ministries family