Recently, the Holy Spirit showed me a page of instructions in a vision. I could read the headline, but the rest of the page was completely blurred out!
As I was praying about this, I sensed there are many others who are in a similar position.
You have had a prophetic word, or guidance from God, but it is only a snapshot—a headline
You feel as though you need more insight from God, in order to move forward
Today, be assured: you can trust your Heavenly Father.
At the very moment you need it, God's word of instruction will be there for you!
---
Abram's Orders from God
God's first call to Abram—later renamed Abraham—is little more than a paragraph in the Bible. And yet it called for a huge life change!
Abram!" the Lord said, "Rise up and move to a land that I will show you! You will be blessed, I will make you into a great nation, and I will bless the whole earth through you!" (see Gen 12:1-3)
It wasn't until after he had obeyed that initial command, and was on the journey, that the Lord appeared to Abram again, and gave him further instructions.
---
"Sealed Orders" from Heaven!
Like Abraham setting out in obedience to God, our Father may give us a glimpse of landmarks that lie ahead.
But the whole of our guidance only unfolds, as we journey in intimacy with Him
The writer to the Hebrews tells us,
"By faith Abraham obeyed when he was called to go out to the place which he would receive as an inheritance.
And he went out, not knowing where he was going."(Heb 11:8, NKJV)
This reminds me of "sealed orders".
"Sealed orders" are top secret orders, that are given into the care of a naval commander, in a sealed envelope.
The envelope contains instructions about the mission of the ship and crew!

However, the commander can only open that message once the ship has travelled a certain distance away from the shore. [1]
---
Our Macedonian Call to Australia
20 years ago, Malcolm and I were working with a mission agency in New Zealand.
One evening at our church, we were praying for nations, and I joined a group that was praying for China. What a surprise I had, when the Holy Spirit showed me the map of Australia in a vision!
Then I heard Him say, "You are going to receive a 'Macedonian Call'" (Acts 16:9).

It was all we had—a mysterious announcement. But a few months later, we sat with a leader from Australia who asked, "Would you come over and help us?"
And we laughed. [2]
That short headline drew us to explore the next season God had for us—emigrating to a nation we had never dreamed of before.
---
6 Reasons God Keeps Your Guidance in Mystery
We naturally want some detail—and yet God, in His wisdom and great love for us, hides some of the pathway to our future.
He holds it in mystery.
So, why does He seal up His orders for a future time?
1. He desires that we walk intimately with Him—it is only in close relationship with Him, that mysteries are unfolded
2. He is testing and growing our faith. Faith steps forward in obedience, when elements of mystery remain
3. It may be time to wait, for there are situations, timing and people—pieces of the puzzle—that need to fall into place before more of God's intention can be revealed
4. Our perspective of who we are, needs to change! For we can only do what God has called us to, as we realize our identity—who we are in Him, and what we are capable of
5. He is protecting us, and His plans, by hiding the fullness of His plan from the enemy for a season of time
6. Mysteries, like dreams and visions, are the language of the Holy Spirit. He is teaching us His language, so that we in turn can help others on their journey
---
3 Examples of "Orders" Being Released from Heaven
The Lord is visiting many of His people who have been faithfully persevering, during troubled times.
He is coming with a brand-new word:
1. Brand New Orders
Jesus interrupted Mary Magdalene's reunion with Him, with a brief set of instructions.
"Go and tell my brothers, I am ascending to My Father and your Father…!" (John 20:17)
God is coming to many people with guidance that is sudden and joyful. These words of instruction have a resurrection anointing on them!
These words from Heaven are breathing new life into you.
You realize, it's not over! God's greatest work through you is just beginning.
---
2. Marching Orders
"Marching orders" are being sent to some who have been stuck, but it is time to move forward.
In Deuteronomy, God sent a word via Moses, "The LORD our God spoke to us in Horeb, saying: 'You have dwelt long enough at this mountain. Turn and take your journey, and go…" (Deut 1:6 NKJV)
You may have felt held back in some way, confined or restricted.
You have been enduring through crisis, but now the Lord is coming to you with a fresh word!
"Beloved", He says. "Come away with Me!"
---
3. Strengthening Orders
At times, God comes to us and says, "The orders I have given to you still stand!
Hold on, for help is on the way."
Paul received abuse from the Jews, when he was preaching the Gospel in Corinth. This opposition must have troubled him.
"Now the Lord spoke to Paul in the night by a vision, "Do not be afraid, but speak, and do not keep silent; for I am with you, and no one will attack you to hurt you; for I have many people in this city."" (Acts 18:9-10, NKJV)
If you can relate to this today, receive the strengthening of the Holy Spirit!
"Hold on, for this is the place I have planted you", says the Lord. "This is the position where I am developing you."
"I have appointed you to bear great fruit here. I am sending my angels to protect you!"
This trial is turning to gold.
---
Leave a Comment
Do any of the above types of "fresh orders" speak to you today, or do you have a story or prayer request you'd like to share?
I'd love to hear from you! Leave a note for me in the comments box below, or on our Facebook page.
---
Notes:
[1] Sealed orders are orders given to the commanding officer of a ship or squadron that are sealed up, which he is not allowed to open until he has proceeded a certain length into the high seas; an arrangement in order to ensure secrecy in a time of war.
__https://en.wikipedia.org/wiki/Sealed_orders
[2] "Macedonian call" is a reference to a man appearing to the Apostle Paul in a dream asking "Come over and help us!" The team headed directly to Macedonia as a result (Acts 16)
---
Related Posts
---
Learn More About Prophetic Guidance (Timing, Confirmation, and More)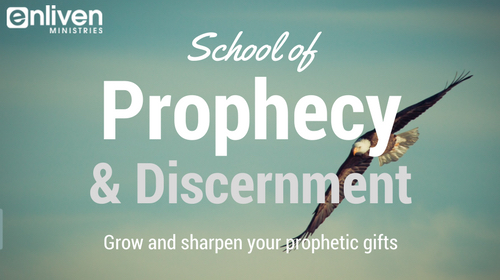 Have you ever had a word of guidance from God, where you believed He wants you to go in a certain direction—but navigating it was tricky?
First, there's the aspect of getting timing right. And then, how much confirmation do we need, before we can firmly step forward?
Also, people close to us may have differing opinions about it. And sometimes, there are strong emotions involved!
And how do we help others, who say God is leading them, with wise advice?
Throughout our lives, Malcolm and I have sought to follow our own prophetic calling and we haven't always got it right! But we've learned lots of lessons along the way
Sometimes, the hard way!
"Prophetic guidance" is a topic I've put a lot of study into, and I'd love to share this with you.
I've included the "Prophetic Guidance Master Class", with 10 keys to help you process your prophetic guidance for decision making, along with a PDF manual, on the Enliven Prophetic School.
The best mentoring and teaching I can give you is now rolled into this one place, on the Enliven School of Prophecy and Discernment and currently has a 20% discount.
Choose between a small monthly subscription, or a one-off payment with no expiry date.
---
© 2020 Helen Calder, Enliven Blog
Enliven Ministries: In the David McCracken Ministries family